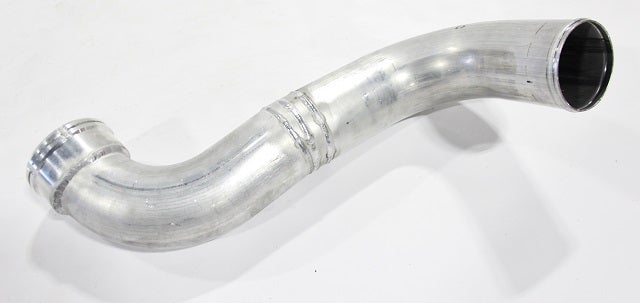 Cool Air for the EcoBoost. F-150 Intercooler R&D, Part 7: Cold-Side Pipe Fabrication
Having already obtained precise dimensions from the factory piping and our test vehicle, our engineering team has begun the arduous, but rewarding process of developing and fabricating intercooler piping for our '11-14 F-150.
Cold-Side Intercooler Pipe Fabrication
Fabricating the cold side appears to be less of a challenge than dealing with the hot side, so we decided to start there to get the ball rolling. Following the path of the factory piping, we began fabrication at the intercooler side of the pipe and worked our way up toward the throttle body.
Obtaining the perfect angle required some trial and error, as well as repeated test fitting - as you might imagine, the path of this piping is precise, and we need to be highly accurate in order to ensure fitment will be good among all of the trucks on the road.
After having finished the first portion of our two-piece cold-side pipe, we mocked up the throttle body connection pipe to ensure that the fitment would be on point.
You can see the CCV quick-disconnect line hovering around the pipe. We are designing a port for this connection as well as a machined flange for the pressure sensor - as with all of our parts, this will be a direct-fit piece, meaning all stock functionality will be retained.
After tack-welding these components to the pipe, Mike, our fabricator, welded them on more permanently.
Mike added a bead-roll to each end of this upper pipe, which completed this part of the cold-side prototype.
Having finalized our upper piece of the cold-side pipe, Mike turned his attention back to the lower portion. Using dimensions from the factory intercooler, we machined an aluminum quick-disconnect fitting for our prototype.
The full assembly was then tack-welded in place, and after one more test-fit to ensure that our dimensions were spot on, Mike got to work welding this thing together.
A pair of beadrolls completed the fabrication of our cold-side intercooler pipe. Check out the final prototype.
As with the factory piping, we used our CMM (coordinate measuring machine) table and Romer arm to capture dimensions from the pipe we created. These dimensions allow our engineering team to create accurate drawings for the manufacturing stage.
Coming Up - Hot-Side Pipe Fabrication
Next up, we will be designing the hot-side intercooler pipe, and shortly after that, we will be ready to reveal the prototype intercooler!
Thanks for reading!
-John