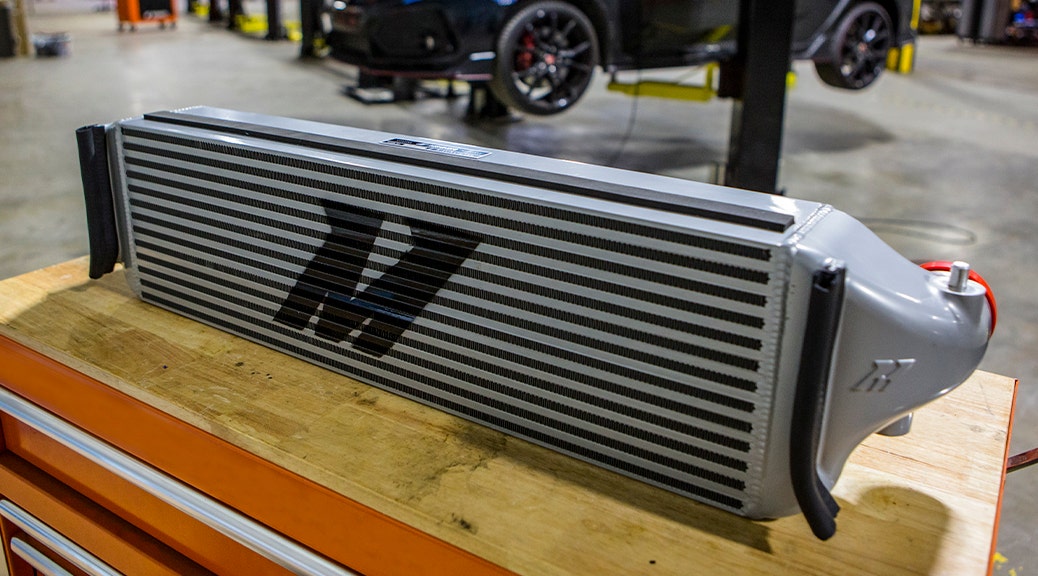 The Top 3 Things to Look for When Choosing an Intercooler
Choosing an intercooler can be intimidating, so we've broken down the top 3 things that we think you should consider when looking for your upgrade.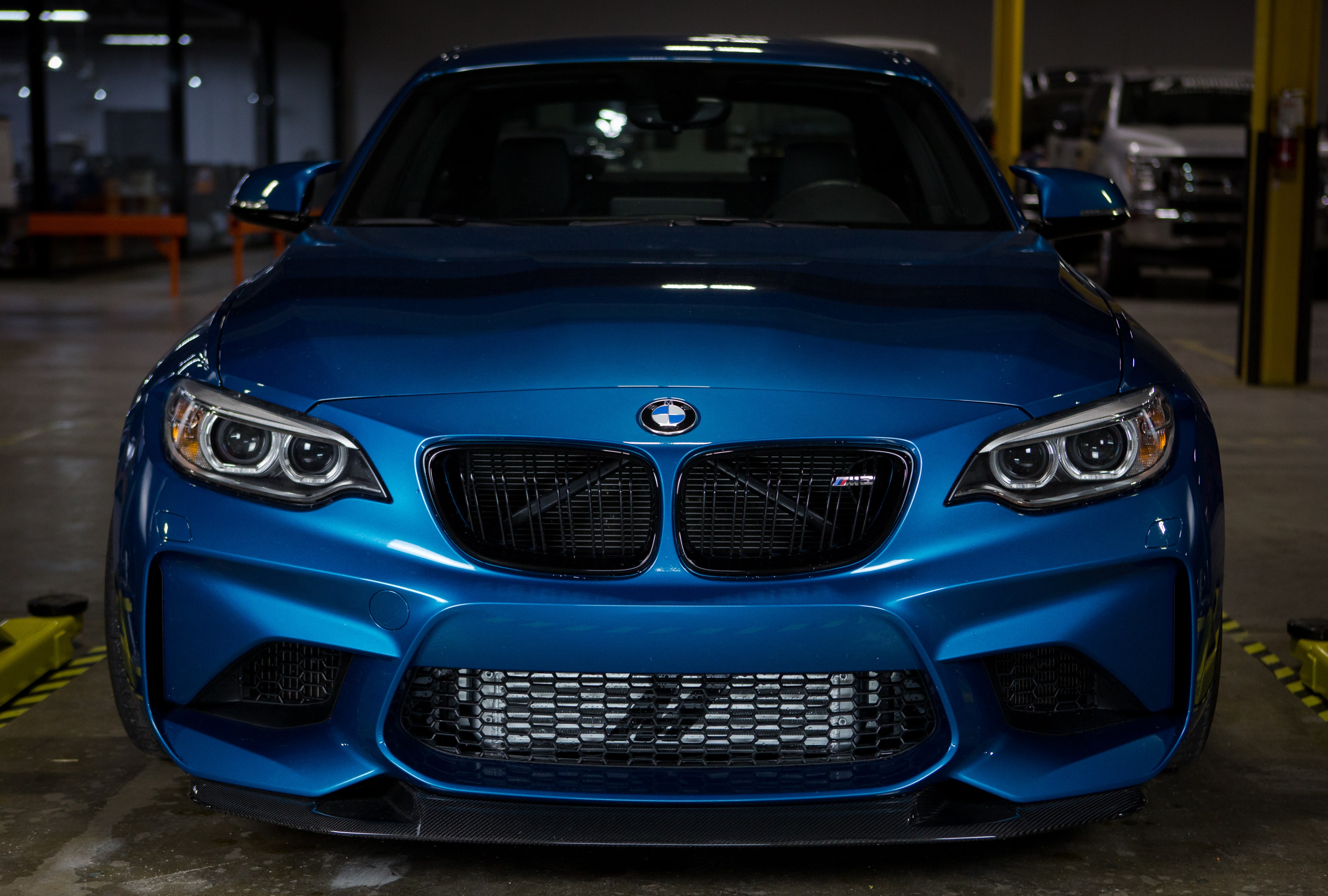 #3 End tanks
We're biased when it comes to intercooler end tanks but there are a few choices available on the market - we ranked these from the least impressive option to the highest quality. Each type of end tank comes with its redeeming qualities as well as drawbacks, so we're here to help make your choice easier.
Plastic end tanks are great for stock vehicles because they can be mass-produced far cheaper and lighter than aluminum options. Though failures in plastic tanks are minimal, plastic does face a greater risk when it comes to road debris and rocks. Failures stay minimal" that is until the vehicle is modified and boost levels increase. Over time, plastic will begin to weaken as the constant variations of temperature and pressure affect its integrity and lead to eventual failure. This normally occurs in the form of a cracked or shattered end tank during a high-boost pull or leaks in the crimped connections.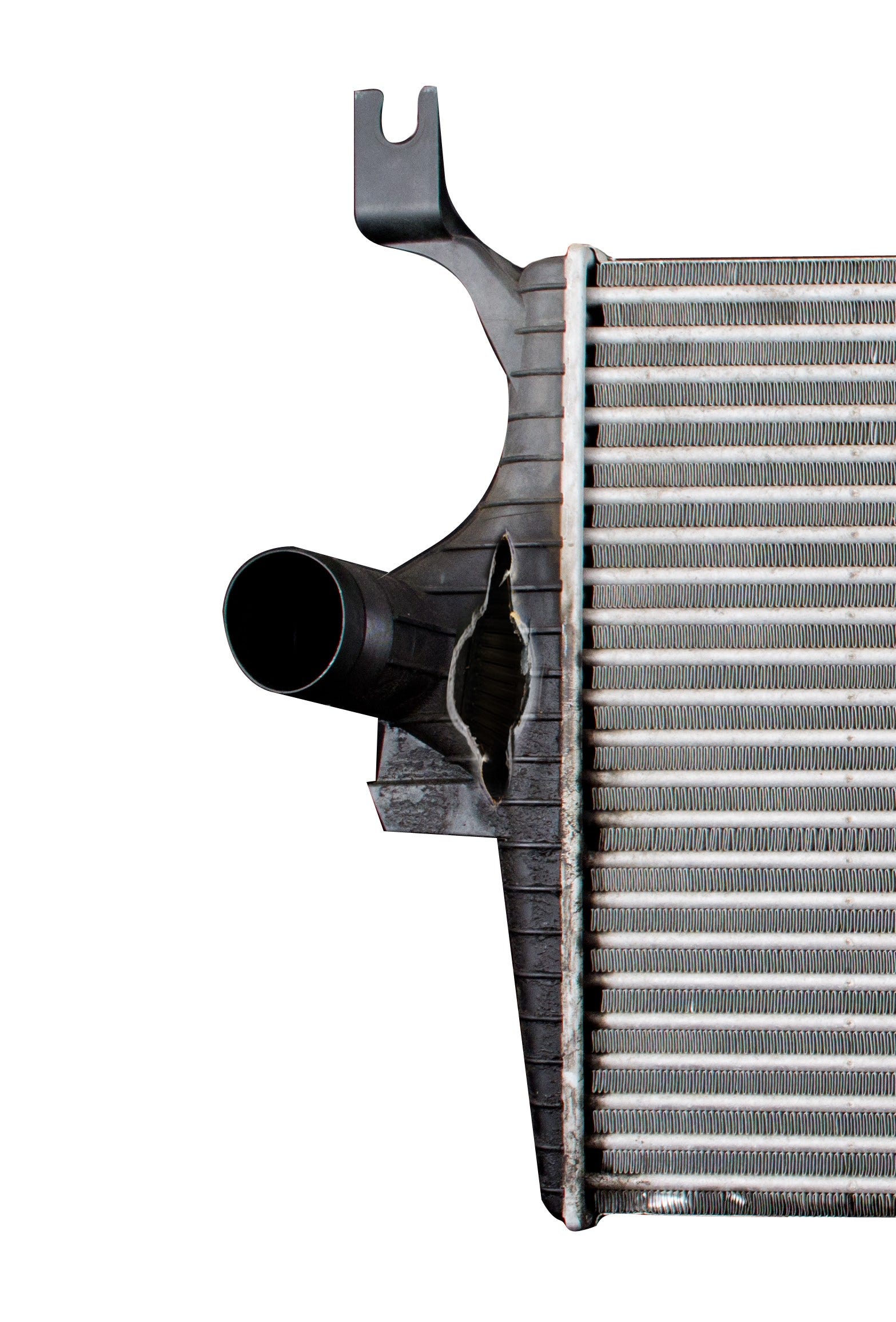 Stamped Aluminum tanks can be found on older turbocharged vehicles, such as the second-generation Cummins and Mitsubishi Evolution, and are typically welded to the actual core and normally paired to a standard tube-and-fin core. Stamped tanks are durable and flow reasonably well, and they are far stronger than the plastic counterparts that eventually replaced them. However, they are not a typical choice over plastic for OEM components.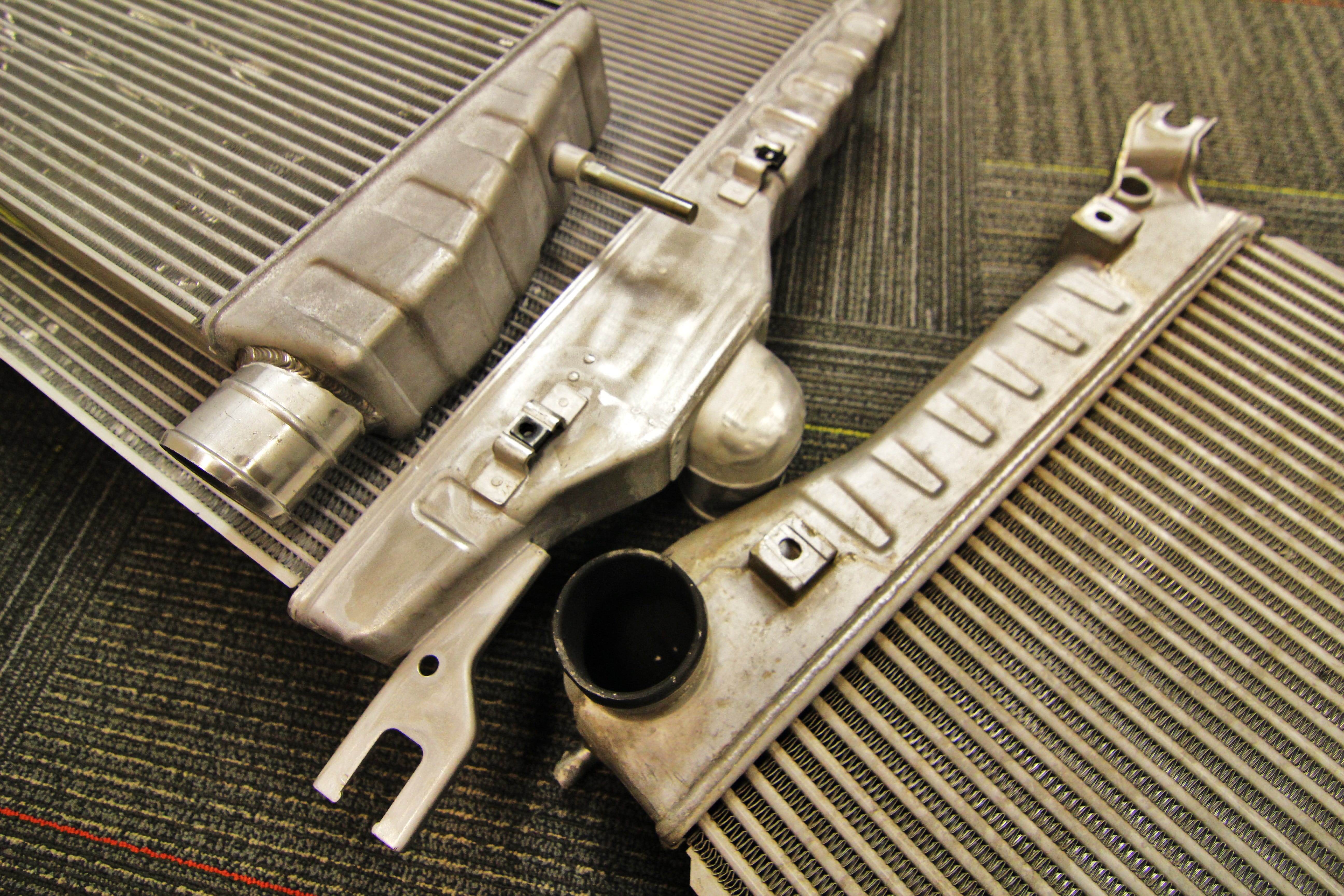 Cut and Welded replaces plastic end tanks with multiple welded pieces of durable aluminum that can hold up to boost and looks better, too. This option is the best choice for DIYers and custom applications. Cut and welded end tanks are not typically seen in mass production so checking for leaks in the multiple welded connection points is key, especially if you are doing the welding yourself.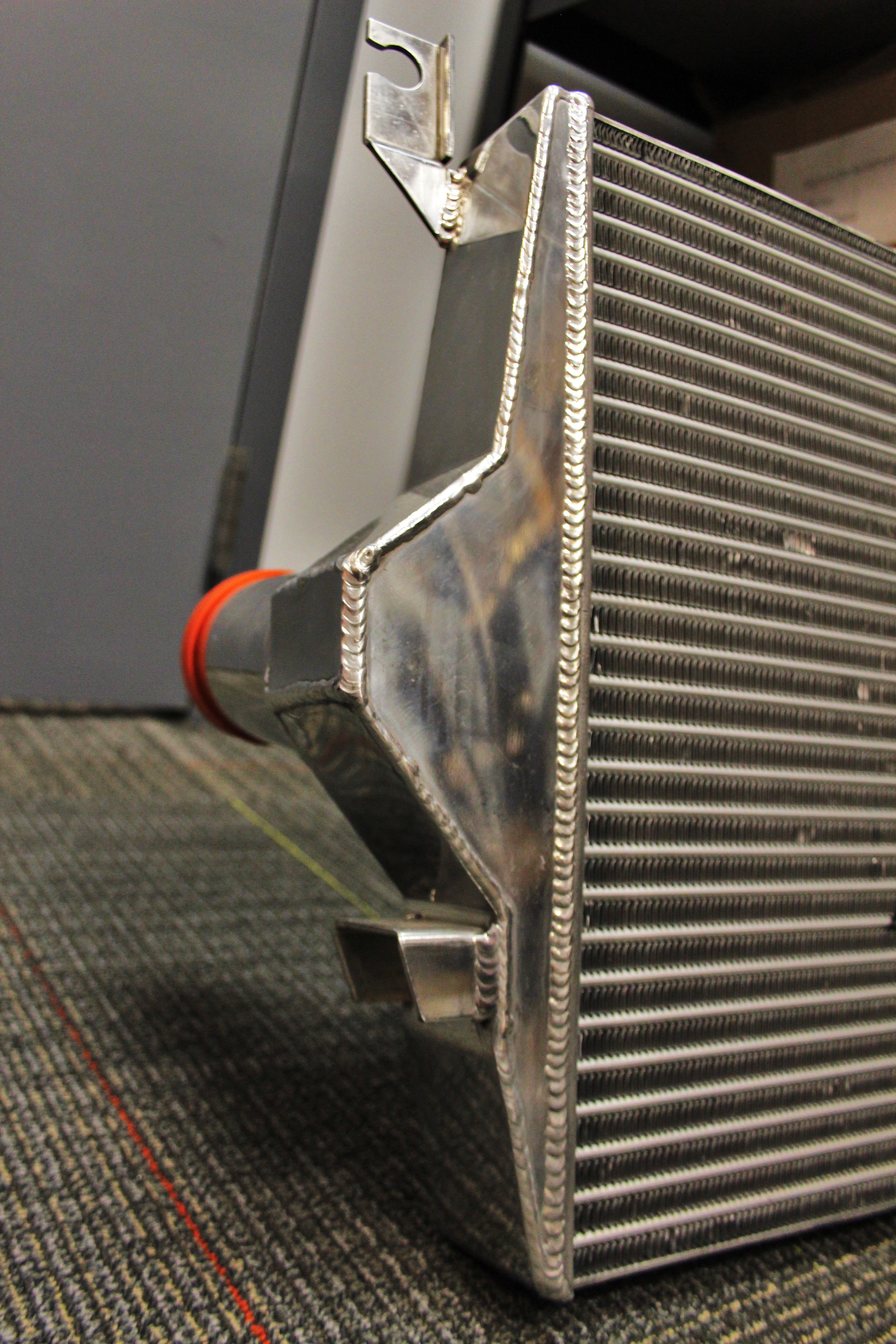 Cast Aluminum has all the benefits of a welded end tank without the possible failure points. A single piece of aluminum is machined specifically for the application it is being used on and then welded to an intercooler core. Because this is one piece, the only weld points are to the intercooler core reducing many possible failure points. This type of end tank can be engineered to fit just about any shape needed for the application allowing for engineers to go one step further and create a smooth internal construction to optimize airflow for more efficient cooling.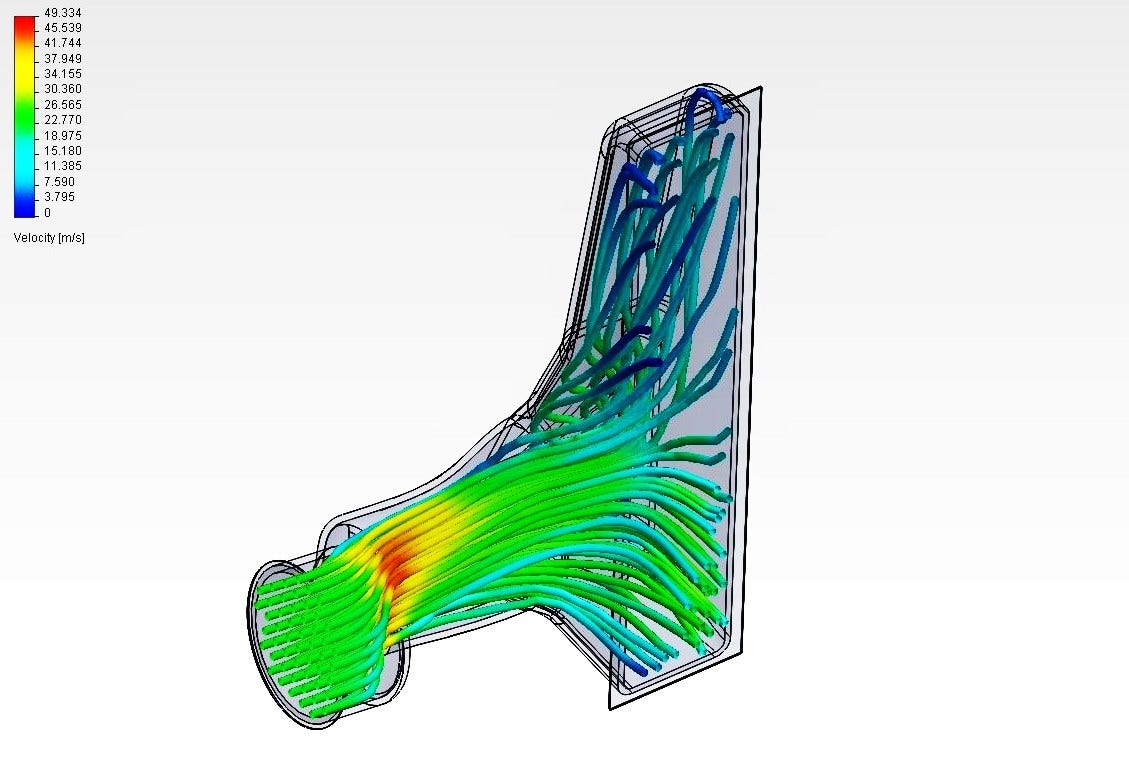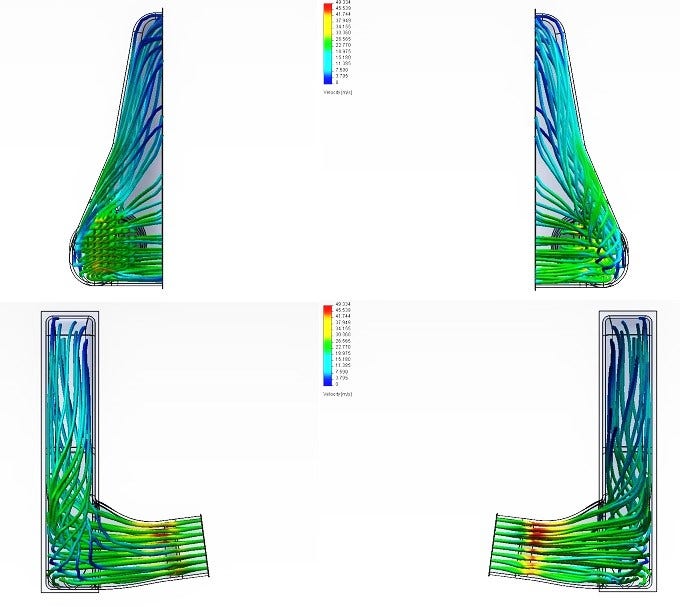 We think that cast aluminum is the optimal choice when looking at end tanks, but you also can't go wrong with a cut and welded end tank. Both options will give you great results and last longer than plastic. Check out our article here to see more information about end tanks and how we determined their ranking.
#2 Core construction
A big question when it comes to intercooler core construction is do you go with Bar and Plate or Tube and Fin? As always, there are benefits to each option, but we think there's a clear winner for our customers.
Tube-and-fin cores are used on stock intercoolers and are not commonly used for aftermarket units. These coolers are far lighter and are also less expensive to manufacture. The number one reason why tube-and-fin cores are ditched on aftermarket coolers is heat dissipation and their tendency to lead to heat-soak. Heat-soak can occur when an intercooler experiences either very warm ambient temperatures, like a hot engine bay, or repeated pulls that cause the cooler to become overheated. This can then result in power output losses as the ECU adjusts (pulls timing) for the high intake temperatures.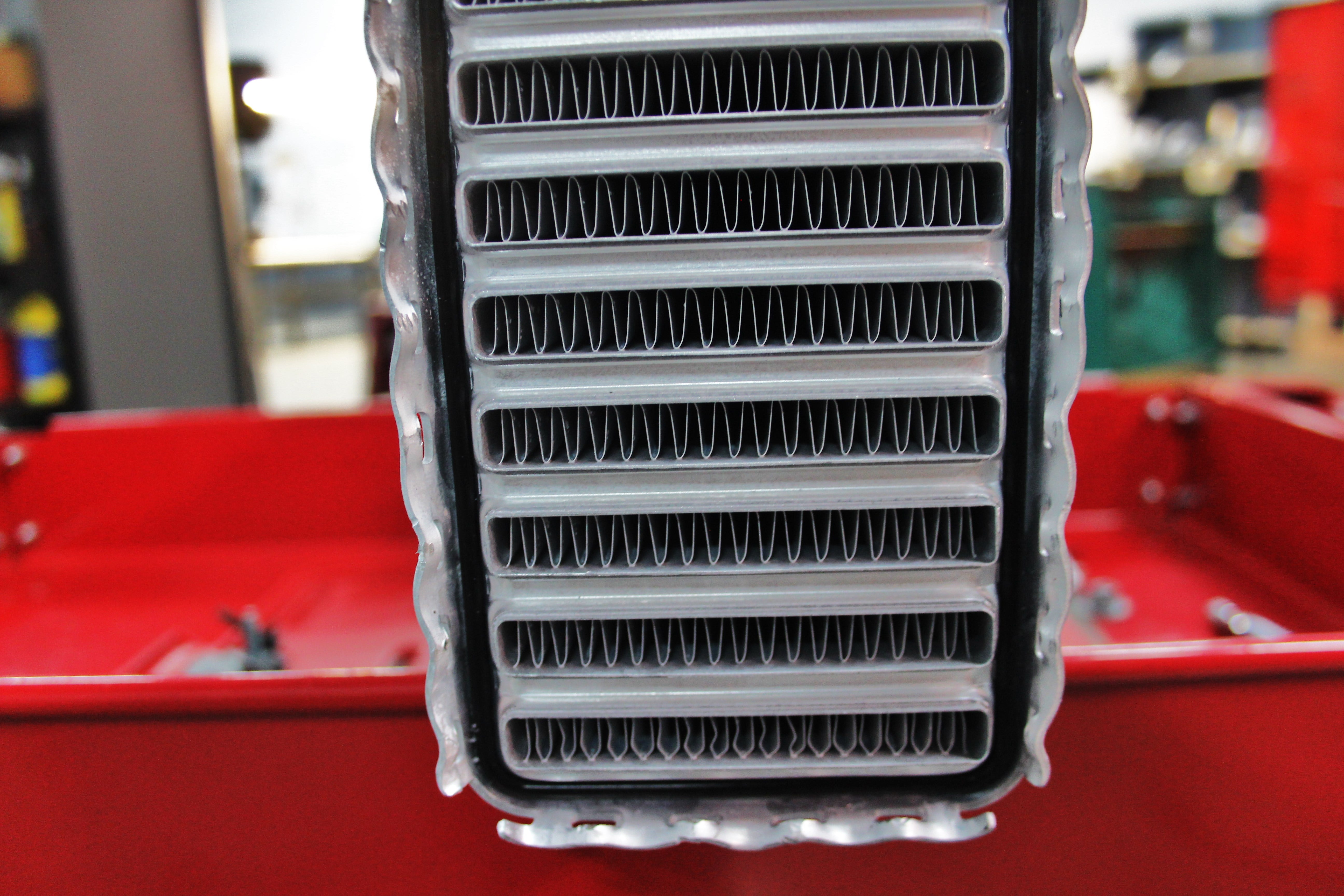 Bar-and-plate cores can typically tolerate far more abuse with repeated heating without becoming inefficient. This is especially helpful for vehicles seeing track duty that will be in boost for the better part of long-duration track lapping. On top of this, a bar-and-plate core is more efficient in transferring heat in general because the design allows for a significantly thinner material containing the airflow.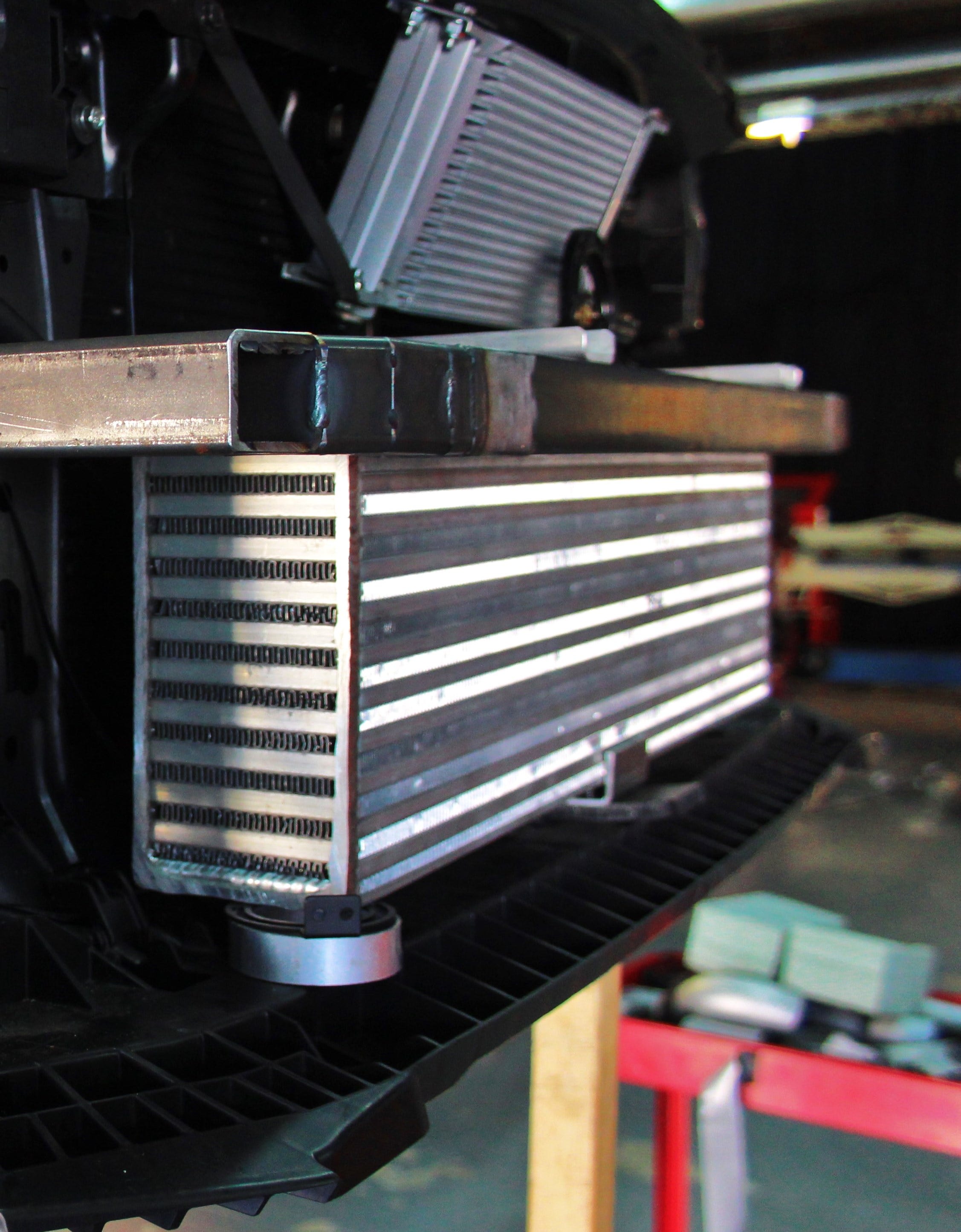 If you are performance-driven and not too concerned about adding a few pounds to your vehicle, Bar-and-plate is the core style for you. If you're still on the fence, check out this basic comparison chart below.
When it comes to your core construction, there are a few fin styles to choose from and the density of said fins also play a part in the efficiency of your intercooler.
Fin Styles
For automotive intercoolers, you'll typically see either a straight fin or an offset-style fin.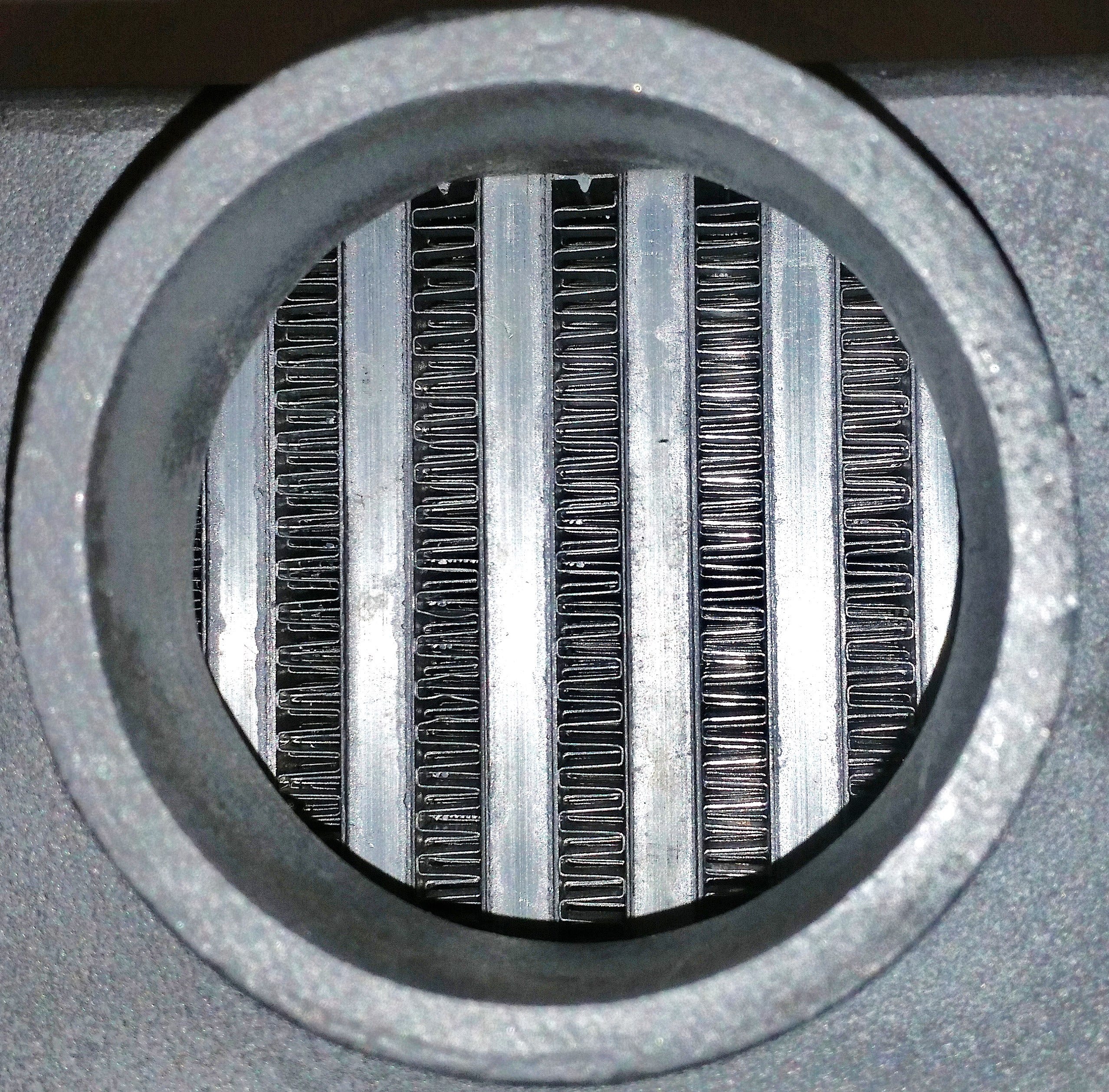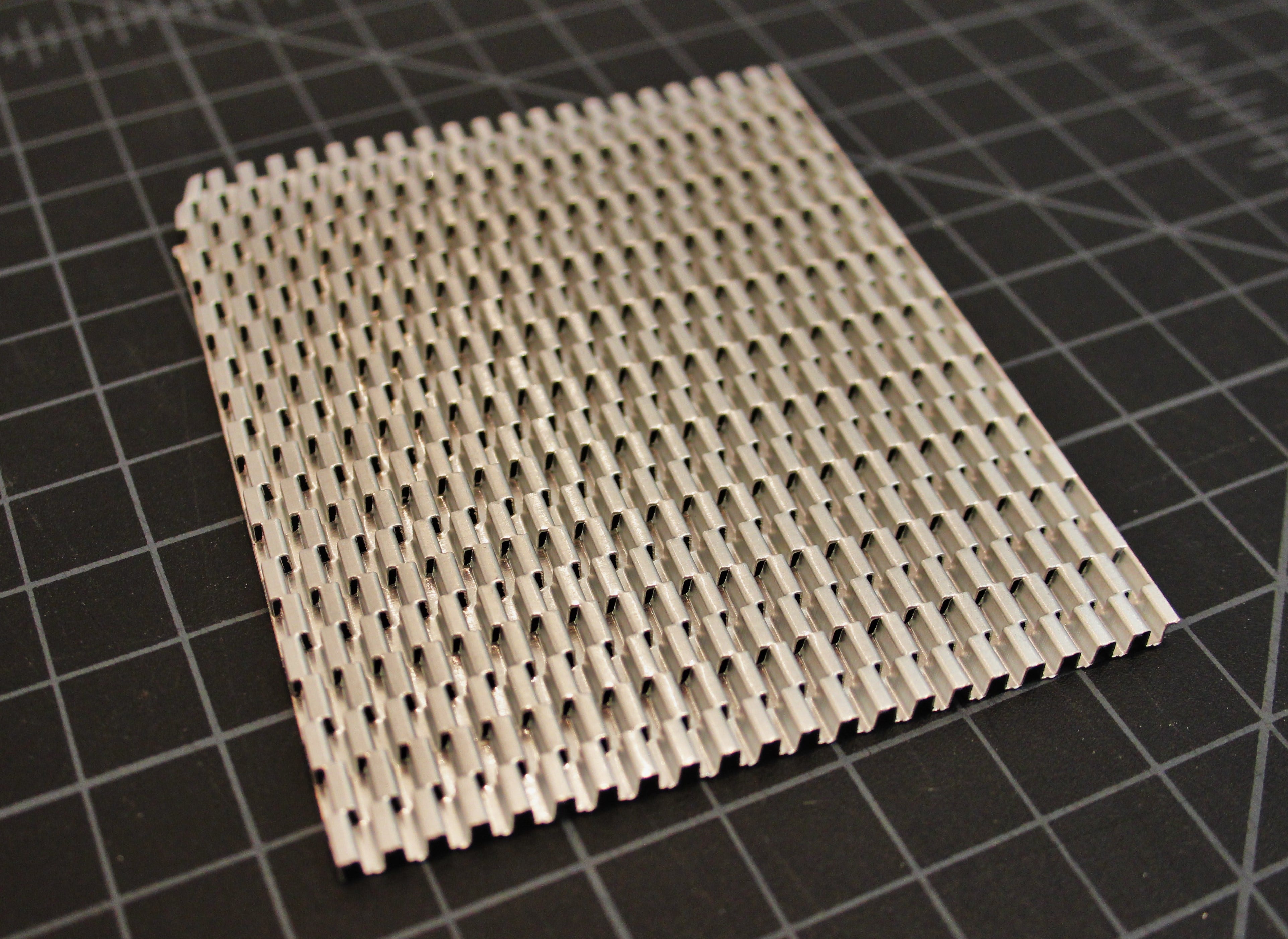 In general, Mishimoto intercoolers utilize an offset fin to enhance the exchange of heat as much as possible. The offset style fin appears to provide far more surface area for air contact. This arrangement will force air to split numerous times on its path through the core, which amplifies the amount of heat exchange that can occur. Along with improving heat transfer, this will also result in a greater pressure loss, which is something that you will need to consider.
Fin Density
More fins = greater heat exchange
- but - this can come at the expense of airflow and restriction. Determining
how dense you can go with fins before your airflow takes a hit can be a
challenge, but that's why we have testing and an engineering team. To improve
density, we can modify both the height and pitch of the fins to create
differences in overall fin surface area. We normally create a few prototypes
with different variations to put our theories to the test on actual dyno runs.
Fins per inch (FPI) can vary significantly both internally and externally. Both need to be evaluated based on airflow hitting the external surface of the core, as well as airflow moving through the cooler from the turbocharger. In general, we use an offset-style internal fin and a louvered straight fin for the external airflow. This configuration provides turbulence within the cooler for improved heat transfer and allows for ambient airflow to pass easily through the external fins of the core.
#1 Location, Location, Location
When shopping for an intercooler, it's important to decide where you'll be mounting it. We have some choices for you and we dive into the pros and cons of each.
Top-Mount (TMIC)
The top-mount intercooler (TMIC)
is commonly used for stock heat exchangers. Two popular vehicles equipped with this
type of system are the Subaru WRX and STI. The TMIC
name indicates the location of the cooler, which is on top of the engine. Airflow
for this intercooler comes from a hood scoop or some form of ducting from the
front grille.
Placing the cooler in the engine bay has a few key benefits. First, this cooler is in a safe location to avoid any road debris from damaging it. Because the intercooler is so close to both the turbocharger and intake systems, piping will be extremely short, which allows for a shorter airflow route and less boost lag.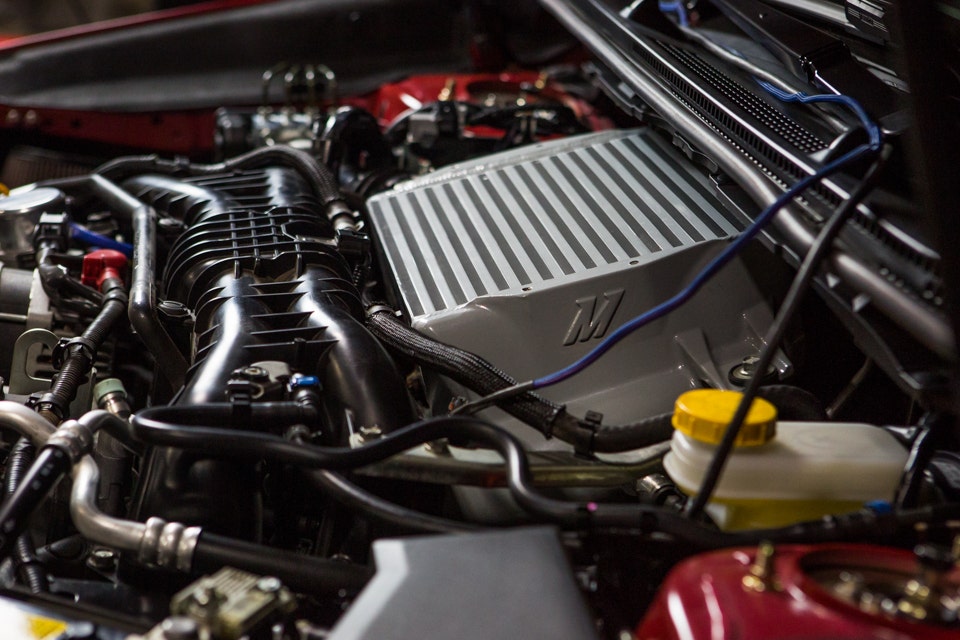 As with any setup, there are certainly a few downsides to a TMIC system. Heat-soak is going to be the primary problem since the intercooler is located within the engine bay, it will certainly be susceptible to the heat generated by your engine and exhaust system. Intake temperatures tend to rise with a TMIC at idle, which can negatively affect power output if the cooler gets too hot. Upgrading from the factory cooler to a larger bar-and-plate unit will certainly help reduce the risk of heat-soak, but the only way to eliminate it would be to select a different location for the cooler.
Side-Mount (SMIC)
You won't see side-mount intercoolers much these days, but at one point it was factory equipped on a few vehicles, including the 90s DSMs, the Nissan Silvia, and a variety of VAG vehicles. This cooler could be considered a bit of a compromise between TMIC and FMIC choices and is typically only a factory-equipped setup. In this system, the cooler is placed toward the front of the vehicle on one of the side inlets of the bumper. Instead of blocking air flow through the center portion of the bumper, the SMIC pulls air from the side of the bumper.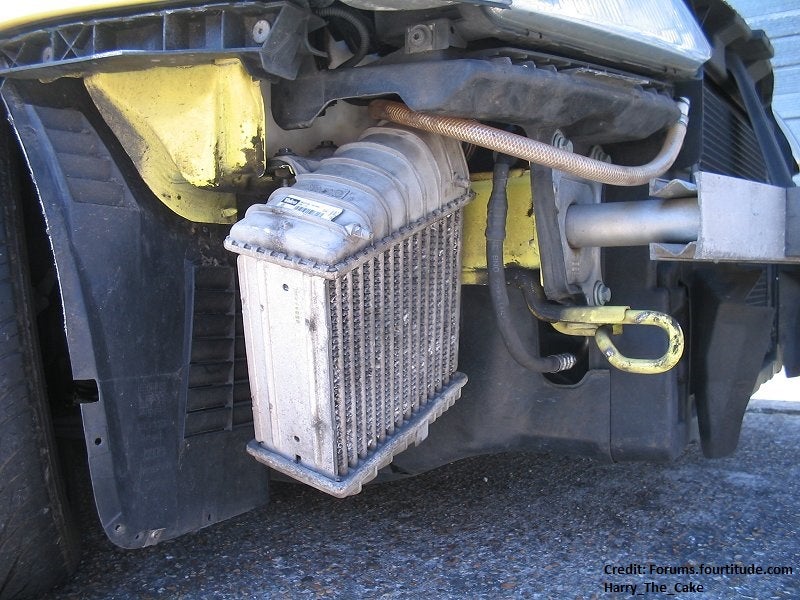 Front-Mount (FMIC)
A front-mount intercooler (FMIC) is not only a modification for lower intake temperatures, but it also provides aesthetic appeal. A large, bumper-mounted intercooler is an easy way to identify a fellow car guy. There are several debates regarding the use of an FMIC vs. a TMIC in terms of boost lag and actual power benefits. While a front-mount system will typically produce the lowest intake temperatures of all options, it will also incur the most boost lag. This shortcoming needs to be considered, depending on your vehicle's power as well as your intended driving plans, but for optimal heat transfer, this is the system you want.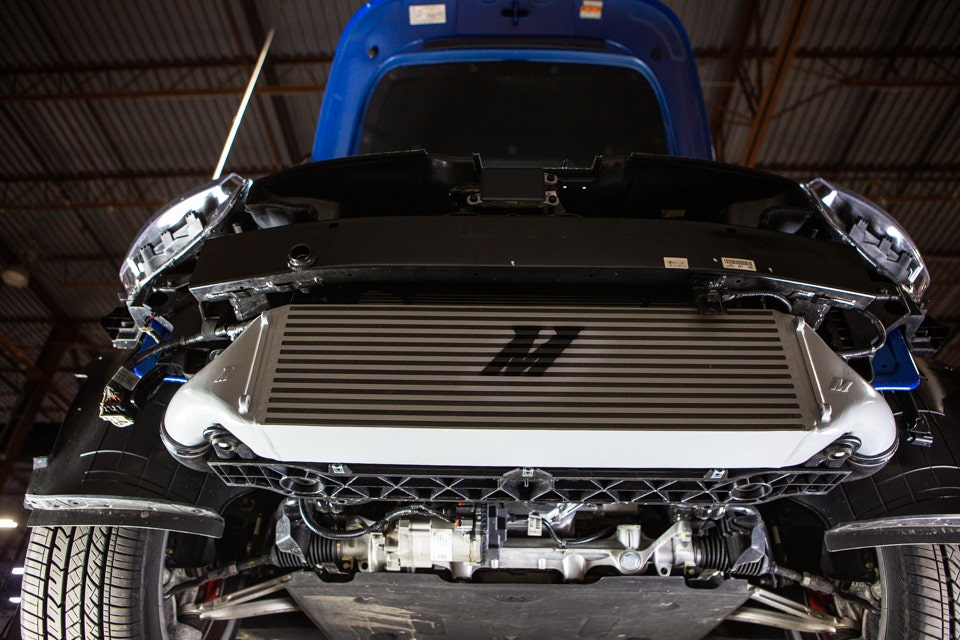 FMICs will impede airflow to the radiator behind it, which then causes a restriction in airflow through that heat exchanger. This setup could adversely affect coolant temperatures which usually isn't a big issue but is certainly something to keep in mind.
Ultimately the choice is yours based on your vehicle and goals. For optimal heat transfer, an FMIC is the way to go, but for reduced boost lag and increased power support for mild modifications, a TMIC may be best for you. For even more information about choosing intercoolers, check out our intercooler engineering article here.
Mishimoto Automotive is here for all your cooling needs. For assistance in selecting an appropriate intercooler type for your vehicle, visit Mishimoto.com to view our full line of automotive performance intercoolers, truck and jeep intercoolers,  universal intercooler cores, or to contact our support team here.