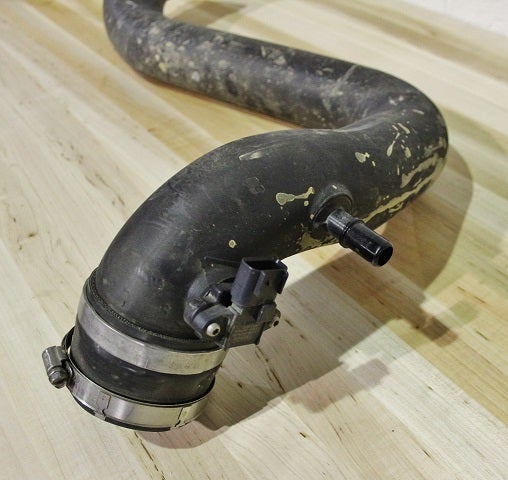 Cool Air for the EcoBoost. F-150 Intercooler R&D, Part 6: Pipe Fabrication
Along with creating an awesome intercooler for the EcoBoost (EB), we also want to improve upon the pathways through which air travels to and from the charge air cooler. This will involve replacing factory components that route from the turbocharger to the intercooler and from the intercooler to the throttle body with engineered aluminum pieces.
Factory Ford F-150 EcoBoost Intercooler Piping
The factory piping setup on the F-150 is essentially a rat's nest of molded plastic and rubber couplers that, evident upon removal, is complemented by an internal coating of oil. No wonder catch cans are so popular for these trucks!
Our engineers felt like teenagers again with all of the oil on their skin as they removed the piping in order to inspect each piece, keeping in mind that they would need to replicate all connection points to ensure that our piping is a bolt-on setup.
Check out the cold-side pipe, below.
This pipe routes from the single intercooler outlet up to the throttle body. At the intercooler connection, Ford uses a quick-disconnect fitting, which we examined (and didn't break!) when we looked at our intercooler design.
The side of the pipe with the throttle body connection is a bit more interesting; this segment incorporates a pressure sensor as well as a nipple for the crank-case ventilation system. The connection between the engine and the pipe uses a more standard coupler, but the benefit is that it provides a flex point as the engine moves during acceleration and other high-torque conditions - this keeps the hose from being prematurely worn throughout the life of the vehicle.
The twin-turbo setup on the EcoBoost makes for a pretty extensive maze of piping. The hot-side pipes, like the cold-side pipes, are also molded plastic, but they use coupler connections on each end. I have included a photo of one below for your viewing pleasure.
Factory Piping Data Collection
We used our ROMER arm to help up map out the piping. A ROMER arm provides an easy way to capture accurate dimensions for factory components by allowing us to fix components in place in order to map out their coordinates in three-dimensional space. This helps to facilitate building a model on the computer, and ensures that our measurements are as true as possible.
Coming Up - Prototype Fabrication
It's hard to beat the smell of burning metal and the distant buzz of AC welding! Check back next time for a look at the fabrication of our prototype piping kit.
Thanks
-John