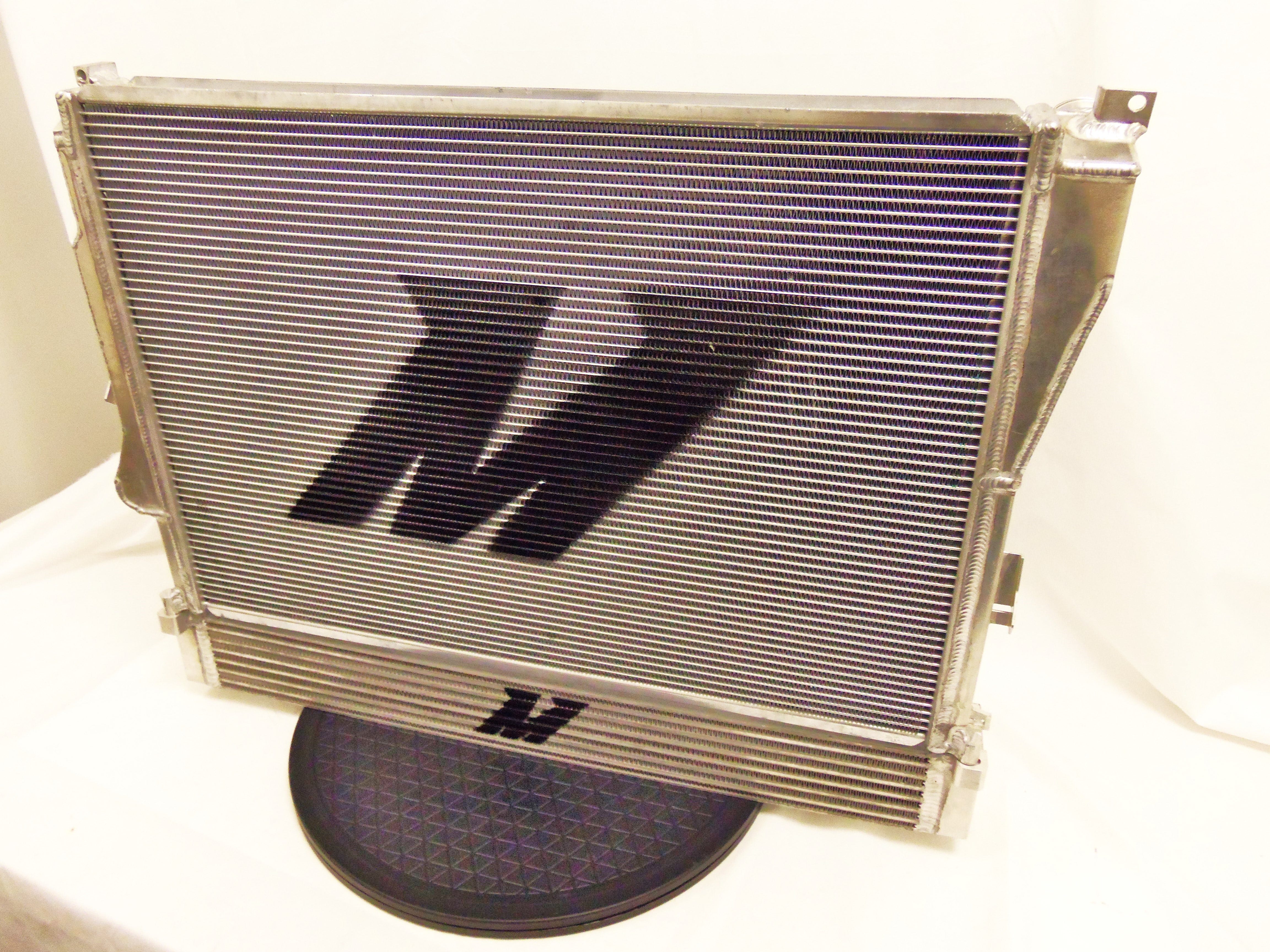 Mishimoto BMW E46 M3 Direct-Fit Oil Cooler Kit, Part 2: Cooler Design and Prototyping
Posted:
September 09, 2014
Interested in purchasing this E46 oil cooler? Check out our product page for more information!
Our team now had a functioning oil line adapter to convert from the stock oil filter housing to -AN fittings. Now we would be able to move forward with designing the actual heat exchanger for our kit. We reached out to a few of our local friends and sourced this Oxford green example!
Our friend Andrew at Open Road Tuning was kind enough to loan his vehicle for a week of development! First we tore off the stock cooler to get a look at what kind of space we had to work with.
Our engineers set to work gathering dimensions and collecting data for mounting points. After reviewing some of the specifics, we made the decision to ditch the stock cooler shroud in order to maximize the size of our cooler with the space given. After collecting our dimensional information, a prototype was created in 3D and can be seen in the rendering below!
This cooler would be designed to mount to both the stock and Mishimoto aluminum radiator. We would be increasing the core size significantly and including a -10AN fitting on each end tank.
Once we had a finalized design in 3D, we worked up a prototype to begin testing both fitment and performance. Check out a few shots of our prototype cooler!
A few close-up shots of the -AN fittings and core!
After verifying that this cooler met all the specifications of our model, our team bolted this cooler to the base of the stock radiator, exactly as it is mounted in the vehicle. Check out a few shots!
This prototype fit perfectly with the stock radiator. All mounting points lined up correctly and we anticipate perfect fitment once installed in the vehicle. Next, we mounted this cooler to the Mishimoto aluminum radiator. Our radiator utilizes identical mounting points to the stock radiator, so we have no reason to believe this would not fit in an identical fashion. Check out a few shots of what we consider the ultimate cooling solution for your E46 M3!
Alright, so now we had a functioning prototype that fit well on both the stock and Mishimoto radiators. Check back with us next time when we compare the physical size of our cooler to the stock unit and install our oil line adapter on our test vehicle!
Thanks for reading!
Interested in purchasing this E46 oil cooler? Check out our product page for more information!