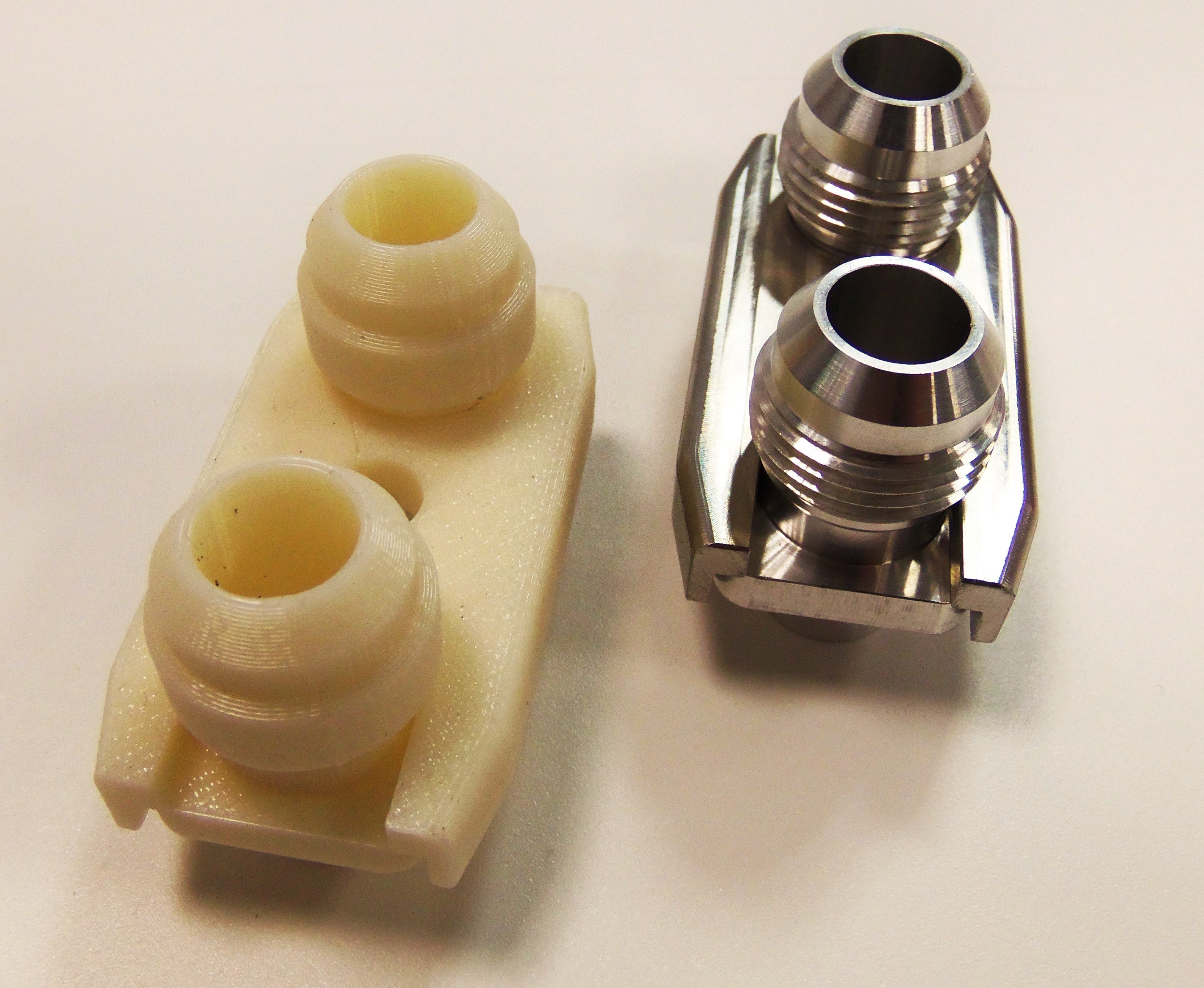 Mishimoto BMW E46 M3 Direct-Fit Oil Cooler Kit, Part 1: Product Introduction and Component Prototyping
Interested in purchasing this E46 oil cooler? Check out our product page for more information!
The BMW S54 won the "International Engine of the Year" award at its inception in 2001 and was consistently on "Ward's 10 Best Engines" list for four years. It's hard to argue against the E46, an 8,000 rpm, 3.2L straight-6 producing over 330 hp and 260 ft-lb of torque, with a competent chassis, an exhaust note that straightens the neck hair of all within earshot, and a body styling that is unmatched in uniqueness. Although my opinion is slightly skewed, being a fan of most BMW products, many would agree that the E46 was a fantastic vehicle for the street and even better for the track. E46 M3 pricing has trickled downward over the past few years, meaning that even those on a tighter budget can find their way into the cockpit of one of BMW's finest. We are seeing these vehicles at track days, drift events, parking lot autocross battles, and at the drag strip.
Many of our followers watched as we developed a new radiator design for the E46 M3. We took advantage of the talented engineering crew we have here at Mishimoto to develop and test a radiator solution for the M3 that would provide optimal performance in any condition that our customers could throw at it. We traveled to Florida for hot-weather testing and posted our development process on forums so the enthusiast world would get an inside look at what we do.
This project will be no different. We will be documenting the build process of our direct-fit oil cooler solution for the E46 M3. After successfully designing a performance radiator to efficiently decrease the S54 coolant temperatures, we turned our attention toward the oiling system of the venerable inline 6. Normal operating temperatures range from 170°F to 250°F (76.6˚C-121˚C); however, track driving has proven to raise temperatures to near 300°F (149˚C) for some folks. At certain points, the stock oil cooler cannot provide the efficiency needed to keep oil temperatures from rising. A 3,400 lb vehicle making repetitive 8,000 rpm pulls on a road course in 90˚F (32˚C) ambient temperatures is going to have some issues keeping cool. Our team felt the need to provide an oil cooler replacement that would enhance performance and provide improved efficiency for those who drive their M3 like they should.
Before jumping into this project, we set a few goals to keep our team on the same page throughout the process and to help visualize the end product.
Project Goals
Kit must be direct fit, all inclusive, and require no irreversible vehicle modification.
Must provide a proven reduction in oil temperatures.
Pressure loss must be similar or better compared to the stock cooler.
Must function with stock or Mishimoto radiator.
Let's break these goals down a bit.
Fitment
Fitment is always an enthusiast's concern when installing an aftermarket component. Fitment is a goal for 99% of the products we develop. Vehicle modification is a touchy subject with consumers, and we understand this completely. This kit will install similar to the stock cooler, and any components we add will be completely removable if one were to revert to the stock setup. Additionally, we will be including all components necessary to install this kit. This includes any hardware, fittings, etc. needed to bolt this cooler into position.
Cooling Performance
Cooling efficiency is the primary purpose of any heat exchanger. If you are having issues keeping your E46 cool on the track, we want to help solve that problem with an efficient product. We will be thoroughly testing this product to ensure that our cooler is more efficient than the stock unit. Aggressive driving demands a lot from a cooling system, and we want to provide the security and peace of mind needed to beat on your car lap after lap.
Pressure
Oil pressure is obviously important for the health of your vehicle. Manufacturers recommend both a high and low pressure limit for most engines. A general concern of most would be a low oil pressure situation in which bearings are starved of oil and wear is greatly accelerated. Normally when adding a larger cooler, pressure loss is increased slightly due to the increased volume. Our goal would be to provide near-stock oil pressure with minimal loss.
Radiator Fitment
This oil cooler design would need to function with both the stock radiator and the Mishimoto aluminum radiator. This means we would need to incorporate stock-style mounting points, something our engineering team would have no issues designing.
The first key component we would need in developing this kit is an oil cooler line adapter. From the factory, the E46 BMW uses hard lines from the oil filter housing down to the cooler. A portion of the lines consists of rubber hose to allow for flex. Our cooler would utilize -AN fitting connections, so we would need an adapter to convert to -AN at the filter housing.
First, we removed the stock oil filter housing from our test vehicle to collect dimensions needed to create our adapter.
Once removed, our team collected the necessary dimensional data and put a 3D model of our planned design into Solidworks. The adapter would consist of two fittings that press into the housing using an O-ring to create a seal. The opposite end of the fittings would feature the -10AN threads. Although slightly difficult to visualize and explain, the following images will help to portray this better. We would also need a plate that secured the fittings to the housing using a bolt in the center, similar to the way the stock lines mount. Check out a few renderings of potential designs.
Once we selected a design and made a few minor adjustments, we were able to utilize our 3D printer to create a live prototype. You can now see the fittings and how they fit into the plate unit.
We then installed this prototype to check fitment in the stock housing we had on hand. This plate adapter will be using the OEM BMW O-rings to seal the fittings to the housing. We are also designing this adapter to function with the E90 oil filter housing to expand the product fitment. For reference, check out this 3D component mated to the E90 housing!
Now that we were able to confirm fitment of this component in the E46 housing, the E90 housing, and even the E36 housing (Euro only), we moved to the next portion of the process. A final prototype was machined from the materials we intended to use in producing this component. The fittings are crafted from CNC-machined 6061 aluminum, and the tie-down plate is machined from 303 stainless steel. Check out this final prototype next to our 3D printed unit!
We then verified fitment with our machined prototype on the oil filter housings to ensure it was identical to our previous prototype. As a side note, for those who prefer a DIY oil cooler setup for their vehicle, we will be offering this adapter as a separate product sold on its own. Whether you have an autocross E36 or need some extra cooling in your E90, this adapter will provide a simple solution to -AN fitting conversion. Check out a few shots of our final machined adapter prototype.
Now that we had an adapter designed and ready for testing, we would need to begin development of our actual oil cooler unit. Check back next time for the initial design and prototyping of our cooler!
Thanks for reading!
Interested in purchasing this E46 oil cooler? Check out our product page for more information!