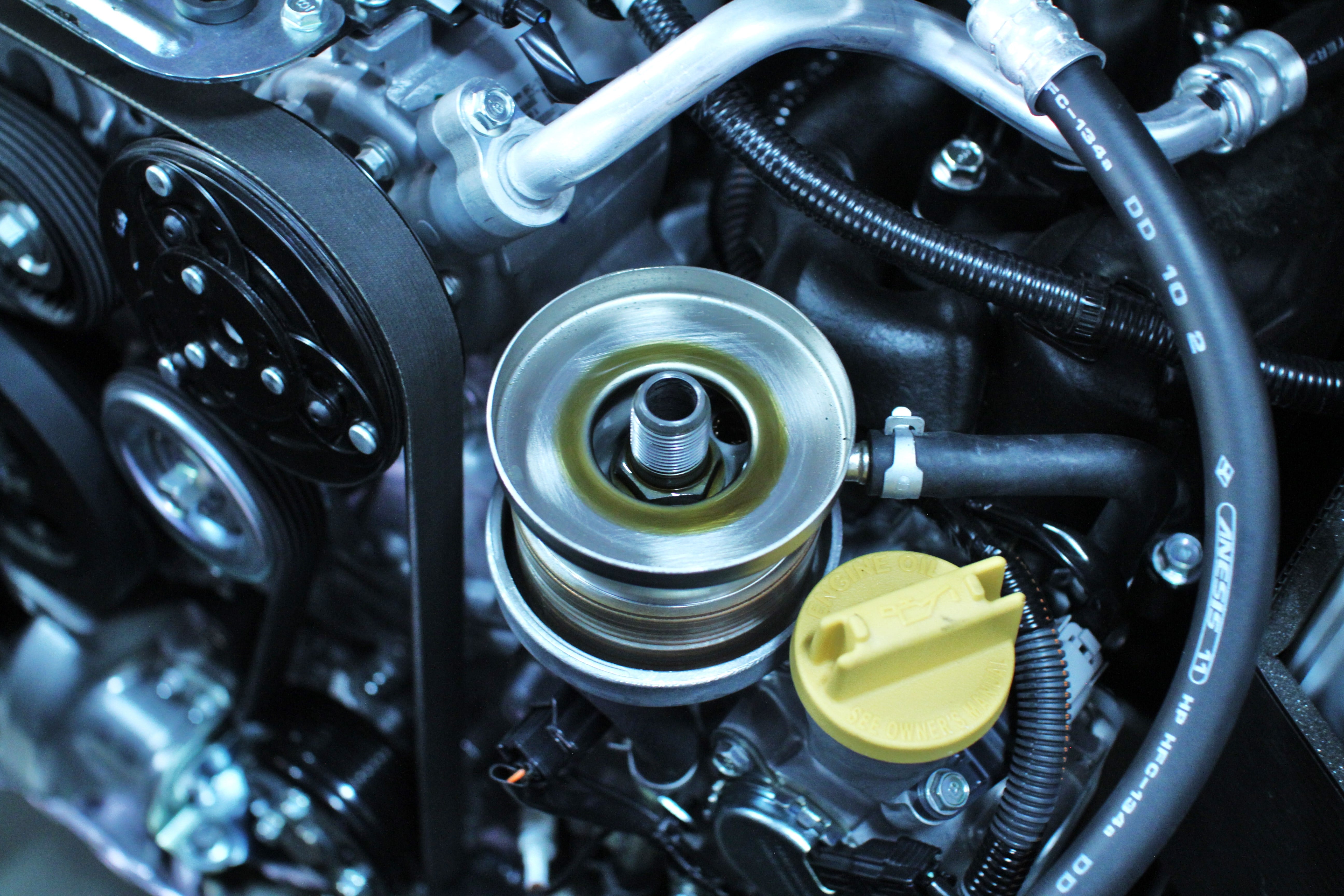 Mishimoto 2015 Subaru WRX Thermostatic Oil Cooler Kit, Part 1: Product Introduction and Reasoning
Posted:
September 10, 2014
Interested in purchasing our thermostatic WRX oil cooler? Check out our product page for more information!
After releasing our most recent direct-fit oil cooler kit for the 2015 Subaru WRX, questions from our fan base and online communities began to fill our inboxes. Our kit included all necessary components for installation and placed a large 19-row oil cooler in the front grille area. We saw huge gains in cooling performance for this particular setup, with decreases of over 25°F. This project was extremely successful and we anticipated that our customers would be very pleased with the performance. The primary concern with a portion of enthusiasts was low fluid temperatures. This kit was designed with a vehicle-specific oil sandwich plate that sat on top of the factory oil cooler/warmer.
This was a truly unique design, however the one feature this component lacked was an internal thermostat of any sort. We designed this product to function in conjunction with the stock heat exchanger. By doing so we would be using the warming capabilities of the stock cooler to bring fluid temperatures up and then using our liquid-to-air cooler to regulate them properly. Now, being that fluid is constantly running to the cooler, warmup rates are going to be slightly slower compared to the stock setup. Some of our customers in colder climates were concerned about this, being that fluid temperatures that are too cold can often be just as harmful as hot fluid temperatures. In order to provide product support for customers in colder environments, we selected to tackle a thermostatic version of this kit.
Being that we already had several thermostatic oil sandwich plates, we decided to utilize one of these components in conjunction with the appropriate CNC-machined pieces to achieve the desired setup and functionality.
Check out a few shots of the factory liquid-to-liquid heat exchanger to see with what we are dealing with.
As you can see from the above images, the stock oil warmer is located on the oil filter housing. The unit is attached to the housing using the long center bolt you see in the third image, which is also a port for fluid to run through. This unit features a single inlet and single outlet coolant port so that it can transfer heat from engine coolant to oil. A single O-ring seals this unit to the oil filter housing.
One unique feature is the cup at the top of the heat exchanger. This piece is utilized to allow any residual oil to pool and drain back into the housing during servicing. This creates a challenge for our team, as you cannot simple attach one of our standard sandwich plates. Additionally, the warmer sits in a similar cup at the top of the filter housing, presenting a challenge for our engineering team.
Check back with us next time for a look at what our team created to add thermostatic capabilities to our oil cooler kit for the 2015 WRX.
Thanks for reading!
Interested in purchasing our thermostatic WRX oil cooler? Check out our product page for more information!