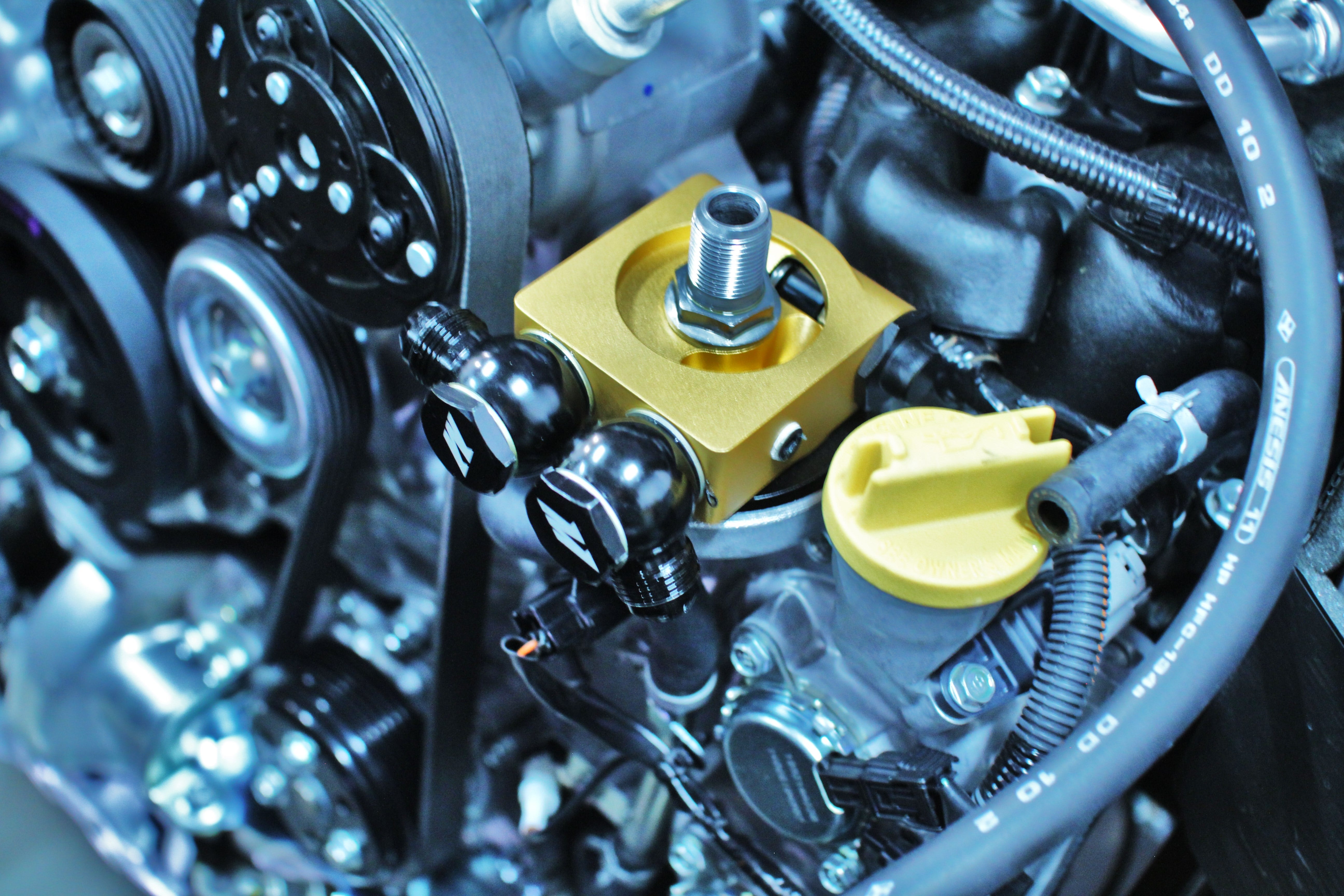 Mishimoto 2015 Subaru WRX Thermostatic Oil Cooler Kit, Part 2: Product Development
Posted:
September 25, 2014
Interested in purchasing our thermostatic WRX oil cooler? Check out our product page for more information!
Our direction with this project is to develop a thermostatic oil cooler solution for the 2015 WRX. Our team decided to eliminate the factory liquid-to-liquid cooler and replace it with one of our thermostatic sandwich plates. By doing so, we could properly regulate fluid temperatures according to the temperature thermostat installed in our sandwich plate. Additionally, we could provide improved cooling efficiency with the use of our liquid-to-air heat exchanger carried over from our non-thermostatic kit.
So why not retain the stock cooler and make the Mishimoto unit thermostatic? We have a few reasons to back up this decision. First is clearance concerns. When adding a sandwich plate to the top of the factory cooler, the filter is raised as well. This provides a concern with hood clearance. Second is efficiency. We found that when removing the stock cooler and installing our thermostatic plate, we were able to achieve appropriate fluid warmup as well as reduced cooling on the road.
So, let's take a look at the solution our team of engineers devised. First, the completely stock setup.
The coolant lines were then removed as the next step to removing the stock setup.
Then we can remove the center bolt with a 24mm socket and the entire cooler can be pulled from the vehicle. Check out a shot of the oil filter housing sans cooler!
Next we place our CNC-machined spacer into position to provide clearance for the thermostatic sandwich plate.
Then we can place the sandwich plate on top and insert the center bolt to hold this unit in place. The center bolt is longer than the factory unit, and is specific to this kit.
One thing you will notice is the unattached coolant lines sitting in the engine bay. Do not worry, we will be including a silicone replacement hose which will replace both rubber lines with a single line from the coolant pipes leading to the stock heat exchanger. Check out a few shots of this silicone hose and machined oil filter center bolt shown below!
Our next image shows the oil cooler setup complete (minus lines and a cooler).
Other than the components shown above, the rest of the oil cooler kit remains the same. This includes the cooler, lines, mounting bracket, and all necessary hardware. To give you an idea of what is included, check out the images below.
Now that we had a finalized design, we could install the kit and perform some real-world road testing to evaluate the cooling performance of this new kit.
Check back with us next time for the compilation and presentation of our results!
Thanks!
Interested in purchasing our thermostatic WRX oil cooler? Check out our product page for more information!