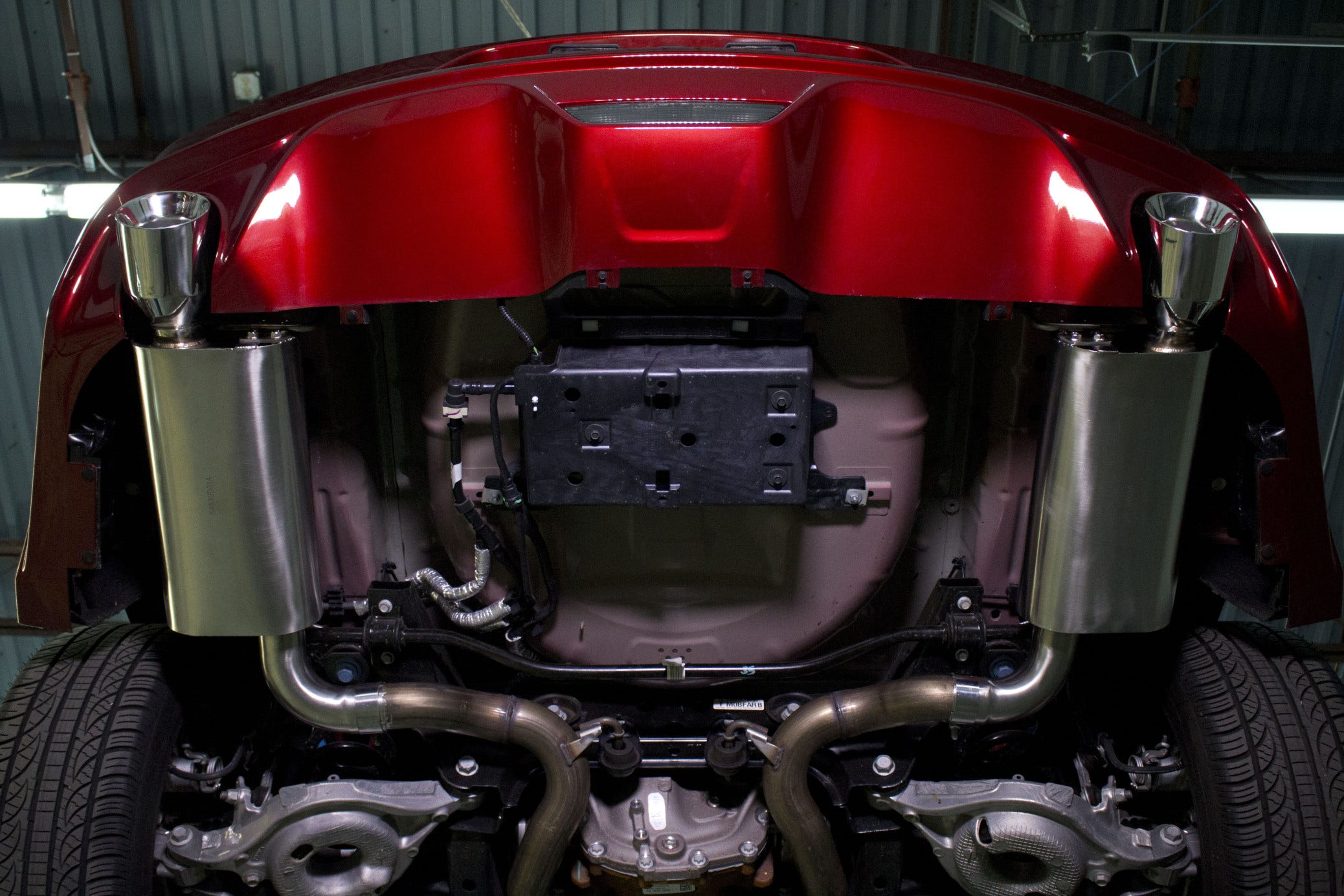 Let Your Ponies Be Heard - Exhaust Component R&D, Part 6: Test Results
In our last post, we took a look at the axleback fabrication process. Now that our prototypes are on the GT and ready to rock, it is on to testing! While we were not expecting much in the power department out of these exhaust options, we still wanted to see how they sound on the dyno.
Testing
In addition to sound testing, we will test each of our axleback options on the dyno to determine if one offers any benefit over another. This will help us to decide which option to proceed with. After making a few passes with a stock GT to determine a baseline, we ran each of our axleback options (large mufflers, small mufflers, and straight pipes) on the dyno. We first ran each option with the stock resonator and then with our Mishimoto X-pipe. We chose to use only the X-pipe because in our previous post we tested both the H-pipe and X-pipe and discovered that there were no differences in power between the two components. Alright, enough talk, more dyno!
Results
            As expected, we saw no gains in power for any of our exhaust options when compared to stock. Still, we certainly noticed a sound difference between the three axleback options, so we have decided to release all three to pre-sale.
Of course we had to name our creations according to the sounds that they produce. The softest-sounding axleback equipped with the large mufflers will be referred to as the Street Axleback. This is the option for those who want some sound out of their exhaust, but also have neighbors.
The mid-range exhaust with the small mufflers will be called the Pro Axleback. This exhaust is perfect for anyone who wants some serious sound out of their GT.
The final, and most ear-shattering option, is the straight-pipe which we dubbed the Race Axleback. When this option is paired with the X-pipe the volume is extremely loud and therefore meant for extreme locations, such as the track.
Refer to the chart below where we rank each exhaust combination by the sound level.
Coming Up!
Now that testing and naming are complete, we can release these exhausts to the wild. The pre-sale is going on now so take advantage of the lower intro price of these exhaust components before they are officially released. Let us know if you have any questions about our plethora of exhaust options!
Thanks for reading!
-Sara