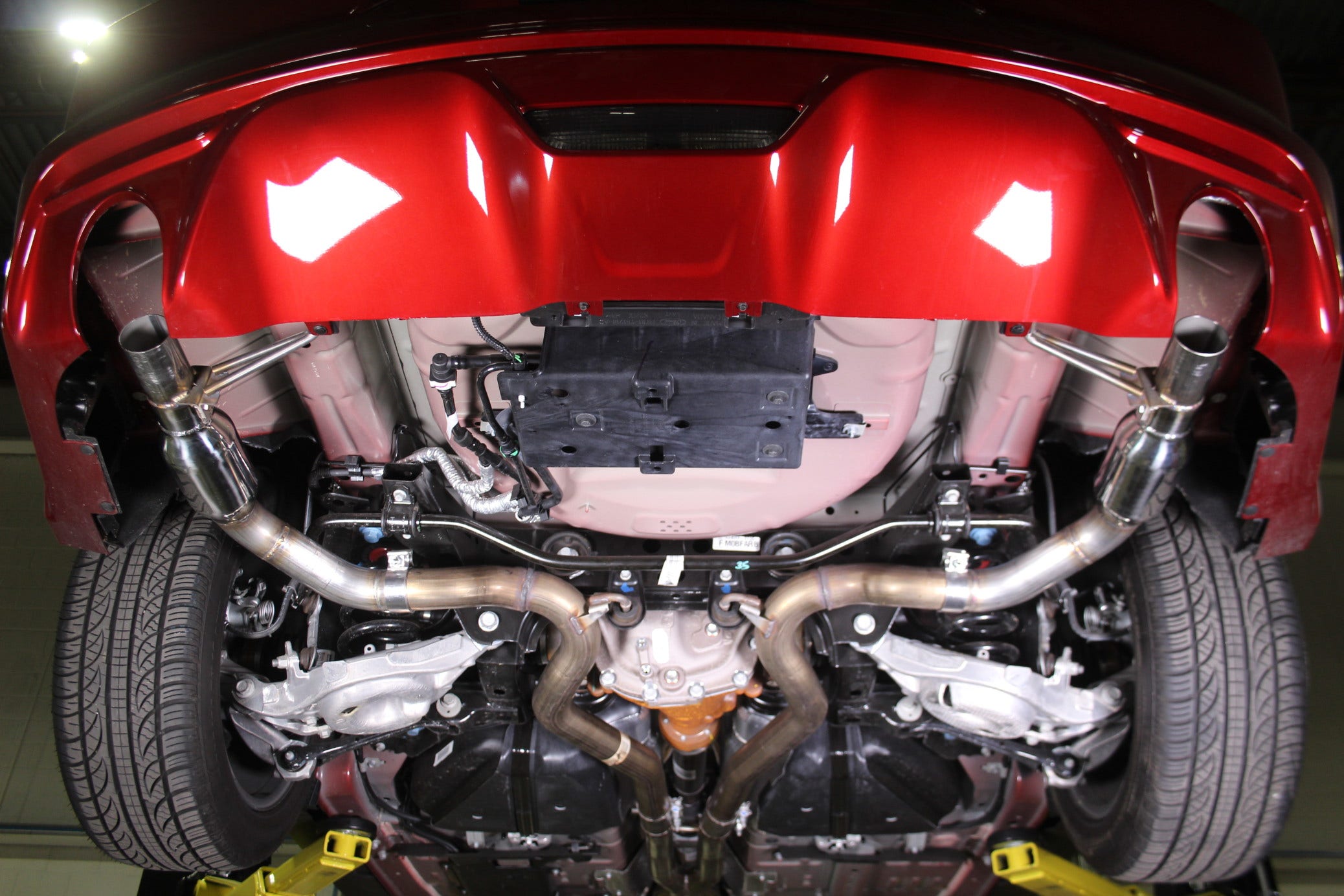 Let Your Ponies Be Heard - Exhaust Component R&D, Part 5: Axleback Fabrication
Last time we wrapped up our resonator-delete testing, and with that component good to go, we're on to our next conquest, axleback exhausts. If you have not had a chance to take a look at our resonator deletes check out our blog posts HERE.
Axleback Fabrication
Any living, breathing car enthusiast knows that the exhaust is an important modification for modern muscle. Most owners want to rid themselves of the stock sound and let their pony car be heard right out of the gate. Being s550 owners ourselves, we want to hear the unrestricted growl of the Coyote in our GT, so we set out to design some axlebacks. We intend to design a few options as we want to offer an exhaust for every taste.  We plan to test a straight-pipe option for those who want to hear the GT scream, a small-muffler option for those who want an aggressive note but have neighbors, and a large-muffler option for those who like a more tame sound.
We began the design process by applying the data we obtained from the stock exhaust on our ruby GT to design a jig. Using our waterjet, we cut the individual pieces for the jig out of fairly thick sheet metal. The jig will guide our design as we fabricate the exhausts, ensuring that the prototype exhausts fit the GT.
The waterjet allows us to rapidly create pieces such as brackets, intake boxes, and jigs for piping, as seen in this project. This jig will work for each of our axleback exhausts, as they all need to fit within specific dimensions to be direct-fit with our Mustang. After the waterjet finished the jig, we could begin fabricating our axlebacks.
Our prototypes were now complete, thanks to the quick work of the jig and Mike, our resident welder. The next step was to test-fit them on our Mustang. We will be testing the straight-pipe and small-muffler options first. Check them out below.
The rear section of the GT's exhaust is one piece, so some cutting will be required to install these axlebacks. TeamGT was careful to slice the exhaust just right in preparation to test fit our prototypes.
We are happy to report that all of our prototypes had excellent fitment. Check out some photos of our straight-pipe and small-muffler options below.
Coming up!
Now that we are sure of fitment, it is on to testing. We will be sound testing all three exhaust options on our GT for your listening pleasure, so stay tuned! In the meantime, sound off in the comments below to let us know what you think.
Thanks for reading!
-Sara