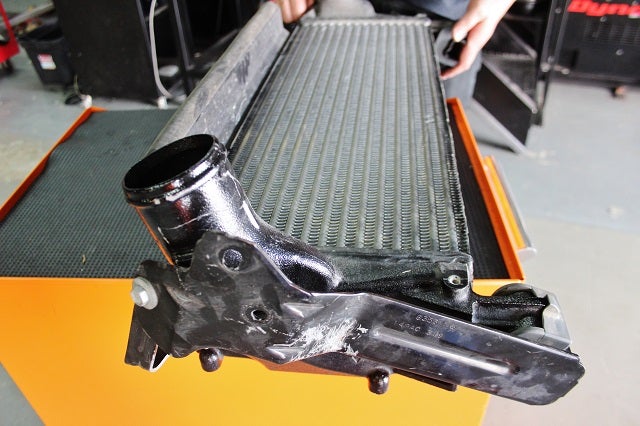 A Cooler Cummins. 2013+ Ram Intercooler R&D, Part 1: Factory Intercooler
Our product line for the Dodge Cummins continues to grow each year with the addition of interesting components that help you take your truck to the next level. These include efficient aluminum radiators, durable silicone hose kits, as well as top-notch intercoolers and intercooler piping kits. Our intercooler coverage ranges from 1994 through 2012, but in 2013, Dodge changed the Cummins intercooler design substantially. So once again, we are ready to take a shot at improving the factory system.
Factory Cummins Intercooler
Like previous generations, the 2013+ models feature an air-to-air intercooler. The primary change in 2013 was the mounting location of this cooler. Previous years saw the intercooler incorporated into the front stack with the radiator, AC condenser, and other coolers.
In 2013+ models, the cooler is mounted below these other heat exchangers and utilizes its own ducting for airflow.
In theory, the separation of this cooler from the others should improve airflow and heat transfer to the external fins. The cooler would also be better protected from heat produced by the radiator system. It will be very interesting to test the efficiency of this system once we reach that stage of R&D.
Before beginning the design of our prototype, we removed the factory cooler to inspect its construction and core size.
The location of this cooler makes the removal process simple. Instead of struggling with other coolers containing liquids, this piece comes out easily.
Check out a couple shots of the factory 6.7 Cummins intercooler.
What an interesting cooler! It is not often that we see factory coolers equipped with aluminum end tanks. These end tanks are cast and incorporate the inlet/outlet as well as mounting points. The inlet and outlet both measure 2.75".
As with most factory intercoolers, this unit uses a tube-and-fin core.
What the factory intercooler lacks in height compared to previous models, it makes up in core depth. Below are the basic core dimensions of the factory unit.
Length: 25.2"
Height: 9.85"
Depth: 4.25"
Volume: 1,055 ci
A 4.25" core is fairly thick, similar in size to a few of our larger direct-fit coolers that we developed recently.
With our interest in CCV systems and oil entry into the intake tract, we checked to see if any substantial buildup existed.
The interior of the end tanks feature a nice smooth surface. We found evidence of oil within the intercooler, but not nearly as much as we've seen in other vehicles. We will definitely keep an eye on this and see if any folks experience bigger issues in the future.
Coming Up - Mishimoto Design
Now that we have our information regarding the factory cooler, we can begin developing our first prototype. Check back in a couple weeks for a look at some initial design plans we have for the Cummins.
Thanks for reading!
-John