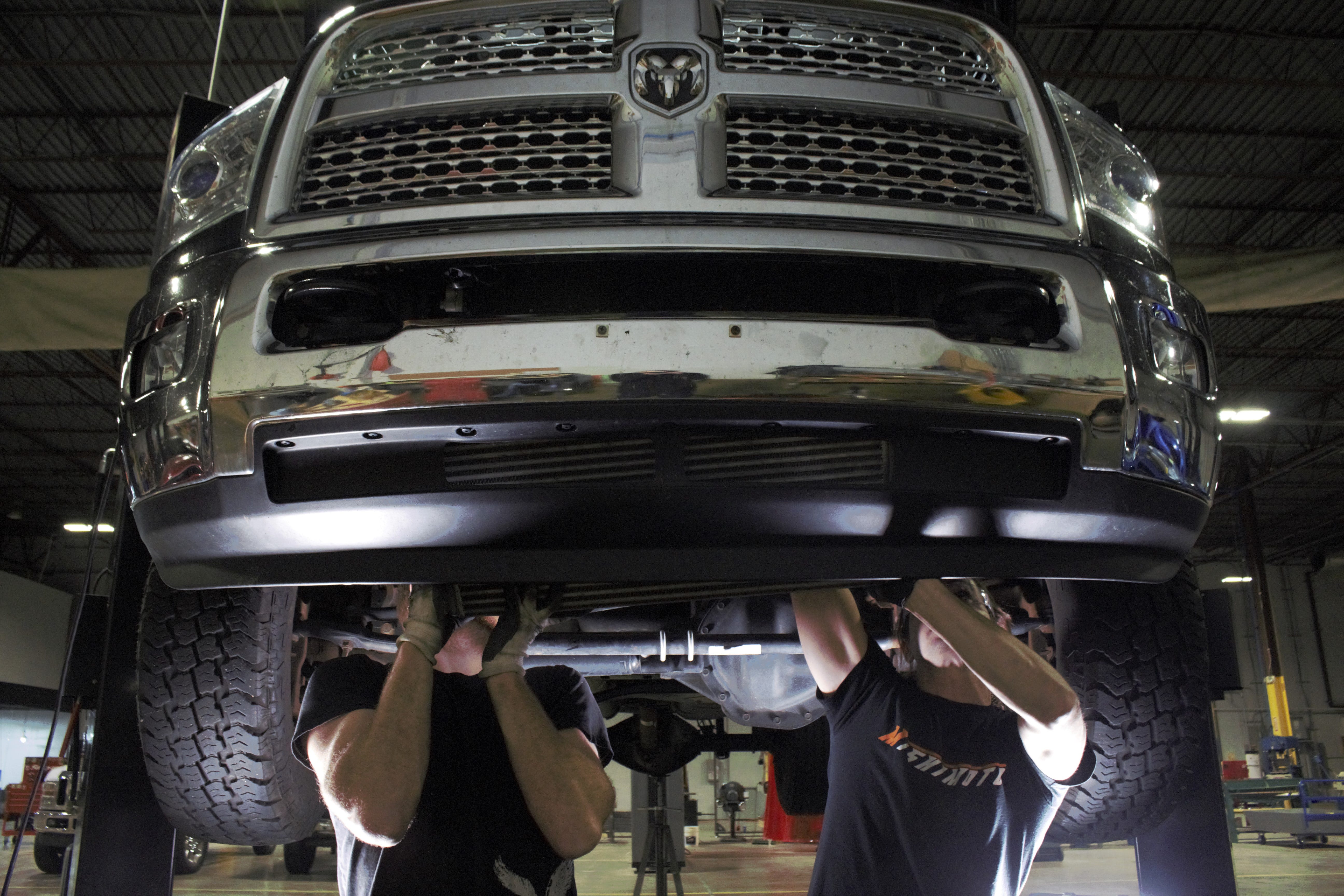 A Cooler Cummins- Intercooler R&D, Part 5: Test Results
Waiting is never an enjoyable pastime, and I feel confident saying this as a rather impatient individual, especially when it comes to ordering parts. After the initial wincing as I type my credit card information in and press confirm, I try to be patient only to end up refreshing my tracking number periodically throughout the day. Even at this moment I have a UPS tab open anxiously awaiting a shiny new oil pump for my track car. Well, the wait is over (for 4th-gen owners at least); testing is complete!
Before we could begin testing, Team Mishi had to tackle the install. With a large core featuring a bar-and-plate design, this intercooler is a hefty unit. You will certainly want to enlist the help of a buddy when it comes time for installation. Our engineer, Jason, called in a reinforcement in the form of our video host, Rob.
With the install in the books and the workday coming to a close, Jason and Rob went for a cold one to celebrate a job well done, leaving the truck in the capable hands of Dan, our lead engineer.
The Cummins looks menacing strapped to our dyno with the Mishi intercooler peeking out of the bumper, ready to go.
When the smoke cleared and the passes were done, we had some pretty impressive numbers to show for our intercooler. As you can see in the graphs below, the Mishimoto intercooler boasts a 37.8% larger core volume than stock as well as a 76.65% increase in external fin surface area. We saw a 10°F drop in air intake temperatures (AITs) compared to the factory core, and our intercooler lowers AITs by 12.5%. All without sacrificing pressure! There was little to no pressure drop across the core and we saw a pressure drop difference of less than 1% between Mishimoto and stock.
Now that testing is complete, we are wrapping up production of this intercooler. Here is a look at our final prototype for reference, however, you will have to excuse its appearance as it was used for dyno and road testing on our donor truck, thus has led a hard life. The production intercoolers will feature black shrouding and look much more refined to best compliment the Ram's already attractive exterior.
Be sure to take advantage of the discounted pre-sale, and let us know if you have any questions. Thank you to all who have patiently followed along through our R&D process!
As always, thanks for reading!
-Sara