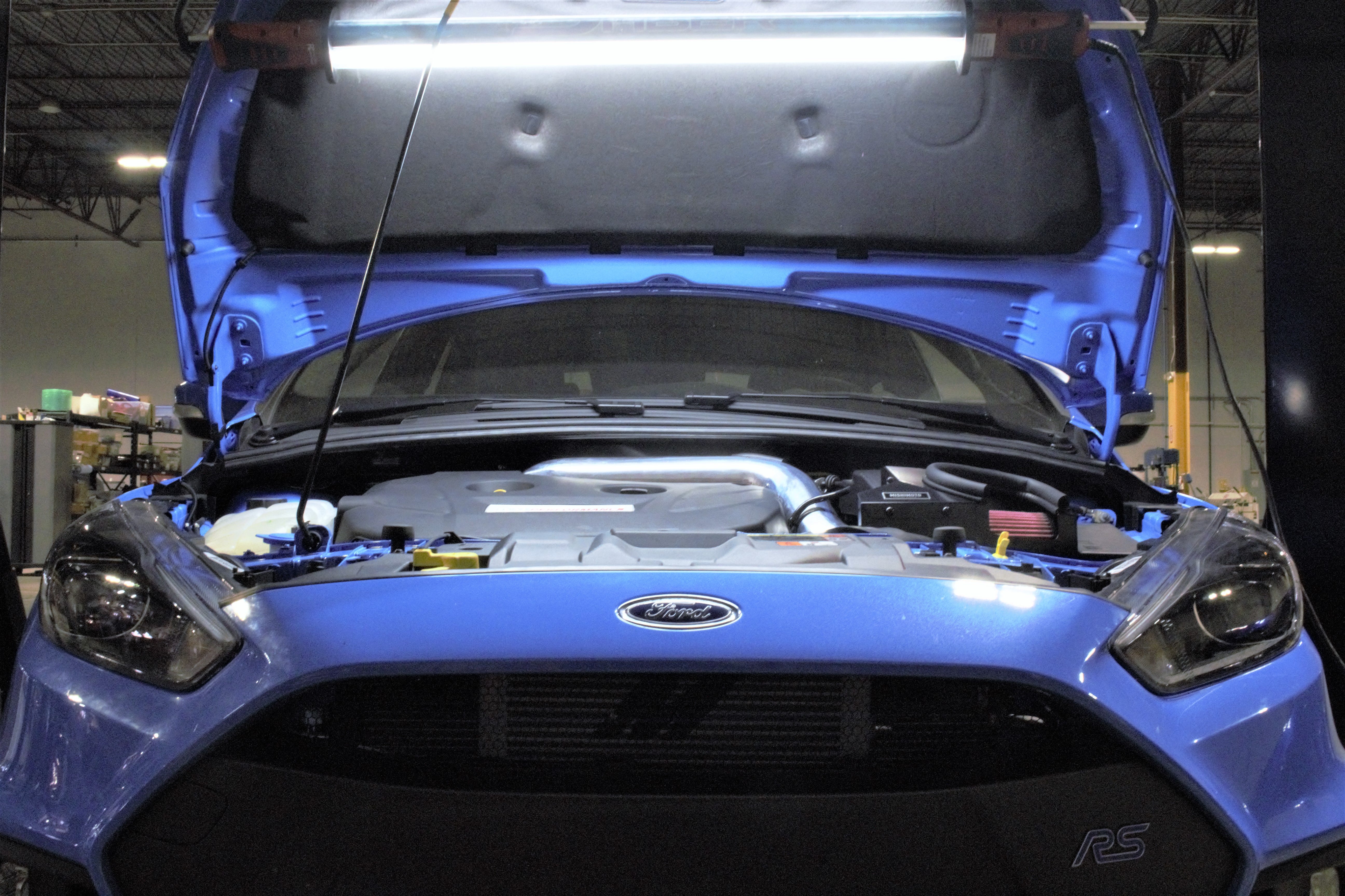 ReSpiration Focal Point - Performance Intake R&D, Part 5: C'est Fini
Posted:
December 06, 2016
This 2016+ Ford Focus RS Performance Air Intake is now available! Click here to check it out!
Here it is, the final hoorah. The production sample of our intake kit for the 2016 Ford Focus RS is here at last. In the last update, we took you guys through what this intake sounds like with the help of some dyno runs; it sounds awesome and it made 11hp and 15ft-lbs of torque! I'm happy that you guys have stuck with me through the long development process, but there is a light at the end of this R&D tunnel. I know you guys want to see what the finished product looks like, so let's check it out.
We have put this intake design through hundreds of miles of testing, accruing too many Excel sheets of data. We even installed a prototype on a daily-driven RS (with no issues) that was graciously provided to us during the dyno testing. Big thanks by our next-door Maryland neighbors ID Motorsports.
The fitment of the intake pipe was a top priority. The routing was complex to design due to the extra bracketry and low tolerances we had to accommodate, something we did not encounter in our intake for the 2013 Ford Focus ST. With this project, there was little, to no room for a flawed design. Our pipe is also a full three inches in diameter from the filter all the way back to a silicone piece that necks down to the turbo, pictured above. What's cool about the silicone piece is that it is not a conventional transition coupler. Rather, it is a horn shaped piece that provides a smoother transition from our piping to the turbo, compared to the physical step-down found in most transition couplers.
Everything in this kit was made for direct bolt-on performance with a perfect fit. In the picture above, our box has openings for the stock air-duct tubing, which grabs air from the front of the car and directs it to the filter on two fronts. The ST airbox also had this design feature and I still think it's cool how Ford designed that. Speaking of which, let's move on to the airbox!
The airflow is directed to the filter on the RS from three points; the two inlets attached to the box, and the opening on the airbox lid. While writing the third update, I talked about how we improved the overall pressure drop by 31%; we measured that using our flow bench. Check out that update for a more in-depth analysis.
When the hood closes, it forms a seal on the weather stripping, essentially shielding the top from the open environment, while allowing air to stream into that U-shaped opening in front of the box. We had taken the front end off the car for some other projects, so it's a bit easier to see how the seal will mate with the hood.
The polished intake pipe looks nice, but you will also have the option of a wrinkle black and an upcoming limited color option we will reveal at a later date; trust me, it's going to be a head turner.  The box will stay powder-coated black and will come only with an open lid for the US and European markets. Our friends in Australia will get only the closed lid version. We know Australian emissions laws are pretty strict, so we wanted to be absolutely sure that this intake won't raise any red flags. It isn't too different; it's just a fully enclosed system without the use of a hood seal.
Now, all that is left for us is to deliver this intake to your waiting arms. We are going to make the pre-sale live very soon, so please keep an eye out for that. Thanks for keeping up with the development of our 2016 Ford Focus RS Performance Intake!
Before I officially bring this project to a close, I'd like to quickly shift gears for a moment. The late Paul Walker is a big reason why most of us are even gearheads in the first place. With the recent anniversary of his tragic passing, I'd just like to say: May he rest in peace; this would not have been too much chrome for him.
-Diamaan