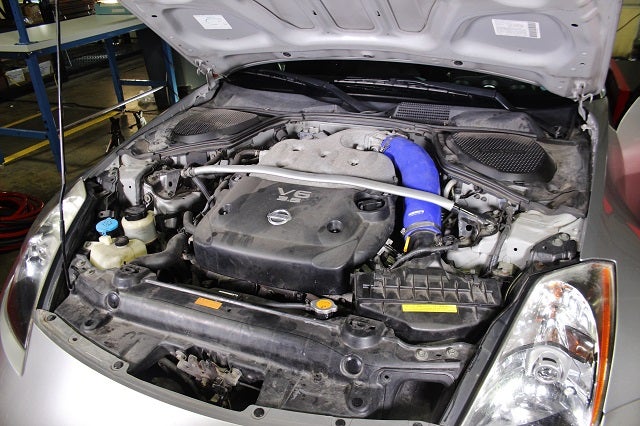 350Z Silicone Intake Hose R&D, Part 2: Test Fit and Testing
It's now time to test fit our prototype 350Z intake hose to verify fitment. If any changes are needed to enhance or ease the installation process, now is the time to do so.
We have a slight adjustment to make on the length of the CCV hose connection, but otherwise, our 350Z intake hose mounted nicely.
Dyno Testing
Power gains from an intake hose can vary from one vehicle to the next. This typically depends on the existence of any restrictions within the stock hose. To test for power gains, we set up our 350Z test vehicle on our Dynapack™ for a few pulls.
Check out the video compilation from our runs. VQ sounds are always welcome in the shop!
Dyno Results
Each 350Z induction hose setup was on the vehicle for numerous runs until we were able to produce three consistent pulls. We took an average of the three pulls to create the final plot for each setup. This process reduces variables from testing and provides more accurate data.
Check out the results!
At the lower end of the plot, gains are minimal and the two curves seem to snake around each other, until we see a power separation on the top end. This occurs from around 5,000 rpm to redline, which proves that flow has improved. Within this range, we see maximum gains of 4.5 whp and 6.5 wtq. This is a pretty solid improvement for a component that installs in such a short time.
Coming Up - Discounted Pre-Sale
With positive results from testing the 350Z induction hose, our team has moved forward with producing our first batch of units. In the meantime, we will be launching a discounted pre-sale for those interested in picking up our intake hose.
Keep an eye on our blog for development of more Nissan 350Z parts.
Thanks for reading!
-John