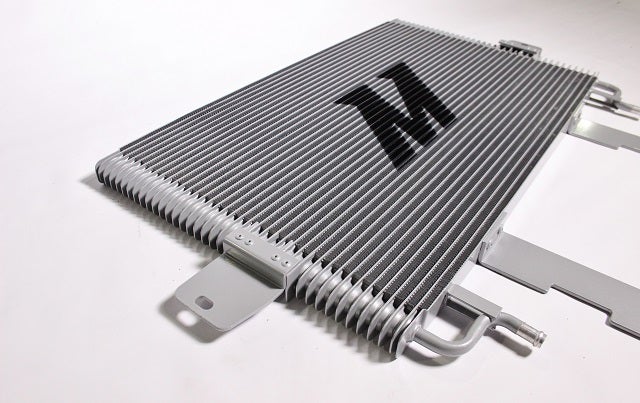 Treat Your Transmission. Ford 6.0L Powerstroke Transmission Cooler R&D, Part 2: Mishimoto Prototype
Now that we have designed our 6.0L transmission cooler prototype in SolidWorks®, our team has begun work on constructing our first prototype. We will be using this prototype to verify fitment on our truck and perform heat-soak testing to determine any cooling benefits provided by the larger core size.
Mishimoto 6.0L Transmission Cooler Prototype
Check out a couple shots of our first prototype unit!
Size Comparison
We are increasing the size of this cooler for greater fluid capacity and improved heat transfer. Although the core height remains the same, we've increased the width to provide greater surface area for airflow. Check out a couple shots showing a size comparison of our cooler against the factory 31-row unit.
The next two images will give you a better idea of the additional width we've added with our prototype.
Along with adding fluid capacity, we've also made changes to the external fin design. Check out a close-up shot comparing the fins of each cooler.
Compared to the factory cooler, our prototype features short fins so more rows of tubes can be packed into the core. This denser fin setup also provides increased contact points for heat transfer, which typically results in greater efficiency. Within the same core dimensions, we can fit an additional five rows of cooling tubes.
Coming Up - Testing
We are ready to test fit our prototype cooler and evaluate performance benefits. Check back next time for a look at the results.
Thanks for reading!
-John