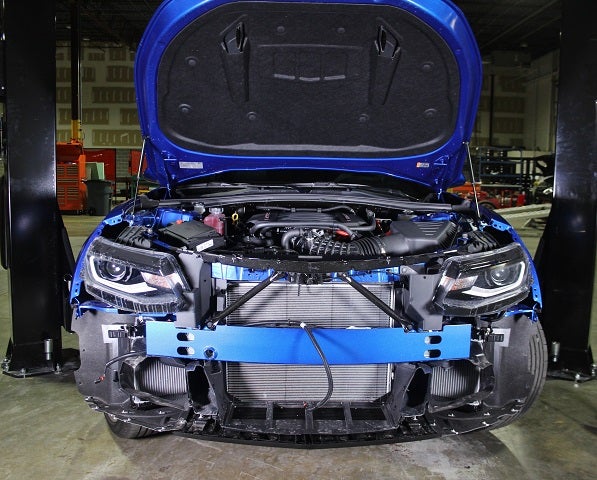 Cooling The Camaro. 2016+ SS Primary Radiator R&D, Part 1: Stock Radiator Evaluation
Mishimoto has been involved in the heat exchanger business for quite some time. Our team has produced many optimal aftermarket cooling solutions for vehicles new and old. We are finding now that OE heat exchangers have been improving substantially. This is occurring because vehicle curb weights have risen, and the horsepower war has continued to produce increasingly massive power output numbers.
Now, this isn't to say there isn't room for improvement. Stock cooling systems are typically adequate for a stock vehicle in street-driving conditions and in some instances, light track driving. Once owners begin adding sticky tires for longer-duration lapping, stock heat exchangers have trouble keeping fluid temperatures properly regulated.
Considering the weight and power output of the 2016 Camaro, we expect to see a need for improvement in both the primary and secondary radiator systems. This particular R&D project will cover the creation of our aluminum primary radiator for this vehicle.
Stock 2016 Camaro SS Radiator Evaluation
The stock cooling system uses a single primary radiator and two secondary radiators to adequately regulate temperatures for the LT1 engine. For more information about hose routing and component locations, check out our video review of the cooling system, linked below.
Before designing our 2016 Camaro radiator, we need to evaluate the stock unit. Dimensions need to be captured and features need to be replicated before improvements can be made.
We quickly pulled the stock Camaro radiator from our vehicle.
Once out, we could get a good look at how GM designed this 2016 Camaro SS radiator.
Like most modern heat exchangers, this Camaro radiator uses plastic end tanks crimped to an aluminum core. To seal the two materials, a rubber O-ring sits inside the crimp connection. Generally, these systems are fairly reliable, although the plastic material has been known to degrade in a variety of stock vehicles.
The use of plastic allows for all unique features and mounting points to be molded into the tanks. Let's take a look at the tanks individually.
The passenger-side tank is first. As you can see, the front side features numerous mounting points as well as clips for the AC condenser. Mounting pegs are incorporated into the upper and lower portions of the tank, which uses a rubber bushing for isolation and flex. The back side of this tank includes the fan shroud mounts, the upper radiator hose connection, and an ancillary hose connection point. One interesting feature here is the absence of quick-disconnect fittings that we've seen on most of our recent radiator projects. This radiator includes old-school clamp-on hose connection points, which makes designing our product a touch easier.
The driver-side tank includes most of the same mounts and connection points as the other side. One distinguishing feature is the internal transmission cooler. Both the automatic and manual Camaro models feature an in-tank liquid-to-liquid transmission cooler. Transmission fluid enters this tank, transfers heat with engine coolant, and then exits to head to an external liquid-to-air transmission cooler. Yeah " GM was pretty serious about keeping fluids cool on this new model.
We will need to include this in-tank unit when we design our aluminum counterpart. To get a better idea of the size of the in-tank unit, we removed this component from the radiator tank.
Neat stuff!
Coming Up - 3D Models
Throughout the next few weeks, our engineers will be taking data points from this stock radiator and compiling them to create our own design. Check back next time for a look at our initial 3D models for the 2016 Camaro SS radiator!
Thanks for reading!
-John