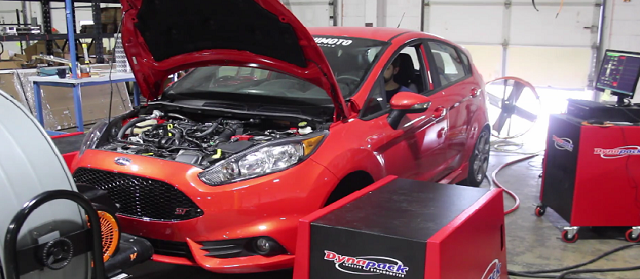 Pipe Down! Mishimoto Fiesta ST Charge Pipe R&D, Part 5: Prototype Testing
We are nearing the completion of this project. Our engineering team is ready for dyno testing that will verify any power gains made with our larger-diameter intercooler piping. Exactly how much larger is the piping we designed?
Fiesta ST charge pipe volume comparison hot side
The Mishimoto hot-side design provided the greater increase in volume between the two, coming in at a 51% increase over the stock pipe.
We did not have quite as much room to grow on the cold-side, but we still managed an increase of 22% in internal volume over the stock pipe.
Along with the volume increase, our piping features smooth mandrel bends with minimal interruptions caused by additional connection points or changes in inner pipe diameter.
Testing
Power output data is frequently used for evaluation of a piping upgrade. We will be running tests with each pipe individually and then a final set of runs with both the cold-side and hot-side pipes installed.
To provide an accurate representation, each plot reflects an average of three runs for each setup. Our Fiesta ST is still on the stock tune, which will provide a nice baseline for our testing.
Let the pulls begin!
Data
First, let's take a look at the hot-side charge pipe results.
As you can see, just bolting up this charge pipe provided instantaneous power gains through the entire rpm band. Maximum gains recorded were 4 whp and 5 wtq. We are averaging gains of 3.25 whp and 2 wtq from 3,500 rpm through redline.
Next up, a look at our plot for the cold-side charge pipe test.
The cold side of the CAC (charge air cooler) system produced the biggest gains, with maximum output gains of 7 whp and 8 wtq. Average gains measured 5 whp and 5 wtq from 3,500 rpm through 6,100 rpm. Very impressive results for such an easy-to-install component.
Once each pipe was individually tested, we bolted on the full kit and completed the test once again. Interestingly, results were nearly identical to our second set of test data obtained with just the cold-side pipe installed. Our assumption is that we've reached maximum efficiency in airflow through the piping system in relation to the stock tune. Further gains would most likely be possible with higher boost levels and additional tuning.
Coming Up - Discounted Pre-Sale
With positive results in our pockets, we are ready to begin constructing our first batch of kits. We will make slight tweaks to the bracketing for the cold-side pipe, but otherwise the design of this prototype will be reflected in our final product.
We will be launching a discounted pre-sale for individual hot-side and cold-side pipes as well as the full kits. Updates on that coming soon!
Keep an eye on our blog for additional updates on upcoming Fiesta ST performance parts.
Thanks
-John