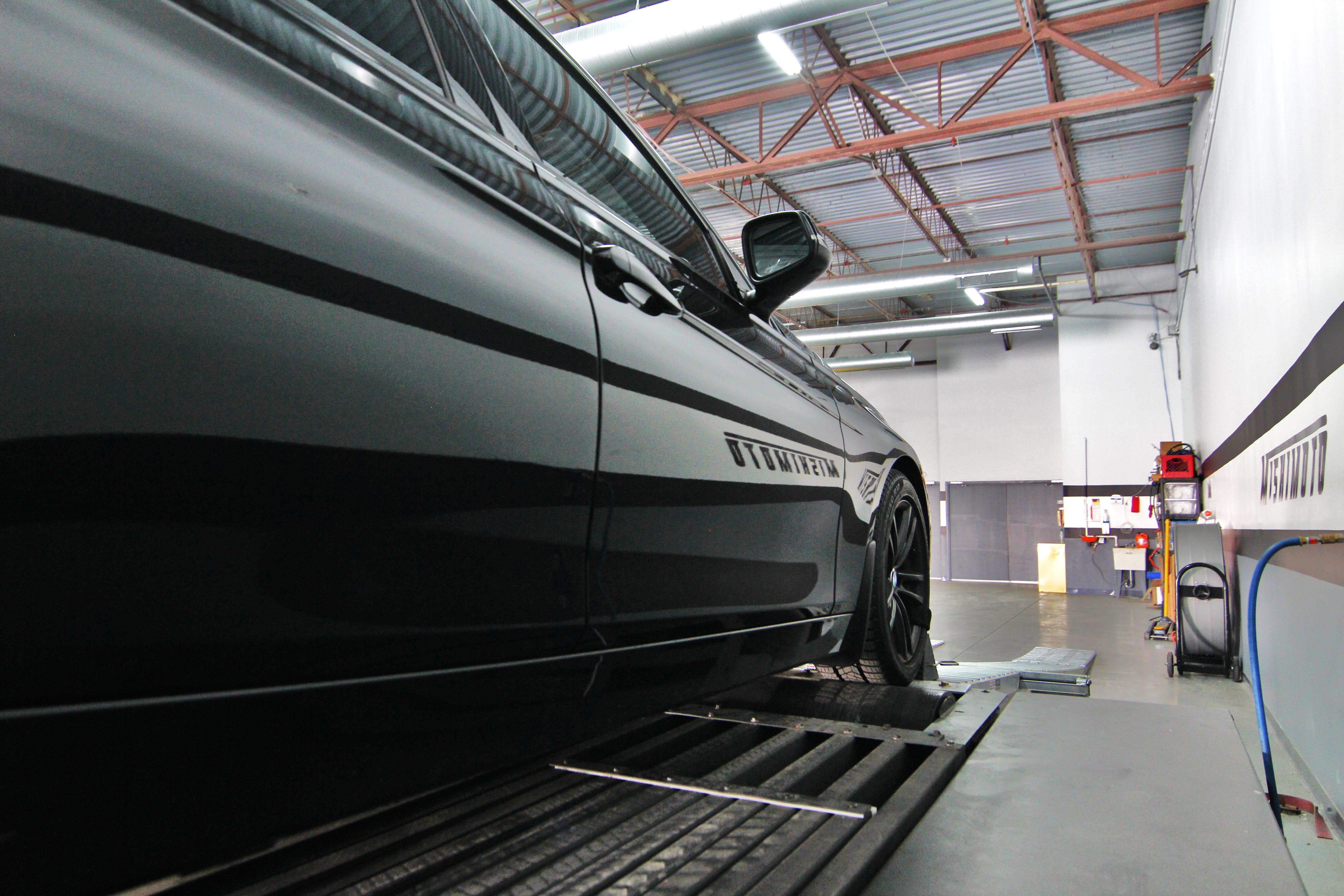 A New BMW F30 Performance Intake, Part 3: Testing and Data Collection
Interested in purchasing our F30 intake system? Check out our product page for more information!
We already knew our BMW F30 intake system looked fantastic within the engine bay of the F30. With our final prototype design fully complete, it was time to see if our intake system would produce any improvements in both intake sound and power output.
Dyno Runs
We strapped our test vehicle to the Dynojet and began making pulls. This particular vehicle was equipped with a aftermarket tuning device, and we would be checking data both with and without this software as a means to compare the stock intake system to our prototype design.
We captured pulls with each system installed to compare the sounds of both systems. Check out the compilation video below!
You can certainly hear the difference in our video, but in person the tone changes are even more audible. By using a larger cone-style filter in our airbox, intake sound is much improved over the sound of the stock setup.
Dyno Data
After all those runs, of course we want to know what kind of power gains we achieved. First, a look at the stock tune dyno plot comparison.
As you can see, actual power gains for the Mishimoto BMW F30 intake were negligible on the stock tune. Let me shed some light on what happened during testing.
The N-series engine is a unique animal and produced various numbers until settling into a consistent string of power output. The results in the plot above were an average of three runs for each setup, collected once the vehicle began to produce consistent runs. Yes, we could use a low run from the stock intake and a high run from our intake and show some nice power gains, but that would not give us an honest assessment of our system.
Additionally, we modified the intake tube diameter throughout the testing process to investigate any differences in output. We attempted these tests with 3.00" and 3.25" piping to see if any MAF changes resulted in power gains or decreases. We were also curious if the pipe size increase would improve flow and make an impact. Strangely enough, no changes occurred in power output at all. On other intake systems, these changes to the piping normally result in some movement of power, either up or down. We can infer from this that the MAP sensor is the primary contributor to addressing fuel mixture, while the MAF may function as an assistor.
Next, we loaded up the aftermarket tune and continued on with our next round of testing for the BMW F30 intake. The plot from the dyno tests is shown below!
First thing to note, the aftermarket tune added a nice bit of power for the F30: around 30 whp and 50 wtq were added with the tune. In similar fashion to the stock tune testing, we saw only minor power gains in fairly sporadic areas of the plot. A few spots showed around 4-5 whp gains, and numerous additional areas showed 1-2 whp gains over the stock system.
So why would we not see gains? Our filter outflows the stock unit by a large margin and utilizes the stock air duct. Also, our airbox design is more free-flowing and less restrictive than the stock unit. It is very likely that the stock engine management is playing a role in power output, and that the stock and OTS tunes are not using the better-flowing intake to the best advantage.
So What Are The Benefits?
The Mishimoto BMW F30 air intake system doesn't add substantial power " so why would you need one? We have three reasons for purchasing this intake. If you are seeking maximum power gains per dollar spent, a tune is going to be a better investment for you.
Intake Sound
As you can tell from the video we posted above, this BMW F30 intake certainly provides improved sound, most notably during turbo spool. This is even more apparent during road use as opposed to dyno testing.
Intake Aesthetics
Our BMW F30 air intake is very different from the stock airbox system as well as any other system on the market. We've developed a unique system that is aesthetically pleasing. When you open the hood of your F30, this intake will stand out as a nice, clean addition to the engine bay.
Pro-Tune Potential
Although we may not have made significant additional power on the stock tune and only minimal gains on the OTS tune, we are confident that the additional airflow of our intake system can be used to advantage with a pro-tune specifically for the vehicle.
Coming Up!
Now that product testing was complete for our BMW F30 air intake, we needed to construct a final prototype to confirm fitment. Check back next time for a look at our final prototype installed on our test vehicle.
Thanks for reading!
-John
Interested in purchasing our F30 intake system? Check out our product page for more information!