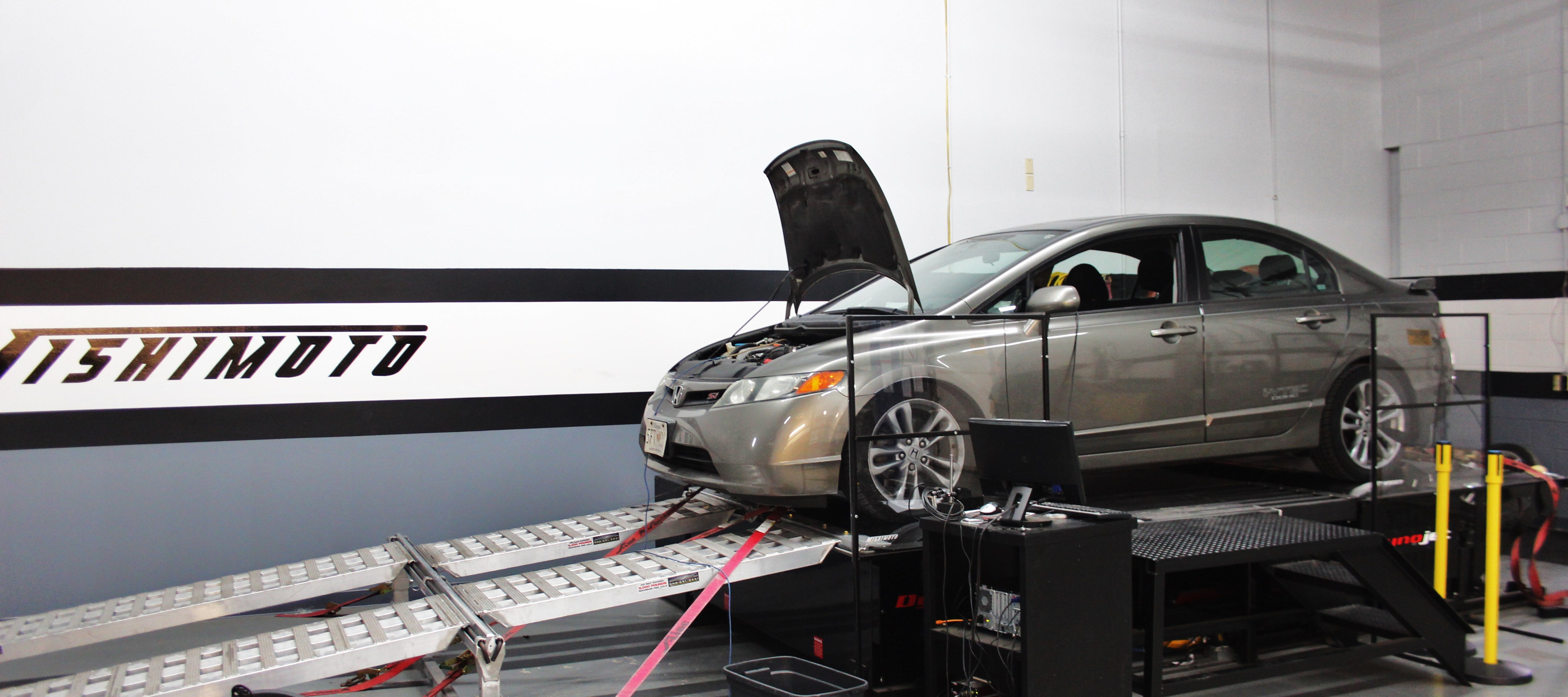 8th Generation Honda Civic Si Intake Development, Part 2: Dyno Testing and Results
Interested in purchasing our new Civic Si intake system? Check out more details on our product page linked below!
Now that we had a functional prototype, it was time to perform some dyno testing to ensure that we were on target for producing a power-adding intake system. The dyno results would provide some base-line data so we could move forward with refining our intake design.
Dyno Runs
We quickly strapped the Si onto our Dynojet in preparation for our day of testing.
Of course we did some filming during our dyno runs to capture differences in intake sound from the stock Civic Si intake to our prototype. Check out the video below!
Testing Results
Our initial test simply captured power output while monitoring AFRs to ensure that they remained within a safe margin of the stock intake.
Check out the dyno plot from this test!
As you can see from the plot above, we made some very strong gains with our better-flowing intake system. The Mishimoto intake really sets itself apart from the stock setup once i-VTEC is engaged, which is supported by our 4-5 whp gains from around 6,250 rpm through redline. Maximum gains occur to the tune of 6 whp and 7.5 wtq, and we saw peak gains of nearly 5 whp and 2.7 wtq.
Additionally, the vital AFR reading during these tests remained well within a safe margin. We have no doubts about the longevity and safety of your K-series with this intake system installed.
Solid performance benefits from an easy-to-install Civic Si intake system. Our team was very pleased with these initial results!
Continued Design Work
With confirmed positive testing results we could move forward with revising and refining the design of this Civic Si intake system. First, we turned our attention to the heat shield. We wanted to make a few tweaks to the dimensions and features, so we could model this piece in 3D using our Romer CMM (coordinate measuring machine). This device allows us to fixture our prototype and capture all dimensions, which helps to speed up the modeling process and create more accurate models. This particular tool can be used to develop numerous Honda Civic Si parts in the future!
We did the same process with our Honda Civic intake piping so it could be placed into our 3D-modeling software.
Once we had these components modeled, we decided to utilize another piece of equipment commonly seen in our R&D process, our Makerbot 3D printer. We recently picked up a new printer from Makerbot, and it has been working out quite well for us. As with our CMM device, this tool has been key for producing awesome Honda Civic Si parts, and we look forward to exploring the use of this technology further. With our heat shield model loaded up, we started the print!
One thing to note with this particular prototype is the checkered pattern. Keep in mind that this is in place simply to add structure to the plastic component. It is not representative of the actual surface of our design. We add this additional structure to thinner prints in order to provide additional strength. Thicker components are typically rigid enough to use without adding this.
Once printed, we had a prototype we could fit into the engine bay for test fitting and confirmation of our bracket and mounting locations.
Check out the test fit!
Everything fit quite well with this prototype, so only a few tweaks would be required to ease the installation process.
Coming Up!
Next time we will have more coverage of our prototype development process and a look at our final prototype Honda Civic intake!
Thanks for reading!
-John
Interested in purchasing our new Civic Si intake system? Check out more details on our product page linked below!