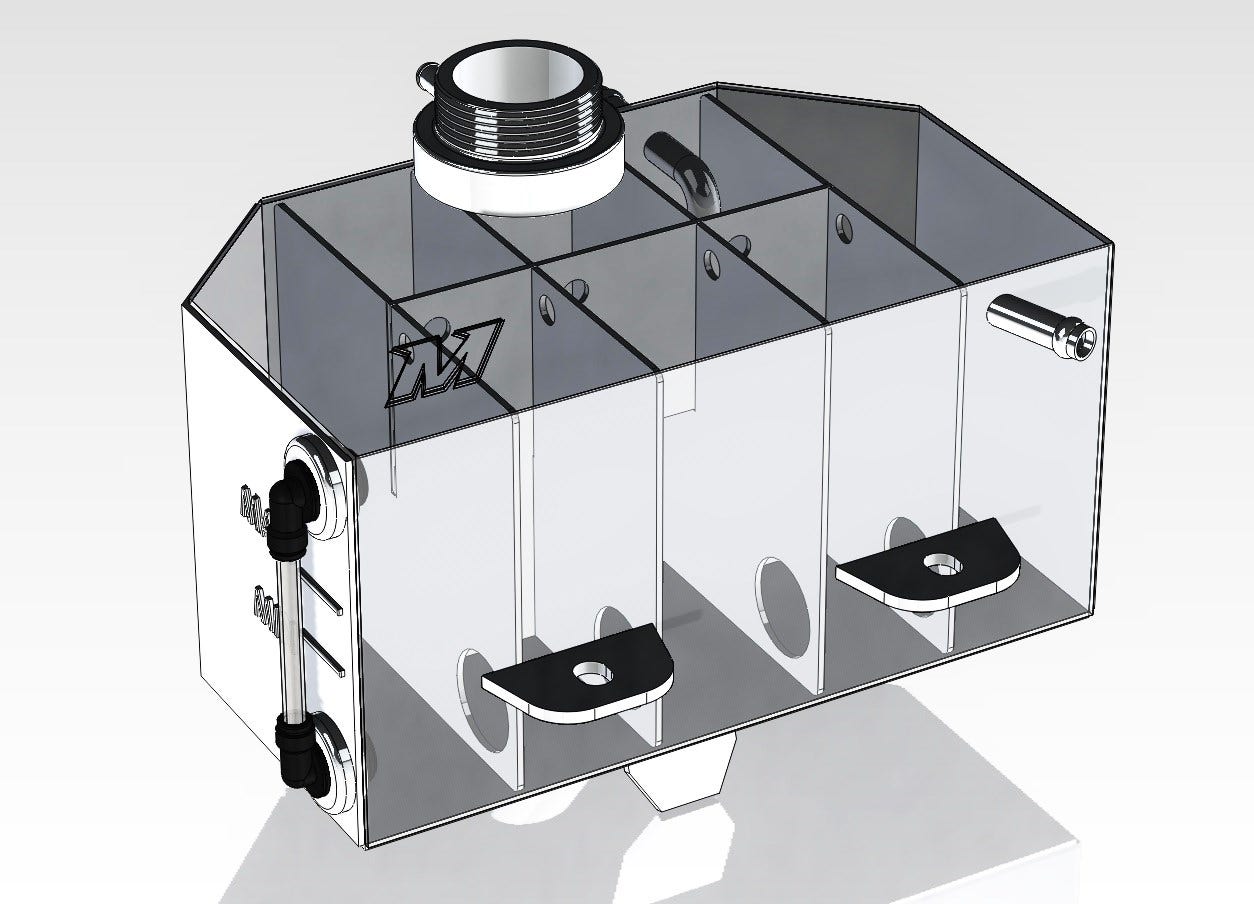 2015 Mustang Expansion Tank Project, Part 1: Stock Tank and 3D Modeling
Interested in picking up our aluminum coolant expansion tank? Check out more details on our product page linked below.
It's hard to match that feeling you get when purchasing a new car, especially the new S-550 Mustang. Picking up your friends for joy rides, melting the tires down the full length of your neighborhood, pulling into the driveway, popping the hood in complete ecstasy " wait " what is that? Is that the coolant expansion tank? Why is it so terrible looking?
This is pretty similar to what happened the day our shop 2015 EB arrived. The engine bay on both the 2.3L and 5.0L vehicles is quite nice, well organized, and clean. Unfortunately, right up front in plain sight sits quite an eyesore in the form of your coolant expansion tank. To improve aesthetics, we decided to tackle R&D to bring you guys a more appealing alternative to the stock tank.
Stock Expansion Tank Exterior
Before jumping into a design of our own, we needed to capture the dimensions and features of the stock unit to ensure that we include these in our component.
This tank features three coolant ports; two are on the top and one is on the base of the tank.
Despite the primary portion of this tank being constructed from plastic, these ports feature a metal internal sleeve to prevent failure. If you've ever removed hoses from an old radiator or expansion tank, you will understand how brittle this plastic can become.
The last remaining external features to consider are the cap threads and fill neck, which are shown below.
Stock Expansion Tank Internal Construction
Although it is only slightly noticeable from the shape of the exterior, the internal portion of this expansion tank features a ton of baffling. To get a better look, we sliced the expansion tank in half and had a look inside.
Each half is shown individually below.
What's with all the chambers? The chambers in the tank are in place to prevent any sloshing of coolant during hard cornering. One of the ports requires submersion in coolant to function properly, and if coolant were to end up below the port location, air would enter the system. As you may know, air within the cooling system can cause serious issues. An air pocket will restrict or block coolant flow which can cause massive temperature fluctuations and overheating. If an air pocket exists, it must be purged from the system to avoid continual overheating concerns. If the port in question were to become exposed to air during hard cornering, the possibility of air pockets entering your coolant system is quite high. This is not something you want to occur at a weekend autocross or track day.
These baffles are just as important as every other feature on this expansion tank.
Baffle Testing
We wanted to see firsthand what impact this baffling would have on coolant movement. We set up a quick testing rig, shown below, to perform our science experiment. We wanted to evaluate the performance of the baffles during simulated driving conditions to determine the need for these in our expansion tank design. We put together this testing rig to show how coolant would react within the baffled tank as well as an empty container without baffling.
We then strapped on our new Go-Pro camera and produced conditions similar to a ride on rough terrain and with aggressive cornering (such as at an autocross). Check out the video!
As you see from these photos/videos, the OE expansion tank isn't just a plastic jug designed to hold coolant, it is a highly engineered piece which needs a well thought out solution to not only improve under hood aesthetics, but also keep your factory cooling system functioning properly.
With this testing in the books, and in the minds of our engineering team, we set to work on a 3D model for our expansion tank design.
With the results from our test, we have determine the need for an internal baffle that emulates the stock tank. This will ensure that performance is identical in all situations.
Coming up!
We are well on our way to create an appealing and robust aluminum expansion tank. Check back next time for a look at our first prototype unit
Thanks
"John
Interested in picking up our aluminum coolant expansion tank? Check out more details on our product page linked below.