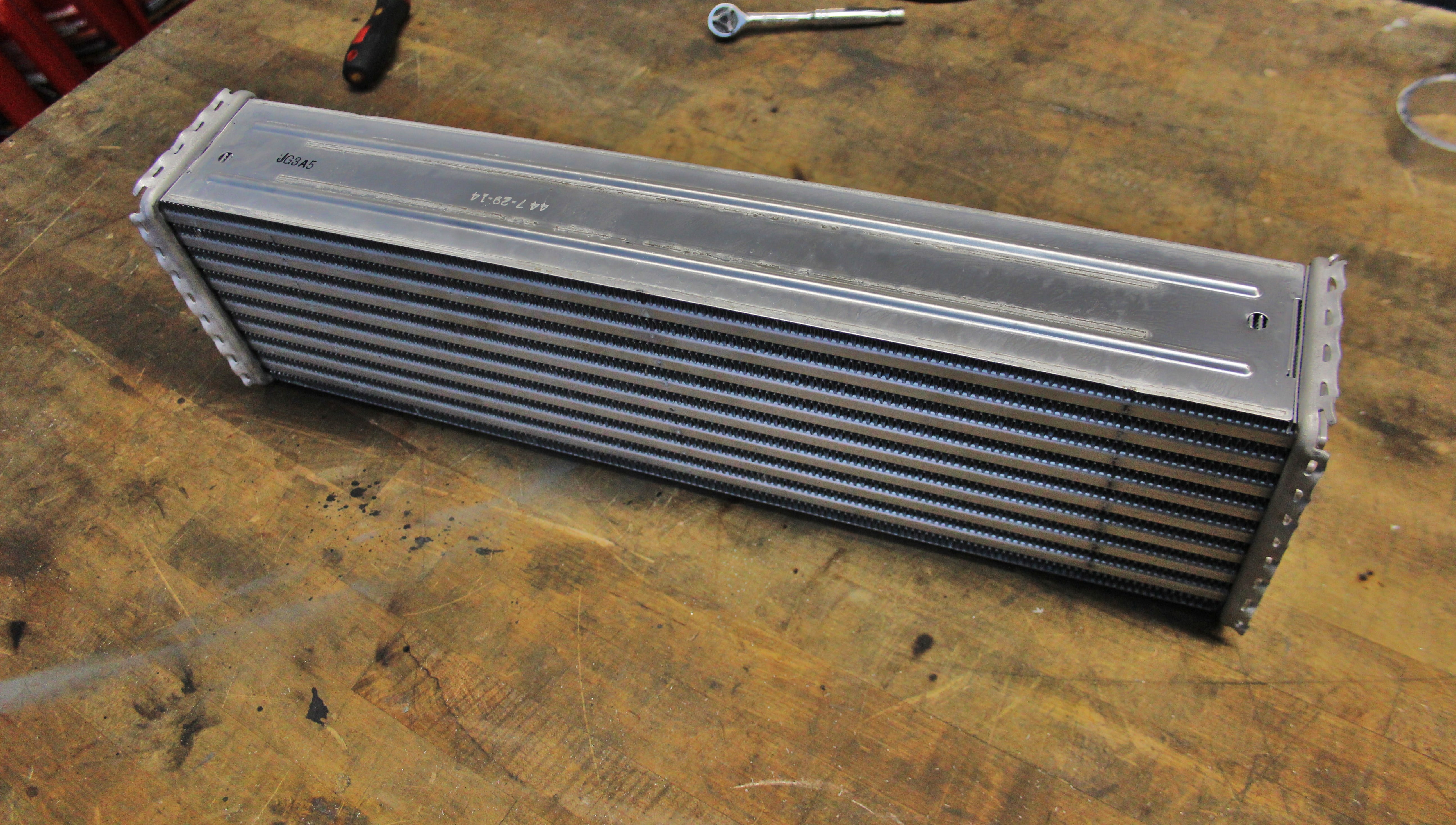 The Mustang EcoBoost Intercooler, Part 1: Stock Cooler
Interested in picking up this awesome Mustang EcoBoost Intercooler? Check out our product page for more details!

With nearly a 30-year gap between the old and new turbocharged 4-cylinder Mustang, some things are bound to change. The new Mustang features many interesting advances in technology, including direct injection, a twin-scroll turbocharger, a DOHC cylinder head with variable valve timing, and a newly designed intercooler. The 80's model featured a top-mount intercooler that was fed cool air through a functional hood scoop. This was pretty slick stuff for the days when the Walkman revolutionized how we listen to music, and "the Clapper" paved the way for a new level of laziness.
The new Mustang features a very efficient front-mounted intercooler that fits right below the radiator. A fresh stream of airflow passes through the tube-and-fin core and works to combat high intake temperatures.
We've been highlighting our progress on the development of a variety of new components for the 15' Mustang, and it's finally time to get caught up on our intercooler design! Follow our progress below.
Stock Intercooler Design
Before jumping into the new cooler design, let's took a look at the stock intercooler and its location. This would give us a good idea of where improvements can be made.
Here are a few shots of the stock cooler in its proper position.
Next, we stripped the stock setup from our test vehicle!
Once removed, we took a closer look at what Ford provided with the EcoBoost Mustang.
The exterior fins are reasonably dense on this stock cooler. We then took a peek at the internal fins.
We planned to pull this unit apart for further inspection, but first we grabbed a few of the dimensions using our Romer arm. This would help us plan a few of the mounting points and general constraints once we get to the point of designing our cooler.
Stock Intercooler Internals
Now that the measuring was complete, off with the end tanks! These are removed easily by bending the crimped edges. The plastic tanks seal to the core with a rubber gasket.
We were then left with a bare core!
We then snagged basic core dimensions!
Let's quickly recap our findings on the stock cooler and outline our plans for the Mishimoto unit.
Stock Intercooler
Measures 20.5" x 5.75" x 3.2" for a total core volume of approximately 380 cubic inches
Tube-and-fin core design
Plastic end tanks crimped to the intercooler core
Clamped hose connections on both inlet and outlet
Fits in place under the radiator
Features tank-mounted Manifold Absolute Pressure (MAP) sensor
Mishimoto Intercooler Plans
Increase volume substantially with a 4+" thick core
Cast aluminum end tanks for increased durability and smooth flow
Bar-and-plate intercooler core
Direct fit including all piping connections
Fit in the stock location without blocking airflow to radiator
Retain the factory active grille-shutter system
Improve horsepower and lower the intake temperatures
We have some pretty big plans for this intercooler! Be sure to check back for a look at our first prototype unit.
Thanks
Interested in picking up this awesome Mustang EcoBoost Intercooler? Check out our product page for more details!