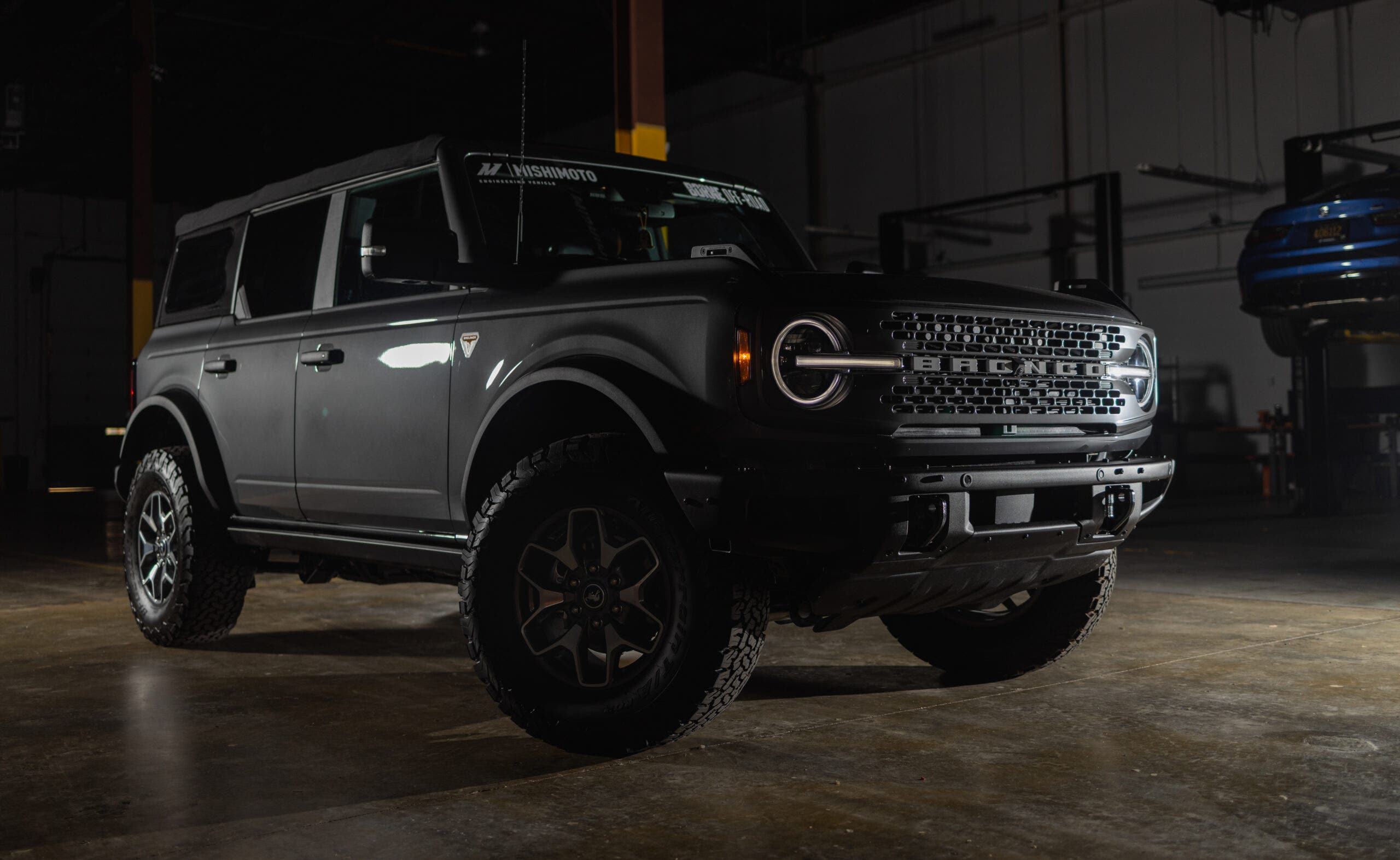 Wild Breath - 2021+ Ford Bronco 2.3L/2.7L Performance Air Intake R&D, Part 1 - Stock Review and Airbox Design Plans
Our Bronco Performance Intake kits are now available! Click here to grab yours today!
Just like the wild horses these trucks take their name from, every Ford Bronco is equipped with a "go anywhere, do anything" attitude from the factory. No matter which engine is cradled under the hood, each Bronco is more than well equipped for a life of automotive freedom. However, for those serious overlanders lugging heavy recovery or camping equipment or those just looking for some extra shove back in their seat, some more power is needed. The intake system is the best place to start on your expedition for additional power.
Typically, when a manufacturer like Ford designs an intake system for their road-going vehicles, the engineering team performs a balancing act between a few factors to devise their final kit. These factors include meeting stringent efficiency and emissions standards, reducing harsh engine noises, and maximizing performance, all while fitting into the manufacturing budget. Basically, it's not an easy feat and usually involves compromises in terms of performance, specifically for the airbox's design.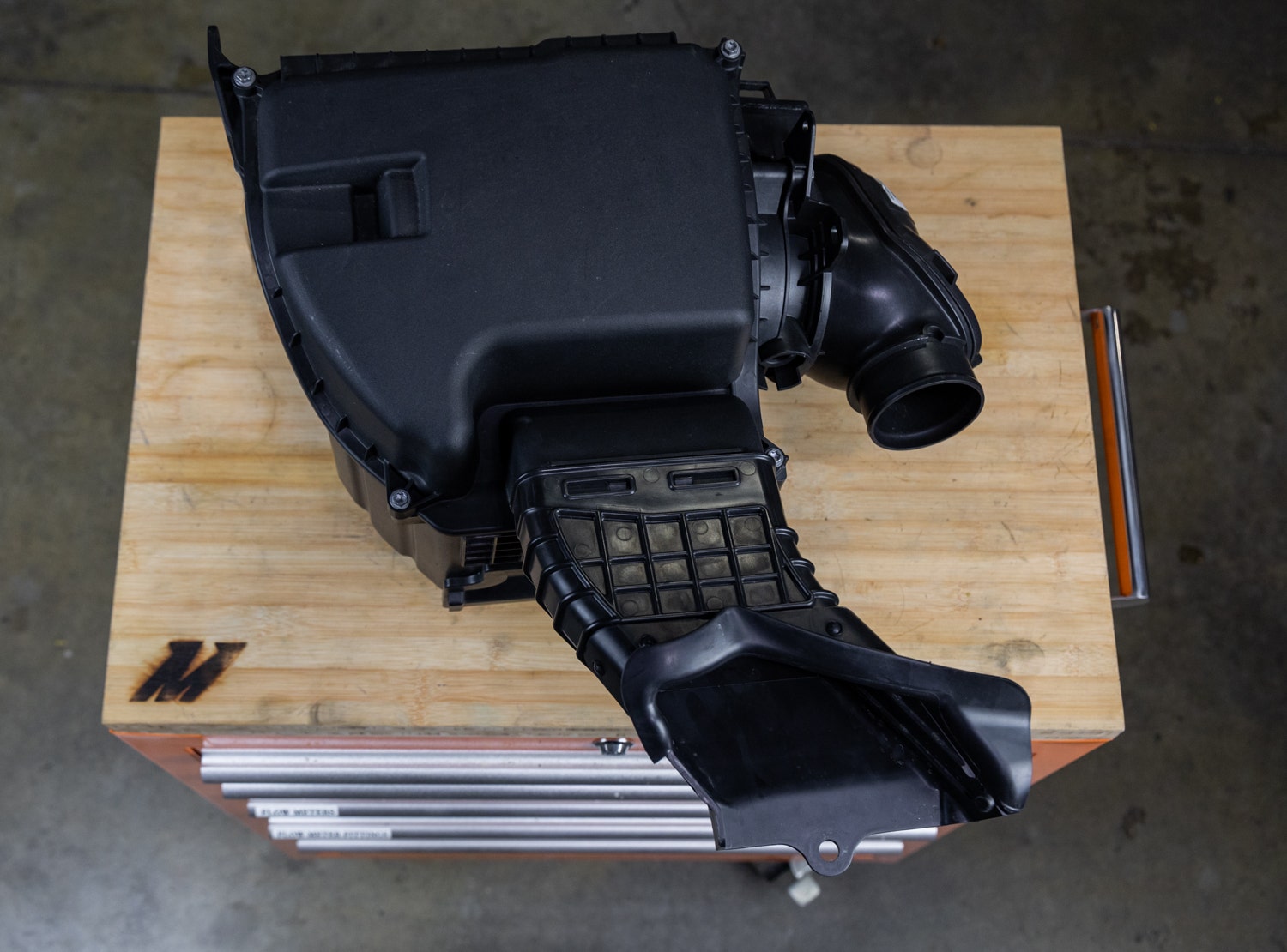 The first compromise is more of a double-edged sword, and Ford opted to use the same airbox for both the 2.3L and 2.7L models. It's not uncommon for manufacturers to share components across their lineup to cut costs during production, and we've already seen this tactic used in the Bronco when it comes to the intercooling. While a shared airbox between two different engine variations isn't as detrimental to performance as the intercooler, there are still some areas that could use improvement. Before we dive into our plans, however, we need to take a closer look at Ford's designs to determine the key features to improve on.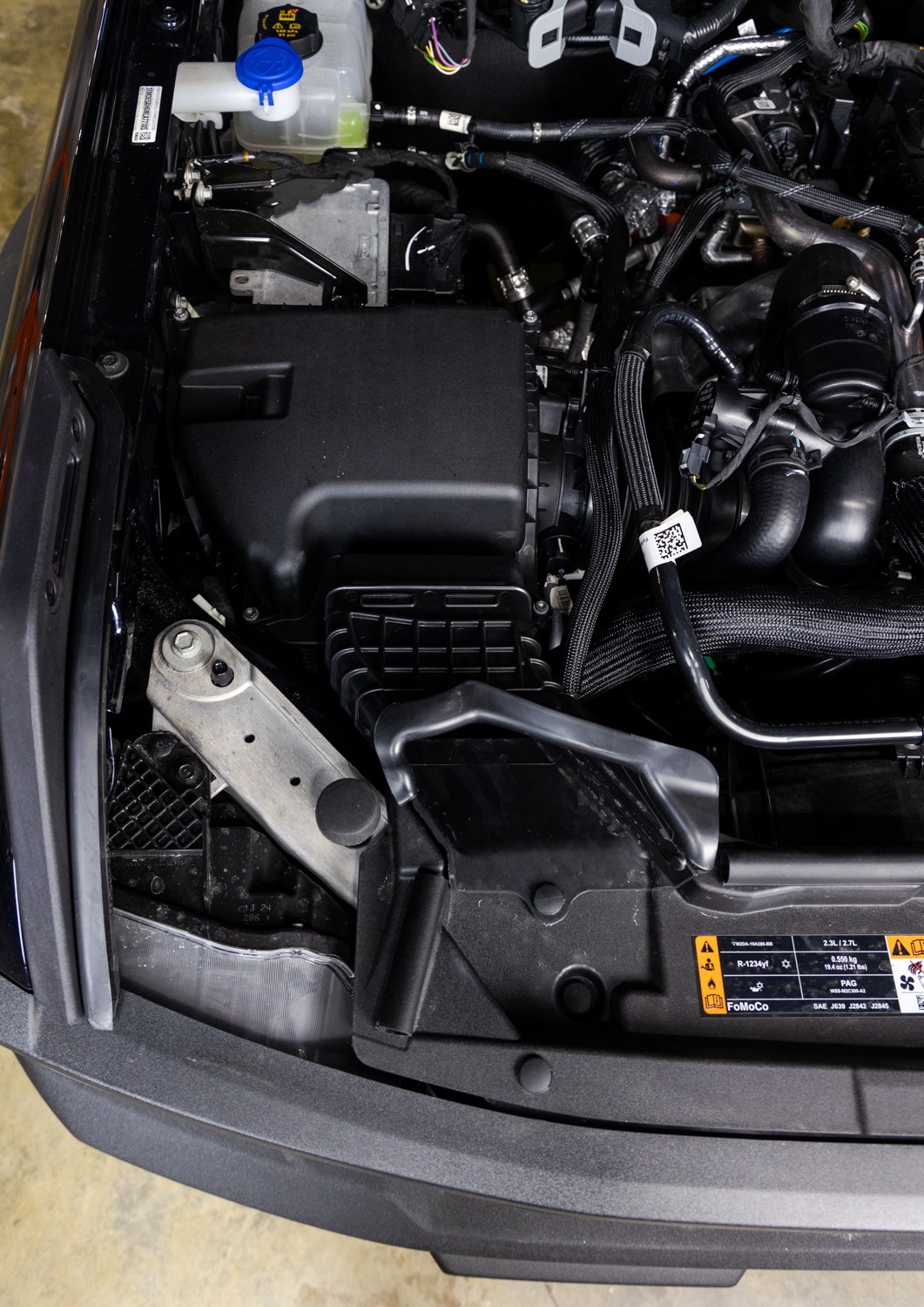 On top of Ford's standard design restrictions when developing the intake systems, these Broncos needed to perform both on and off the road, so there are some features specifically aimed at keeping the filter clean and dry. Specifically with how the fresh air routes to the airbox. No matter which EcoBoost lives under your hood, the airbox is found on the passenger side of the engine bay with the fresh air scoop nestling in on the driver's side of the grill. This fresh air is channeled over the radiator, likely as a means of wake protection during deep fording or reducing dust and debris from entering the airbox.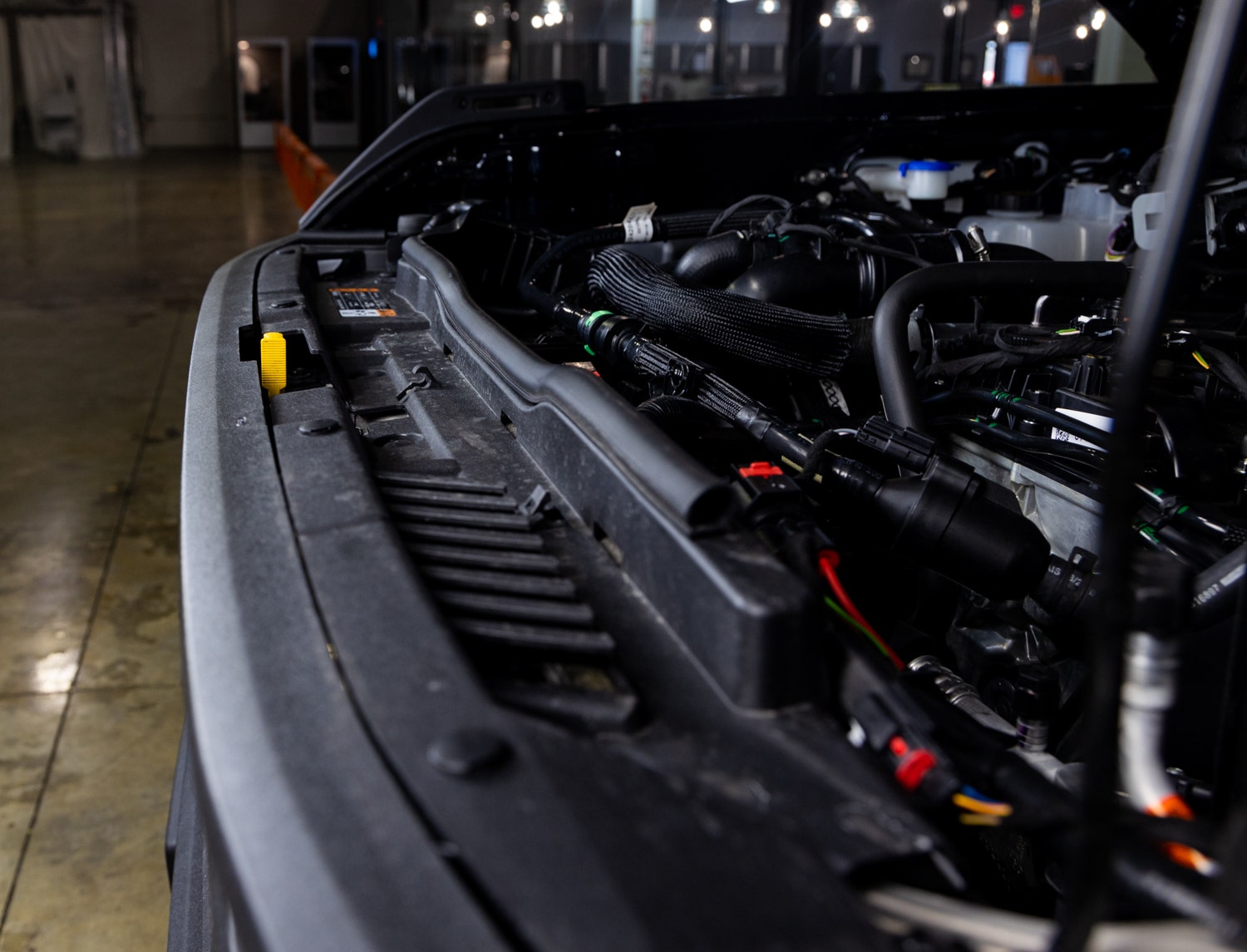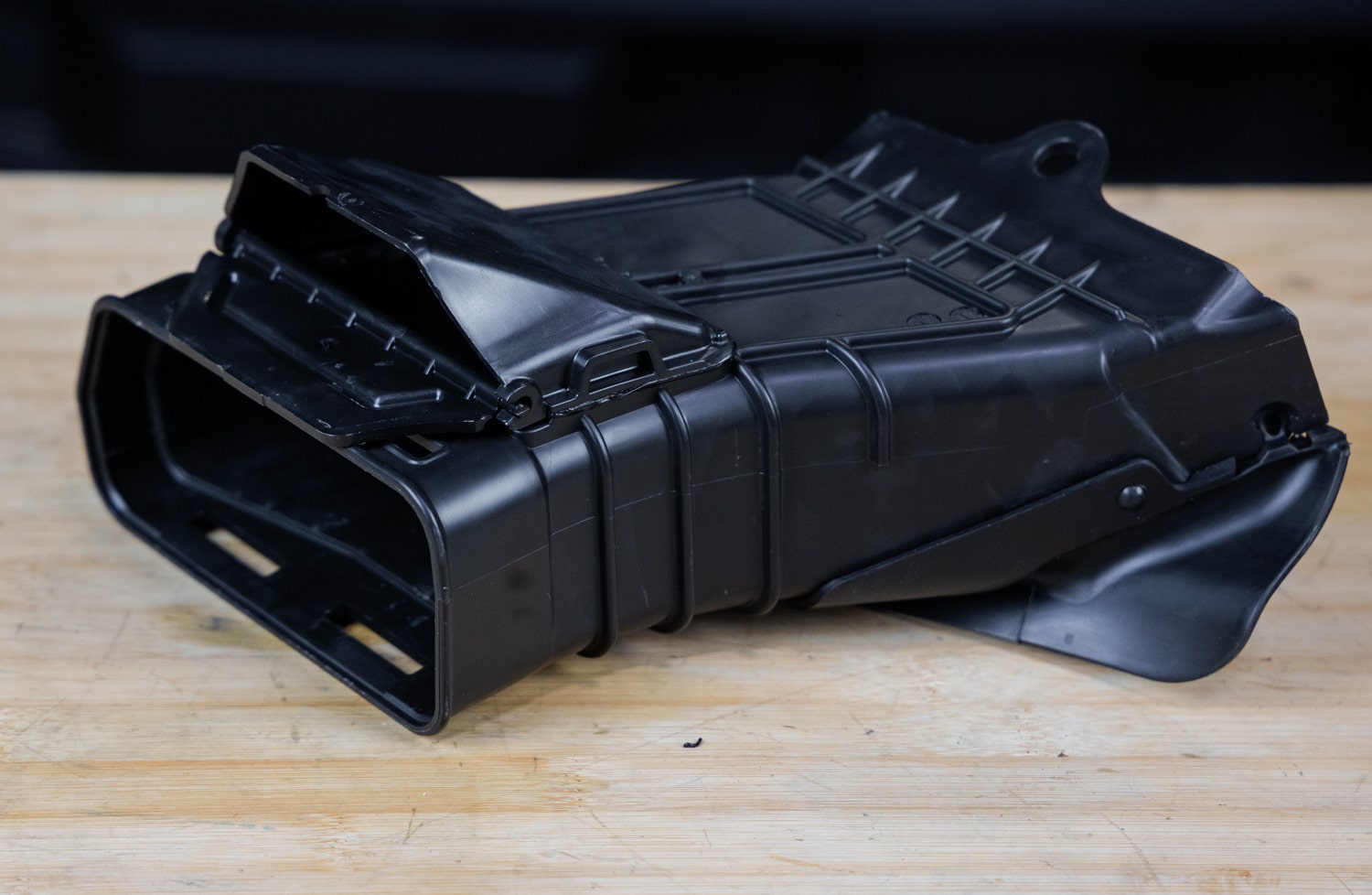 The second stage of off-roading specific protections that Ford was sure to include on their newest adventure machine was a sand trap on the short snorkel that bridges the gap between the radiator support and airbox. This short plastic injection-molded air channel has a small flap designed to expel dust and debris from the fresh air while leaving the flow mostly unaffected. We found this snorkel to be suitable for the performance needs of the Bronco and are opting to retain this component for both flow and protection.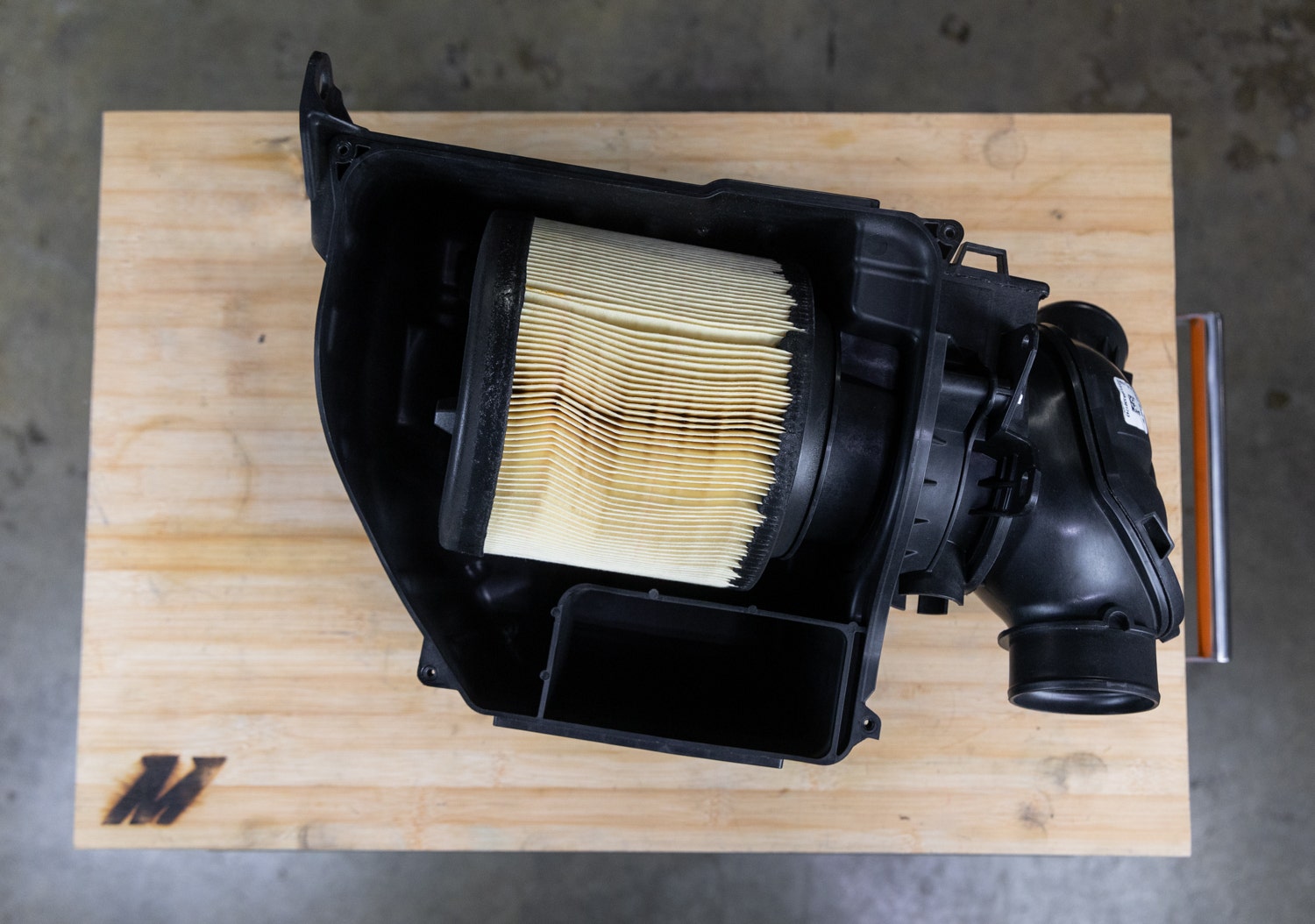 When it comes to improving an air intake system, the main goal is improving the flow to the engine, or turbos in this case. The filtration equipped directly on Ford's assembly line is adequate for most drivers, but even with the conical design, this filter hinders airflow, especially after increasing boost pressure. While having improved surface area over their flat panel counterparts, these filters are still denser than performance-based units.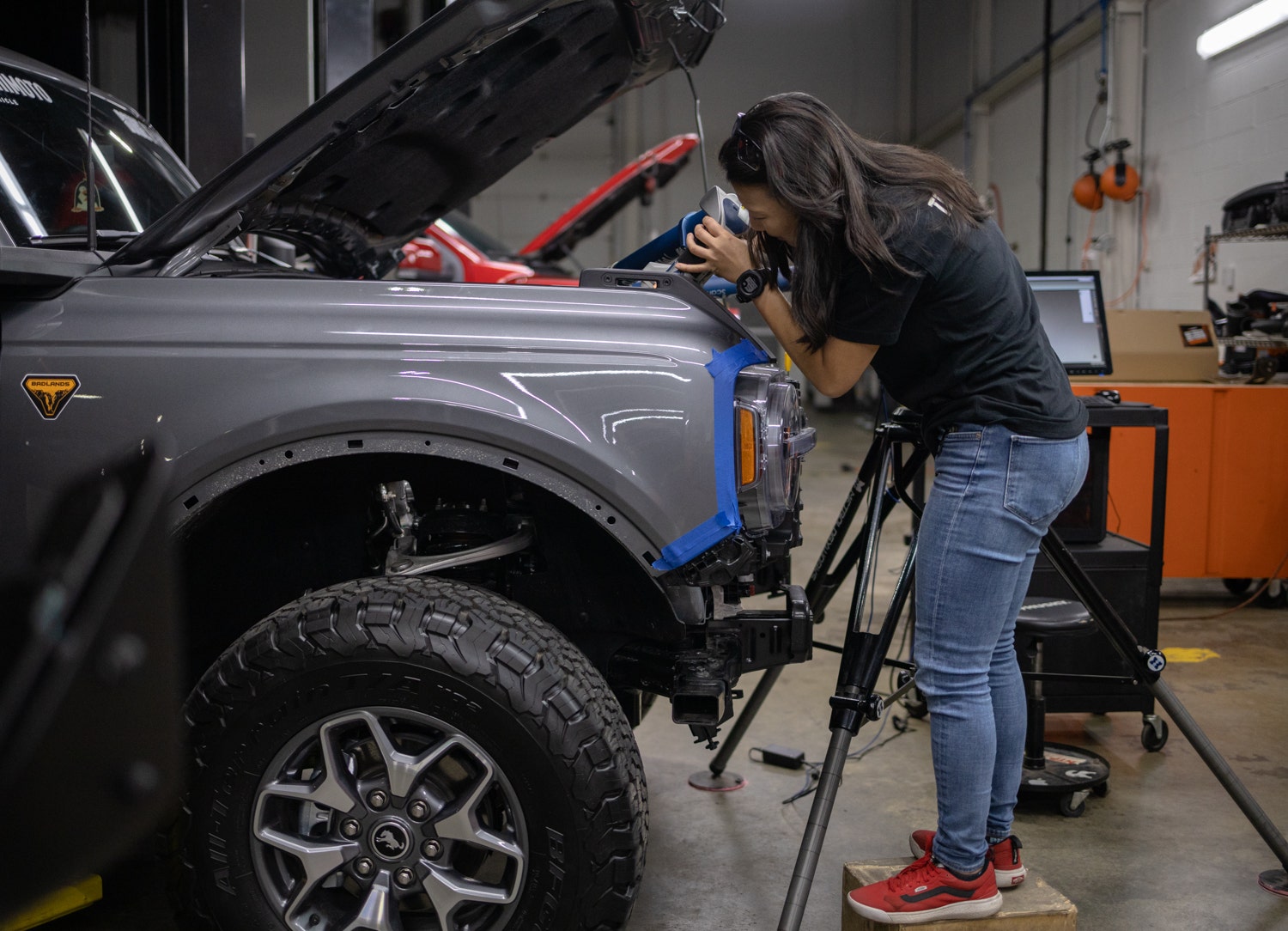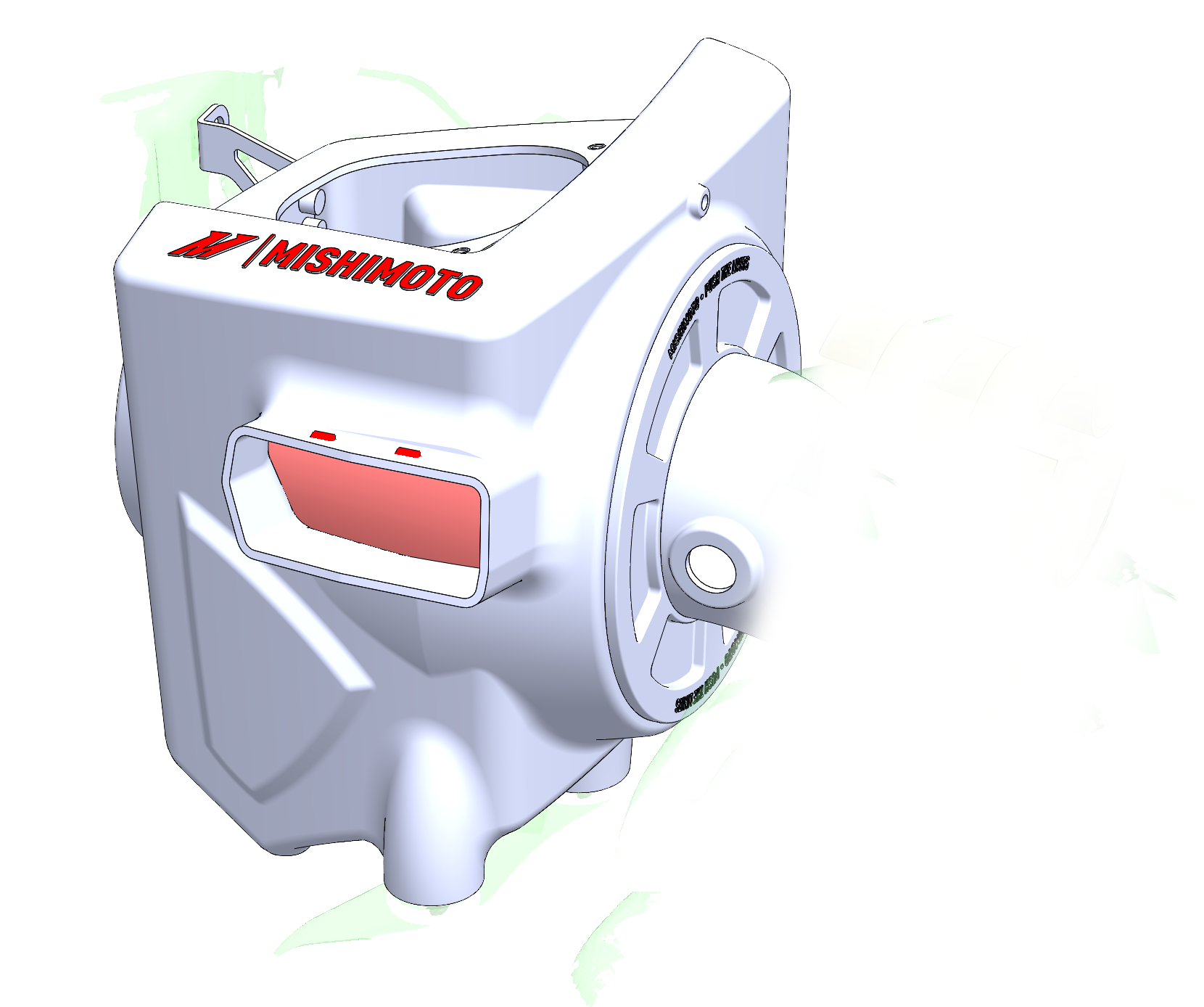 To update the Broncos' filtration, we also needed to update the box around this filter. Where the stock box is a clamshell design optimized for flat panel filters, we're updating the design to a one-piece rotational-molded design to house the optional oiled or dry performance cone filter. This new design increases the internal volume of the airbox and filter surface area, which is prime for providing more volume for demanding turbos.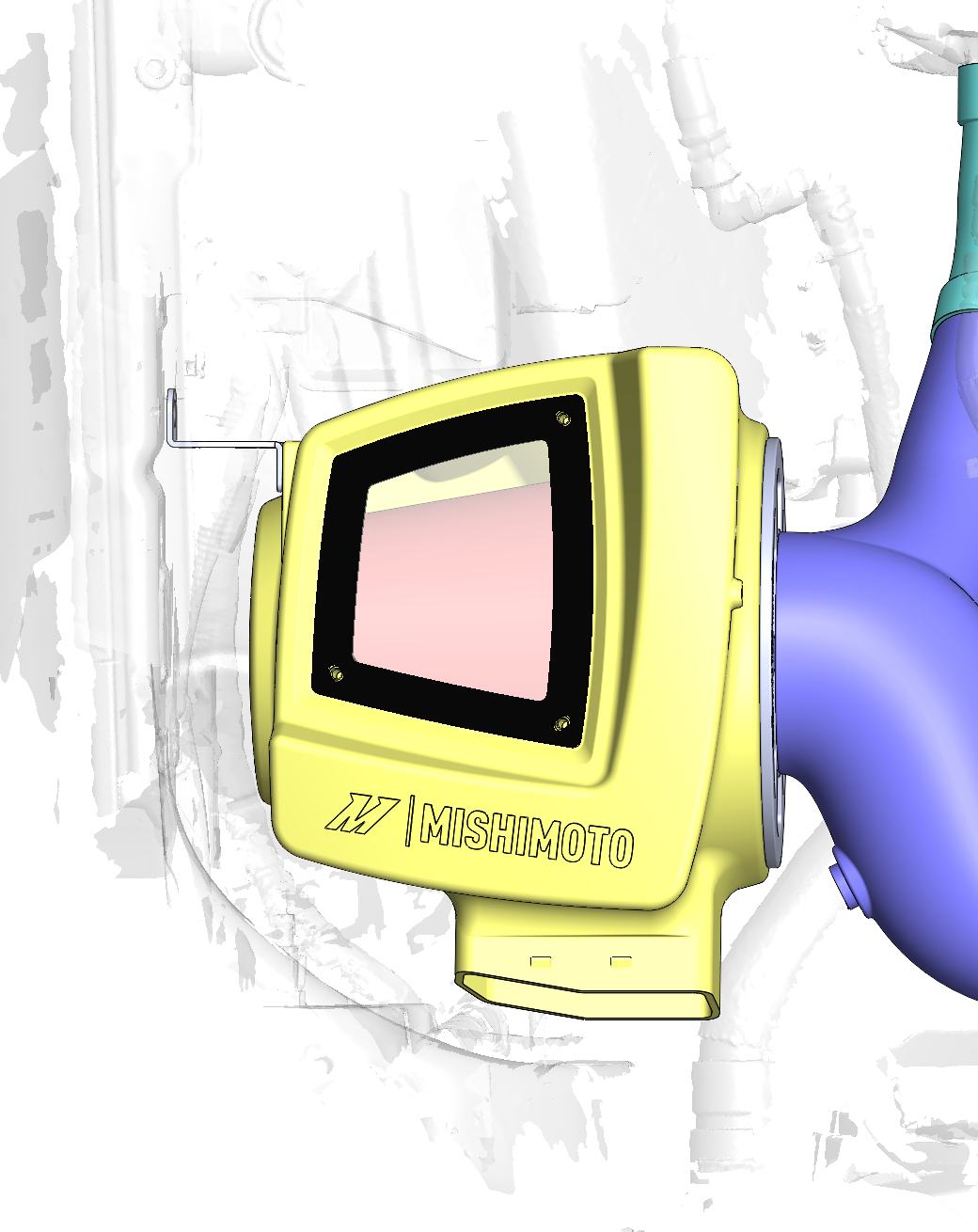 We will utilize our patented filter gasket design to seal our larger filter in place, plus a removable polycarbonate window at the top of the box. While this window won't be large enough to fit your filter through, it will serve as means to check the state of your filter plus will be an access point for our Borne Off-Road snorkel kit coming soon.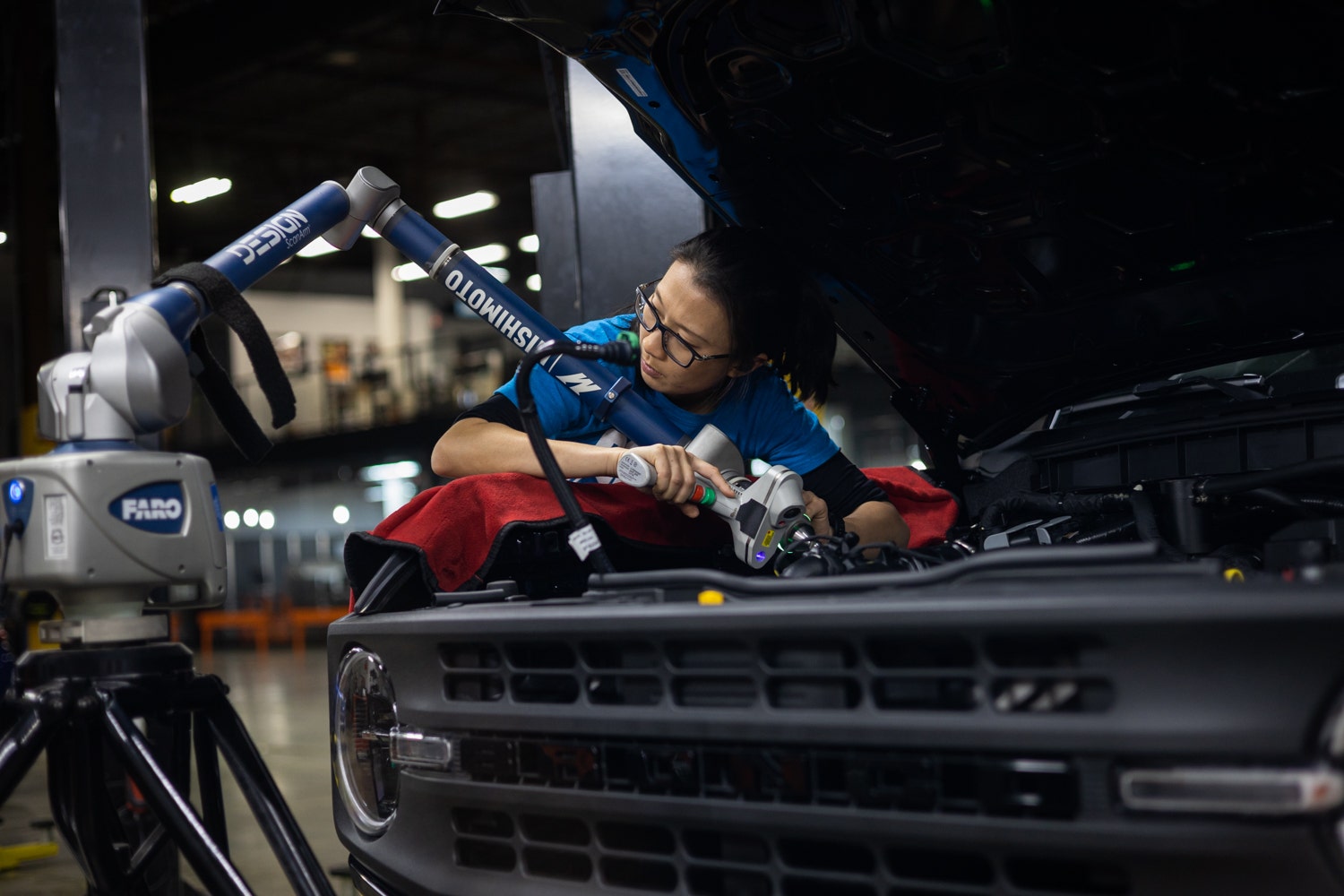 The airbox is only one part of the equation for updating your Bronco's induction abilities. Where the stock piping to the turbos is adequate for most, we also saw a need to improve those components. So make sure that you stay tuned for a closer look at the rest of the intake kit for both engine options coming up in our next posts.
Thanks for Reading!
-Nick