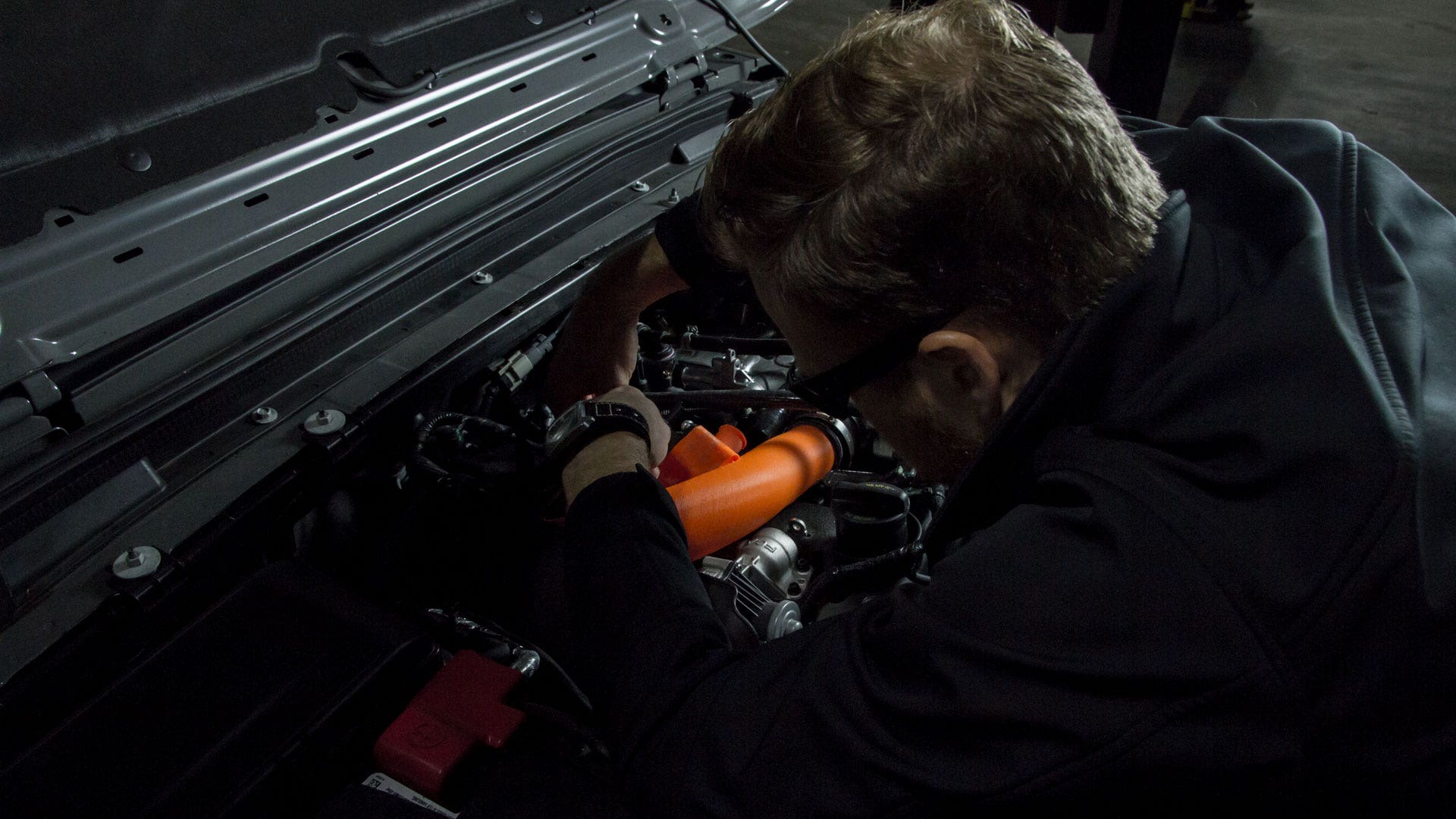 Rival Nature's Power - Intercooler Pipe R&D, Part 3: Prototype
Posted:
September 11, 2019
Our last 2018+ Jeep Wrangler JL 2.0T intercooler pipe post ended with our engineer, Jason, 3D scanning the stock JL intercooler pipe and engine bay. Over the next several weeks, those 3D scans would evolve into a digital drawing of our high-flow intercooler pipe, then make their way into the physical world in the form of a 3D printed prototype.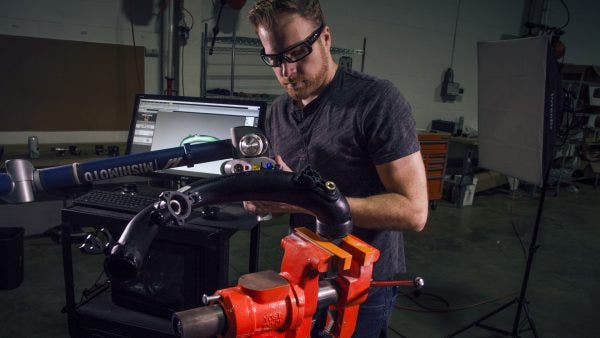 The prototyping phase is one of the most important steps in creating a new part. It gives us a true-to-life look at how our parts will fit and it's our first chance to recognize potential issues. It's also one of the most exciting parts of the process as it's where we get to watch our hard work come to life. With each pass of the 3D printer our ideas become increasingly real.
Before we dive into the prototyping process, however, let's look at our design and how it differs from the stock intercooler pipe. Overall, the Mishimoto intercooler pipe looks similar to the stock intercooler pipe, and for good reason. With the tight clearances on all sides of the intercooler pipe, we were limited in how much the shape could be changed. What we could do, however, was smooth out the bends and dips throughout the pipe to create one smooth-flowing piece. We also added provisions for other modifications, like aftermarket blow-off valves and a boost sensor or methanol injection. To do this, we added a raised feature at one end of the pipe that can be drilled and tapped for sensors or methanol jets. To fit aftermarket bypass valves, we designed the bypass valve mount as a two-piece feature. The top piece can be used with the stock bypass valve or removed to fit an aftermarket blow-off valve.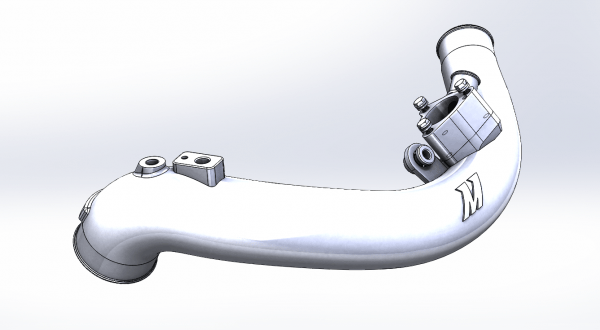 With our design nailed down, we could move on to 3D printing. Jason handed off his design to our drafter and 3D printing guru, Josh, to turn the digital drawing into a functional part that we could use for testing. After several hours of printing, we had a very real, very orange, 3D printed prototype.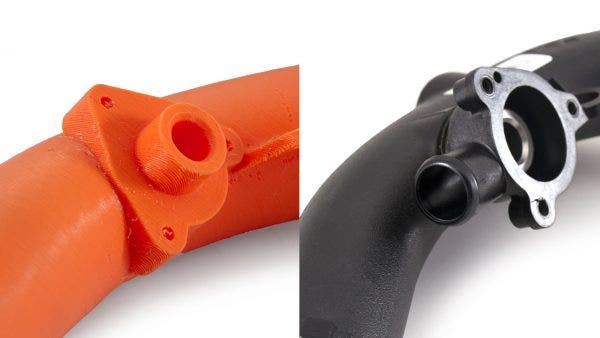 This 3D printed prototype will be used to test if our design flows better than the stock intercooler pipe. But, much like our JL 2.0T intake, we needed to test fit the 3D printed prototype before performing any flow testing. It's important to test fit before flow bench testing because if anything changes in the design to make the intercooler pipe fit, it might affect the flow of the pipe. If we flow bench, then test fit and something has to change, that flow bench data would become inaccurate.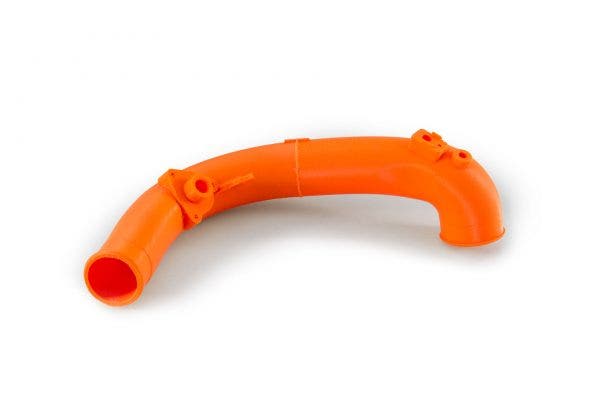 So, Jason removed our JL's engine cover and quickly removed the stock intercooler pipe. Three bolts, two sensors, and two hose clamps later, our prototype intercooler pipe was installed. Thanks to Jason's careful measurements and Josh's mastery of 3D printing, the prototype fit like a glove. Even the tight tolerances of the stock bypass valve were spot on.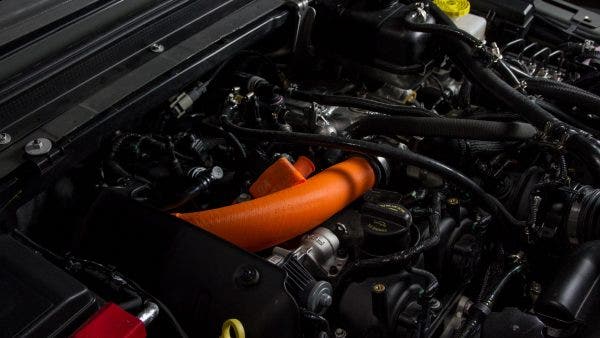 With the test fit complete and successful, we could move on to performance testing. The performance of any intake part hinges on how well it flows air. To measure this flow, we turn to our SuperFlow flow bench. The flow bench pushes or pulls air through a part at a measured and consistent rate. By measuring the amount of pressure it takes to move air through the part, we can determine how well it flows. The difference between the pressure at the part's inlet and its outlet is known as pressure drop. The lower the pressure drop, the better the part flows.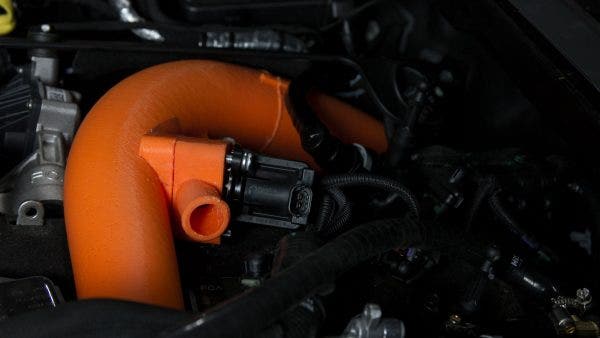 We started our flow bench testing with the stock intercooler pipe. Measuring the stock pipe first gives us a baseline that our pipe needs to surpass. We hooked up the stock intercooler pipe to the flow bench and ran it through a series of flow rates. The pressure drop of the stock intercooler pipe ranged from 0.39 inH2O at a flow rate of 25 CFM, to 11.75 inH2O at 200 CFM. Not terrible, but we know our pipe can do better.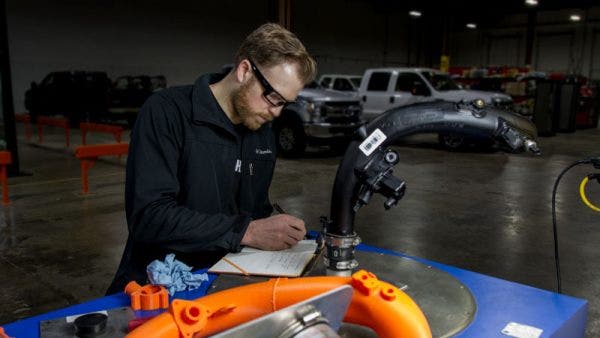 In the next post, we'll clamp our 3D printed prototype to the flow bench and run it through its paces. We expect our smoother intercooler pipe to significantly out-flow the stock unit, but we'll have to wait for the flow bench testing to confirm those expectations. After the flow bench testing is complete, we're only a few steps away from having a fully functional intercooler pipe. So, keep an eye out for the next posts and, as always, let us know what you think!