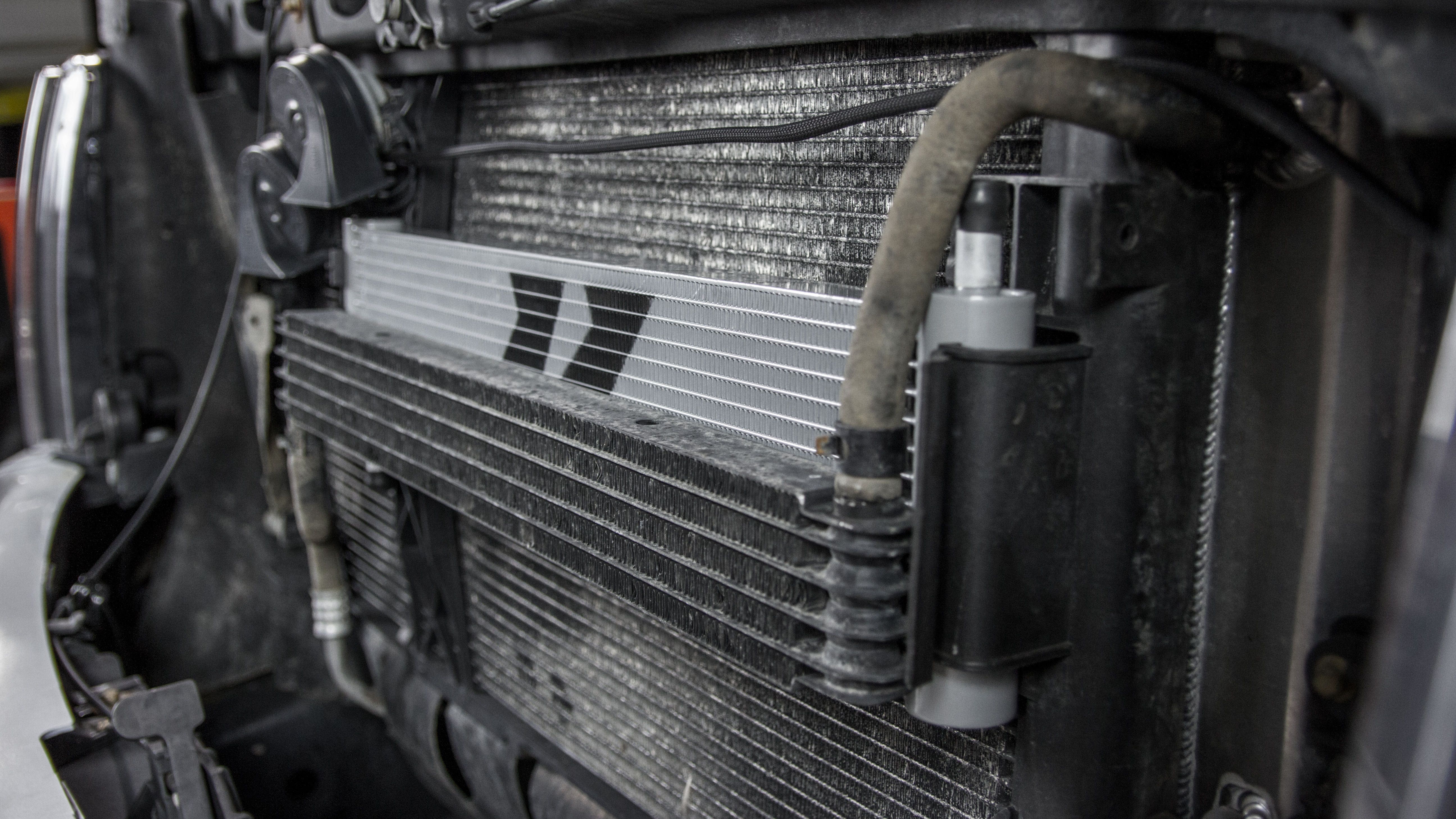 In Capable Hands - Transmission Cooler R&D, Part 3: Production
After months of measuring, modeling, designing and prototyping, the time has finally come to put our 2011-2014 Ford F-150 and 2010-2014 Ford Raptor transmission cooler to the test and hopefully put your F-150 in capable hands.
Our last post for this transmission cooler ended with a successful test fit of our 3D printed prototype and a decision to be made. We had two options for our transmission cooler's core: tube and fin, or stacked plate. Each option has its advantages and disadvantages. Tube-and-fin coolers flow and cool well but aren't quite as durable as stacked-plate coolers. Stacked-plate coolers are tough and reliable, but their internal tube structure can severely restrict flow. Depending on the size and shape of the cooler, where it's located, and how the system operates, each has its place. We won't know how each performs for this cooler until we test them.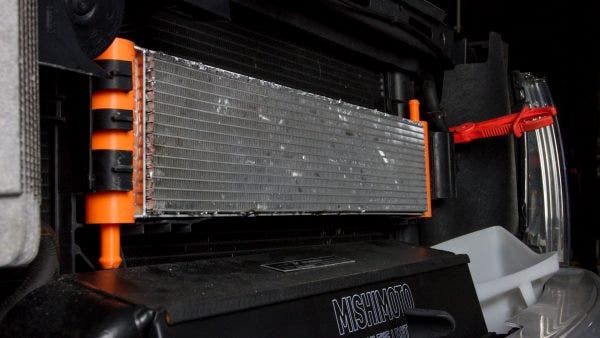 Since creating our prototype for the 2011-2014 F-150 transmission cooler, we've also been wrapping up development on our 2015+ F-150 transmission cooler. Unsurprisingly, the 2011-2014 F-150 and the 2015+ F-150 share similar transmission cooling systems. And despite using two dissimilar mounting systems, the Mishimoto 2015+ F-150 transmission cooler and our 2011-2014 F-150 boast very similar increases in core volume and capacity over their stock counterparts. With the two truck generations sharing similar transmission cooling systems and such similar cores, the data that we gather from our 2015+ transmission cooler will also apply to our 2011-2014 cooler.
Instead of building two samples of the 2011-2014 transmission cooler and the 2015+ cooler, we decided to hold off on production samples of our 2011-2014 cooler until the 2015+ core was tested. A few weeks ago, the two samples for the 2015+ cooler arrived in our shop and we began the bench testing process.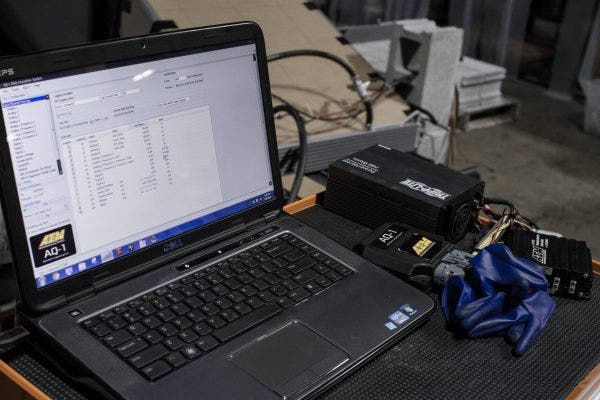 If you're wondering why we're bench testing the coolers and not road testing them, the answer is simple. Bench testing allows us to make a true comparison of the stock cooler vs. our cooler, or in this case, two core designs. Bench testing allows us to closely control airflow, fluid flow, and temperatures to give us the most repeatable and consistent results without the influence of outside variables like weather or traffic. While the absolute values of inlet and outlet temperatures won't be exactly what you see on the road, the difference between the two coolers will carry over to any situation and any performance gain will be scalable to the real world. With that said, we ran the tube-and-fin and stacked-plate 2015+ coolers through our bench testing process and compared the results.
Bench testing revealed our suspicions that the stacked-plate cooler may be too restrictive for the F-150. While both cores cooled similarly well, the stacked-plate core created far too great of a pressure drop across the core. It doesn't matter how cool the fluid coming out of the cooler is if there isn't enough of it making it back to the transmission, or if you destroy the transmission's fluid pump in the process. Thanks to its 197% increase in fluid capacity and 94% greater core volume over the stock cooler, our 2011-2014 tube-and-fin design will still cool just as well as the stacked-plate cooler, with a pressure drop close to the stock component.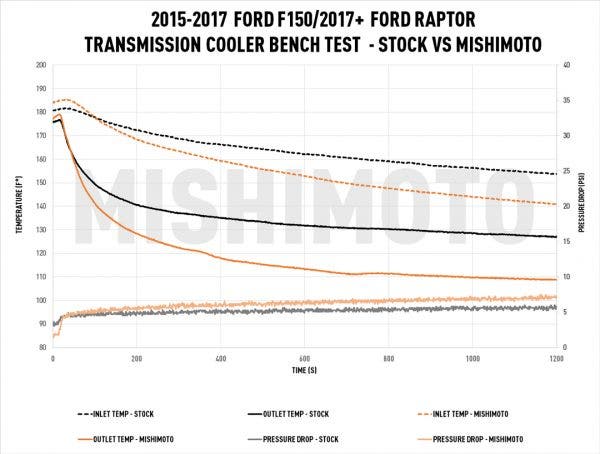 With bench testing complete, we could definitively say that a tube-and-fin design would be the best match for our 2011-2014 F-150/Raptor transmission cooler. We submitted the drawings to our manufacturing team and gave the go-ahead to build a production sample. The final step in creating a transmission cooler suitable for the legendary F-150 would be to make sure all of that extra cooler could fit behind the F-150's grille.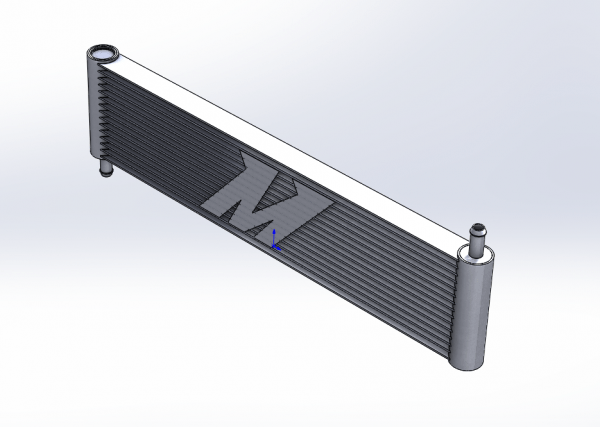 Shortly after signing off on the final core specs, our production sample arrived at our engineering facility for final test-fitting. We brought in a volunteer 2012 F-150 and began work on installing our production sample. To say that installation of this cooler is easy is an understatement. If you can install a lightbulb on your F-150, you can install this transmission cooler. With just three tools and 30 minutes of time, Jason had the F-150 grille removed, stock cooler removed, and our cooler installed. As we saw in the first post, the transmission cooler on the 2011-2014 F-150 simply clips into place in front of the A/C condenser. Thanks to Jason's careful planning, so does our cooler.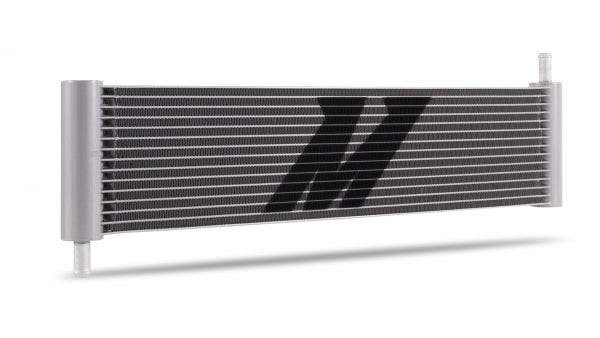 A successful test fit and bench test means that it's time to kick off full production of this transmission cooler. We can't wait to hear what our customers think of it. And, to make this 2011-2014 F-150 transmission cooler even more tempting, we've placed it on discounted pre-sale for a limited time. Now's your chance to ensure that your F-150's transmission is in capable hands, without breaking the bank. So, check out our website for more details and, as always, let us know what you think.