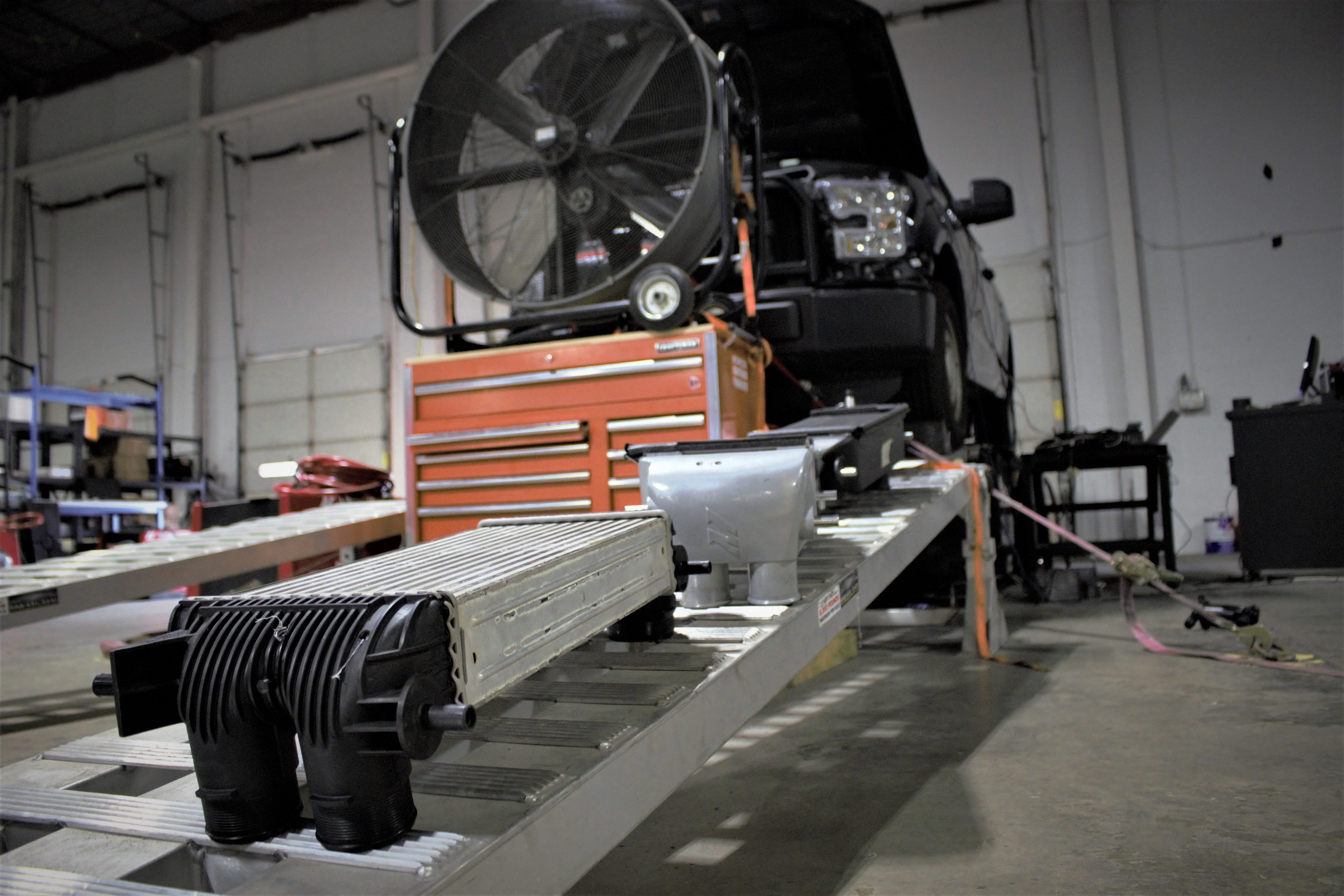 A Real F-150'N Beaut'! Vol. 2 - Intercooler R&D, Part 5: Data and Product Release
Many of you have been asking about the status of this project, and I have concrete information and data for you to look over as you make your decision on an intercooler for summer 2017. In the last update (which, I know was a while ago), we left you with what the final design of the core looked like, complete with renders and studio shots of the physical production sample.
The project's lead engineer knows that any intercooler design should be able to live up to the demanding performance these trucks require during, off-road or work use, daily driving, and even towing vehicles. Our engineer tested three cores, all with slightly different design aspects, so our R&D bases would be covered. Each core consisted of a bar-and-plate construction, as they are much stronger by design and go with the tough theme of these trucks.
The core we decided to go with gave us a 77% increase in core volume and a 163% increase in external fin surface area - not a mild improvement by any means. The ability for this larger intercooler to be direct-fit is another bonus that you F-150 EcoBoost drivers will get to enjoy.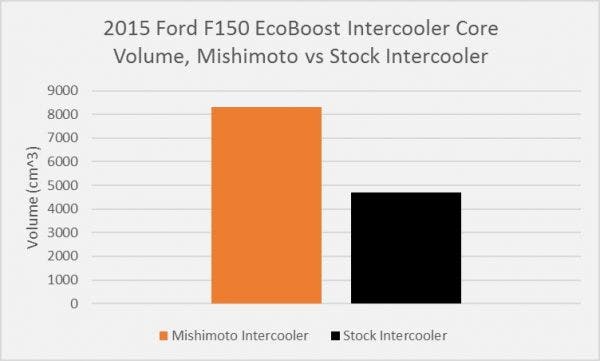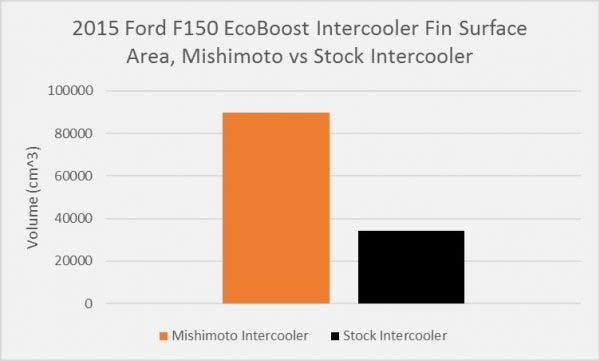 Our testing was performed on a fully stock 2015 Ford F-150 EcoBoost equipped with the 2.7L engine. Upon our engineer's inspection of the stock core, it was clear that the unit was susceptible to heat soak. It mounts low on the front bumper and doesn't reach past the top grill to catch airflow. The stock cooler also uses Active Grill Shutters to increase or decrease flow over the intercooler during certain driving conditions. Our engineer ran the F-150 on our Dynojet™ for his testing of performance improvements and how our core handles heat soak.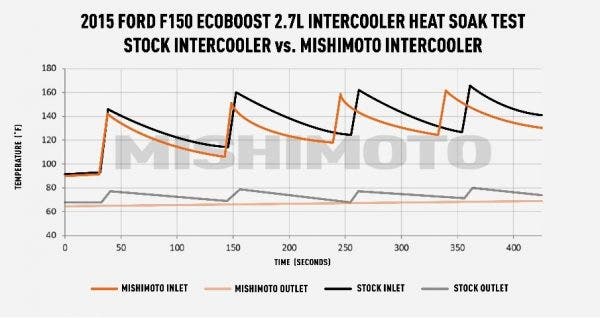 The core we chose showed temperature drops of up to 10˚F over the stock intercooler, all the while displaying a greater resistance to heat soak throughout all dyno runs. In order to simulate real-world workload conditions as closely as possible, our engineer made four consecutive pulls on the dyno in third gear, with a one minute break in between runs. That's the reason for the multiple dips in the graph above.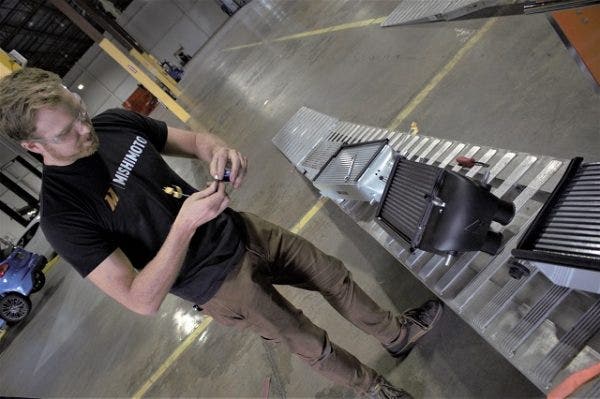 Power levels, however, did not show any appreciable gains on the stock tune. Ford programs their vehicles for the ECU to calculate the internal volume of the charge pipes and intercooler in their entirety. Without a proper tune for the added volume, it's difficult to consistently and reliably extract power from this type of performance modification.
An intercooler's primary function is to keep charge-air temperatures low. If the air temperature entering the engine begins to climb, the ECU automatically reduces power to compensate. This can greatly impact the available power during high load events such as towing. A performance intercooler can alleviate losses of power on a completely stock tune. If an aftermarket tune is being loaded onto the vehicle, additional gains can be expected because the tuner is able to compensate for the reduction in engine air temperature as well as the increased volume.
Reaching our sought-after results puts an end to our R&D for this project. The presale for this intercooler is coming very soon. We are hoping to have it up and running by the end of this month. Stay tuned for pricing details!
-Diamaan