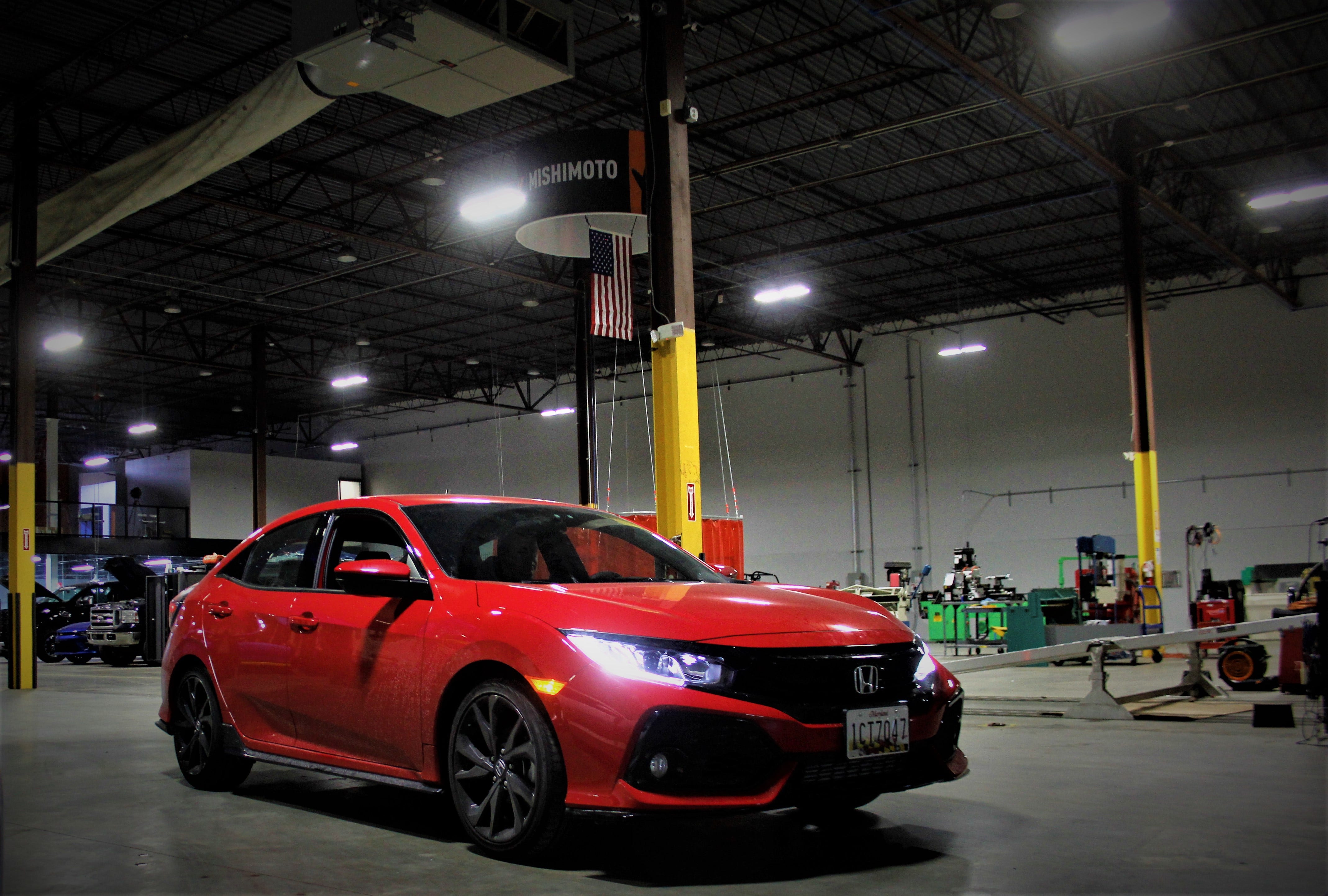 Bring a Jacket: Intercooler R&D, Part 1: The Stock System
Posted:
February 27, 2017
I've been labeled a Nissan guy for a long time now. My 1995 Nissan 240SX has served me well during the six years I've owned it, sticking with me through the second half of college, nine states on the east coast and more drift events than I can honestly count. Being a Nissan guy (specifically a 240 guy) has really been the one thing I could easily identify with, other than usually being able to see over crowds and get the "Did you play college ball?" question. While I'm familiar with what is known as the S-Chassis, I'm a car guy through and through, and I can appreciate the builds and the individual styles that come from all sorts of different personalities and backgrounds. This is exactly why when I saw this new 2016 Honda Civic 1.5L Turbo Hatchback pull into our parking lot last week, I got excited.
Even though it isn't a rough-around-the-edges mid "90's drift car, I can appreciate something that is this good looking. These new 2017 Civic Hatchbacks are not very common yet, especially in this Rallye Red and with a six-speed transmission. The owner told us that this is the only Civic of its kind in the entire state of Maryland right now. It was special-ordered from Europe, and took about a month to arrive. With a factory turbocharged 1.5L four-cylinder engine putting out a baseline 175 horsepower, a sleek, stylish and aggressive body, and a starting base MSRP just south of $22,000, I'd be hard pressed to find a better deal on a brand-new, 2017 car. Let's also not forget about the increasing aftermarket support this application is getting. We currently have a performance intake and a baffled oil catch can kit readily available for this Earthdreams engine, so it's time for us to slap the hood prop up and start working on what Mishimoto is well known for - an intercooler.
Knowing we have products out for this car, the layout of the engine was not unfamiliar to our lead engineer. Our notoriety in the aftermarket performance scene is based off our proficiency with cooling, so bringing in our expertise with this newly designed Civic platform will create great potential for great builds.
Given that the Civic's power-plant is relatively small, having only 1.5 liters of displacement, we expected smaller components in the intercooler system. The stock core uses a tube-and-fin construction as most stock applications do. This design is generally more lightweight, flows more air through the core exterior and are cheap to make. One drawback, however, is how damage-prone the intercooler can be. I know a lot of you Civic drivers are concerned about your intercooler sustaining road damage, especially in inclement weather, so durability is something that we must consider in our design. Tube-and-fin designs also are typically less capable of effective heat transfer (increasing the chance of heat soak).
The flip side of that coin are bar-and-plate intercooler cores. This is the most common route taken when it comes to aftermarket intercooler core construction. If you want to have increased cooling efficiency and higher resistance to physical damage, this is the design you want to go with. Due to their increased structural integrity over a tube-and-fin design, weight is sacrificed, making the same size intercooler heavier. Airflow through the core exterior is also limited as a result, but this can be overcome with an efficient design and adequate ducting to direct as much air through the core as possible.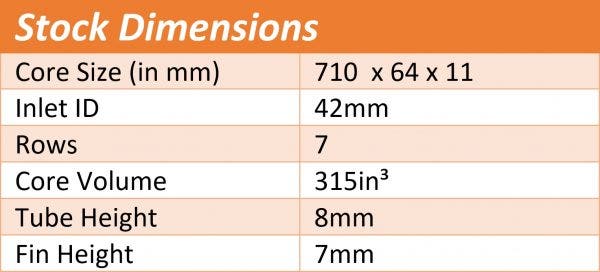 An interesting subject about the stock intercooler core on this 2017 Civic hatchback deals with end tanks. These tanks have flanges that connect to the intercooler pipes instead of the more commonly seen couplings. It's important to point out because the pipes seal to the end tank flanges with O-rings, which is something we'll also need to think about when designing a core. This will affect how we upgrade the intercooler pipes, which will both have an increased inner diameter, making fitment something to keep in mind.
With the end tanks, we will of course do away with the plastic. The constant heat cycling this plastic is exposed to can eventually cause cracking and boost leaks. No thanks. If I planned on keeping a car like this for a long time, I'd want to prevent the possibility of cracking end tanks. Our intercooler will incorporate cast end tanks, making for a sturdy core.
Our intercooler core design will also improve all-around performance for the Civic. Although we plan to make the intercooler slightly thicker, we aren't putting all our eggs in that basket. Instead of making the intercooler as thick as possible, we think that it will be better if it were taller. Our engineer wants to push the core out slightly to clear the front crash beam enough to add some height and a bit of width to our core.
With the added height, there will be more fin surface area for the air to contact. This improves the cooling efficiency by increasing the intercooler's ability to transfer heat. Core surface area and internal volume are important factors in cooling potential, but the path the air has to travel is just as important. In an application like this, a core that is more thick than tall, could wind up losing potential cooling efficiency. This is due to the added depth the air travels, and since the deeper end of the core would be pressed right up against the radiator, those fins will be much warmer. In addition to that, you also restrict airflow to the radiator, keeping things hotter in areas where you want things to be cooler with more circulating airflow.
Our engineer has made a basic frame to represent the dimensions of the intercooler core (above) You can see it is just as wide as the stock core, a little thicker and a bit taller - all attributes that make a superior design. When considering all of the plans we have laid down, the stage is now set for this project to begin taking shape.
We love what Honda has done for this platform. It's sad to say, but this generation has begun moving away from getting hands-on with cars. With the looming takeover of electric vehicles and the staggering technological advancements made in vehicular systems, it's getting harder and more expensive to modify newer cars. Thanks to this Civic, the seemingly dwindling automotive aftermarket has been kept alive, with a well-priced, turbocharged platform we are confident will have aftermarket support. We have some really cool plans for this project, and I'm excited to bring you guys along as we roll out more updates. Stay tuned!
-Diamaan