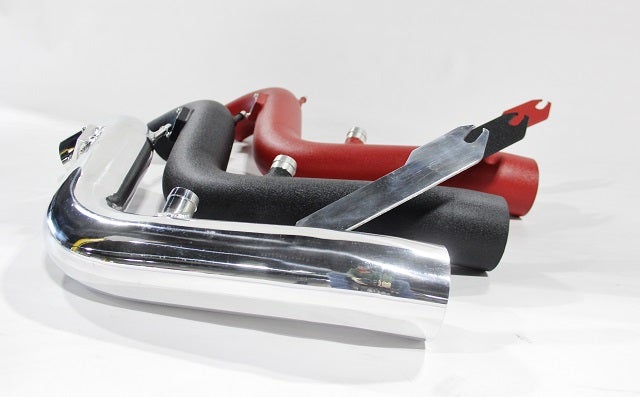 Fresh Air For The Fiesta! ST Performance Intake R&D, Part 7: Final Prototype Installation
With our final prototype in hand, our team went to work bolting everything into place. We've made minor tweaks to the design, so we just want to be sure fitment is spot-on for our final iteration.
Check out a few shots from the final install.
Everything bolted on perfectly, and this setup looks quite nice in the engine bay of the Fiesta. We will be making one small adjustment to our logo location; in the spot pictured it is a bit hidden by the hood prop rod clip.
Finish Options
Everyone likes to have options; they provide the opportunity to personalize your engine bay setup or match other existing components. We recognize this need, and our team decided on three options for the intake pipe finish. Check it out.
Our three options are polished, wrinkle black, and wrinkle red. The wrinkle finishes are powder coated for optimum scratch and damage resistance.
We highlighted the polished option in detail in our last segment. Check out a couple additional detail shots of the two powder-coated options.
Wrinkle-Black Powder Coat
Wrinkle-Red Powder-Coat
2016 Fitment
As many of you are aware, Ford changed the CCV system on the 2016 model. This adjustment required adding an additional port to our intake piping. Unfortunately, many of the existing 2014-2015 intake systems will not function with 2016 models unless serious modifications are made.
Not to worry though, as our team is working on an adapter that will allow our intake to be used on the brand-new models. Below is a render of our adapter.
This is just a rough design at the moment. We will be working to test functionality and refine the aesthetics a bit.
Details on the way.
Thanks for reading!
-John