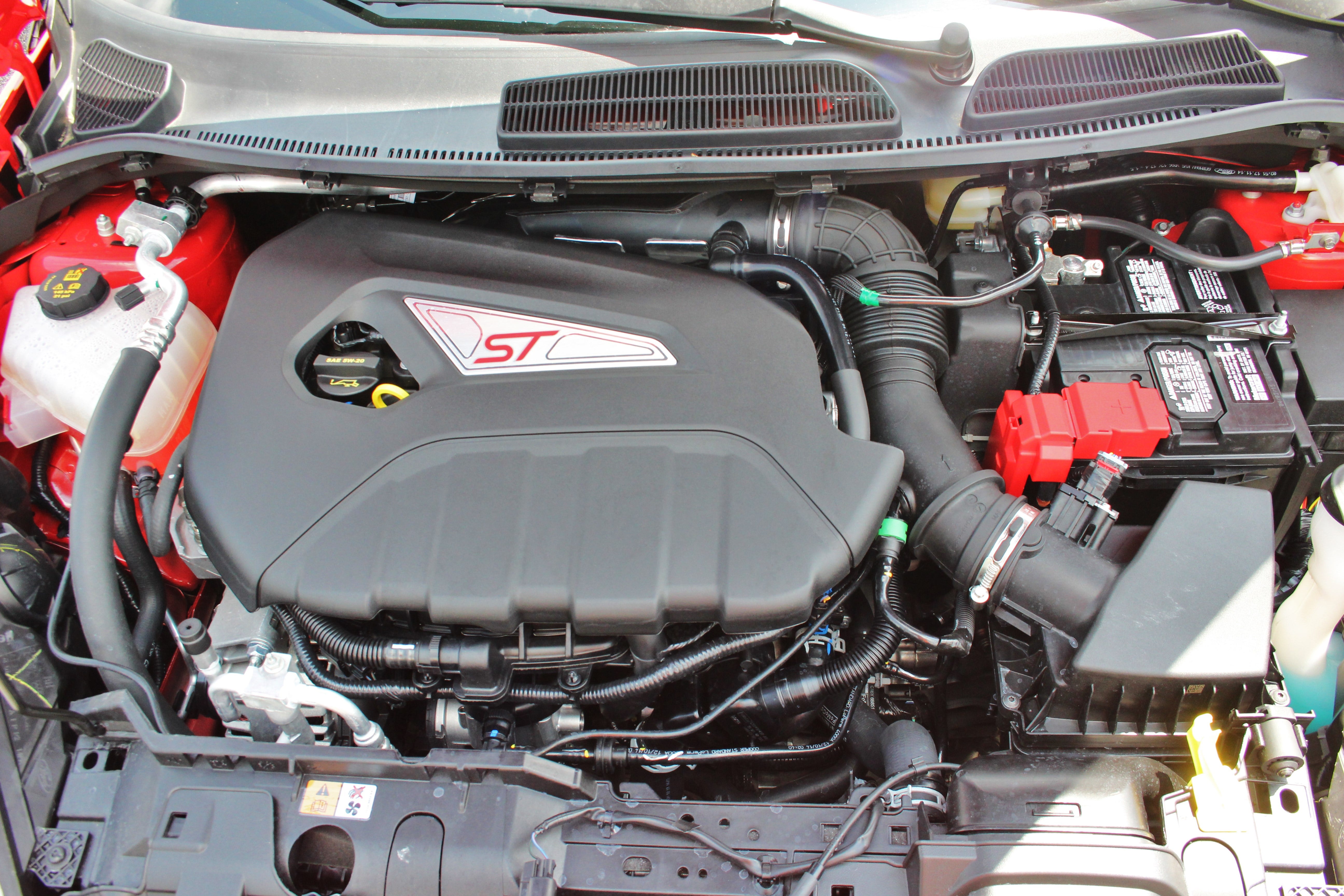 Fresh Air for the Fiesta! ST Performance Intake R&D, Part 1: Stock Intake & Data Collection
Automotive passion has evolved over the years, and is still very much alive and well. A lot of this is a result of automakers continually bringing us the best in technology, innovation, and performance. Some will complain that modern automobiles are numb, boring, and full of complicated electronics and gizmos. Whatever your take on this is, one thing is certain. People still love cars, and the impulse to modify vehicles is as strong as it has ever been.
Take the Fiesta ST for example. A compact hatchback, front-wheel drive, economical vehicle. A few bolt-on modifications can turn this into a tire-shredding, corner-carving autocross monster. It is all in how you approach new technology. You can embrace it and take advantage of what we have available in today's age, or you can curse electronic fuel injection, discredit independent rear suspension, and continue to rip around your hometown streets in your SBF-powered Cougar. Not that there is anything wrong with this. The key here is acceptance, tolerance, and appreciation for all forms of automotive passion.
With the ST, we have enthusiasts trying to eek out every last bit of power from the 1.6L. Suspension tuning is also a hot-topic for those looking to hit the track. Whatever the vehicle may be, optimal performance is always something enthusiasts will seek, and we are here to help these goals come true.
For this article series, we will be tackling a performance intake for the EcoBoost. An intake is a great entry into the world of wrenching and vehicle modification, one that typically provides instant results and is a fantastic value for your hard-earned cash.
Project Goals
Our primary goal with this project is to produce power. Power gains validate an expense made for a performance product, and we want to extract as much as we can from our intake setup. This can be completed by improving airflow and reducing restrictions in the path from the filter to the turbocharger inlet. Performance gains with an aftermarket intake are a bit of a sore subject for conversation, especially within online forums. Some believe claims of power improvements are ridiculous marketing gimmicks. Others see proven gains. Typically, it depends upon the vehicle and intake system in question. Some factory setups are simply ideal for a stock vehicle, which is what we saw during BMW N20/N26 intake testing. We are hoping to produce some form of power gains with this intake system, and we will be providing full details on our testing data and results. If we make power, fantastic. If we are unable to improve power through our design(s), then the benefits below will provide values themselves.
Most drivers consider engine sound a key feature when purchasing a cold-air or performance intake. This is especially true for turbocharged vehicles. Once the stock system is removed, a free flowing filter and air box system will amplify intake sound, which provides a more enjoyable driving experience. In the end, this is what we are seeking with any modification. With our recently designed intake systems, sound improvements have been quite substantial. Check out our behind-the-scenes YouTube videos for some awesome dyno testing videos.
We will also be working to isolate the filter from the engine bay. The compact and fairly crowded engine compartment of the ST sees some very high temperatures. We want to keep this away from the filter to optimize performance. Heat-soak is a true enemy of the Fiesta, and we want to do our best to reduce the impact of engine bay ambient temperature.
Lastly, if we are taking the time to design a power-adding intake that is highly visible in the engine bay, we will also be addressing aesthetics. This intake will not only perform and sound great, but it will also look fantastic within the engine bay of your ST.
Stock Fiesta Intake System Overview
The intake system on the ST is pretty typical of a modern turbocharged vehicle, equipped with the basic components noted below.
We will cover each of these quickly in terms of the stock design, functionality and materials used.
Turbocharger Inlet Pipe
The induction pipe runs from the turbocharger compressor inlet up to the engine bay, eventually mating to the air box hose. The factory induction pipe is constructed from a thick plastic material in order to handle the heat produced in this portion of the engine compartment.
This piece features a port which accommodates the hose routing to the valve-cover breather for CCV operation. Additionally, the large mounting bracket secures this pipe to the top of the valve-cover, providing stability. The entry inner diameter measures at 2" and the exit enlarges to around 2.35".
Airbox Hose
The turbocharger inlet hose connects to the rubber airbox hose. This piece provides a pathway between the inlet hose and the air box itself.
This piece features an accordion flex section to allow for engine movement during operation. It also includes a port which mates to lines running to the cold-side charge-pipe and throttle body. This port accepts a quick-disconnect fitting which will need to be incorporated into our design. The inner diameter of 2.35" is retained in this piece as well.
MAF Housing / Air Box Lid
The airbox lid on the Fiesta also functions as the MAF housing.
Opening up the box reveals a chamber with a velocity stack on the MAF housing portion. This smooth, trumpet-shaped piece will help streamline airflow through the intake system. We will also be including a velocity stack feature in our intake design.
Below is a closer look at the MAF sensor incorporated into this piece. This component also houses the IAT sensor for the 1.6L EB.
Although the ST is a MAP-based vehicle, the MAF unit is still in place to read temperature. Our intake design will need to incorporate a MAF flange to accept the factory unit. An easy task completed for many of our intake systems.
Airbox / Resonator
And we've made it to the airbox unit itself, shown below.
This component houses the air filter and also accepts the cold-air duct. On top of this, the lower portion of the box functions as a resonator to smoothen airflow entering the engine. The air filter is a decent-sized piece, offering a larger surface area than most stock filters we see.
Cold-Air Duct
The last component within the intake tract is the cold-air duct. This piece brings air from the front grille directly into the airbox. This is key in procuring ample cold airflow to the engine.
Data Collection
Before launching into a full-on metal fabrication party, we need to develop a plan. This includes mapping out the dimensions of the stock intake piping.
We placed the factory airbox hose on our CMM table and started gathering some dimensions.
Coming Up!
Check back next time for a look at the fabrication and plans for our intake piping. This will include both the turbocharger inlet pipe as well as the airbox hose segments of the intake system.
Thanks for reading!
-John