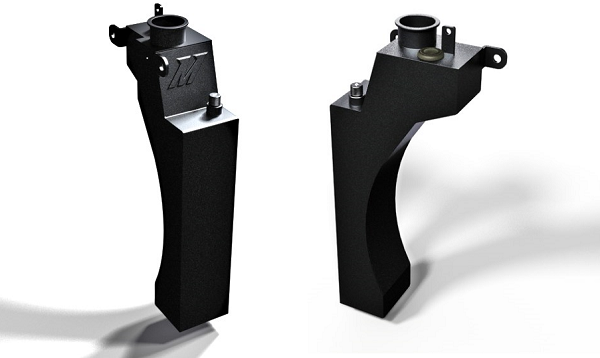 2008+ Subaru WRX/STI Aluminum Coolant Overflow Tank R&D Update!
Interested in picking up our 2008-2014 WRX/STi overflow tank? Check out our discounted pre-sale linked below.
We last left you with some details of our initial design and a hint of an upcoming pre-sale for this overflow tank. Unfortunately, since that initial test fit we hit a few snags in the design process. Our goal with this product is to provide compatible fitment with all our other 2008+ WRX and STi components. This required numerous stages of test fitting, one of which revealed an issue. With our larger 3-row X-Line aluminum radiator installed, our sight tube on this expansion tank design ended up too close to the belt drive system on our Subaru.
We decided a revision was necessary. Although the two components were not physically touching, the clearances were just too tight for our comfort. Luckily, our team had an alternate means of measuring fluid within the tank. This comes in the form of a dipstick!
Check out a few 3D models of our new STi / WRX coolant overflow tank design.
For the most part our STi / WRX overflow tank design has remained the same. Mounting points and basic shape are identical to the previous design, but instead of the sight tube, we are now using a dipstick. This component is not new to our line of aluminum tanks; we use a similar piece on our E36 BMW tank and it functions perfectly.
The stamped logo shown on our previous models and functional prototype remains. This is a nice subtle method for placing some branding on our new STi / WRX parts.
Since the dipstick is the primary reason for the design change, let's take a closer look at this piece.
The dipstick shows the range of acceptable fluid levels within the tank. The upper portion features threads that mate with the bung shown on the tank. In addition, we've added knurling to the knob used to remove the dipstick.
Coming Up - Discounted Pre-Sale
We've confirmed fitment of our new prototype unit and we are preparing to manufacture our first batch of tanks. As you probably guessed from the images above, we will be offering the tank in two different finishes.
Polished aluminum
Powder-coated satin black
We will be launching a discounted pre-sale next week for folks interested in picking up a tank from our first batch of units.
Be sure to keep an eye on our blog for more updates on new STi / WRX parts!
Thanks for reading!
-John
Interested in picking up our 2008-2014 WRX/STi overflow tank? Check out our discounted pre-sale linked below.