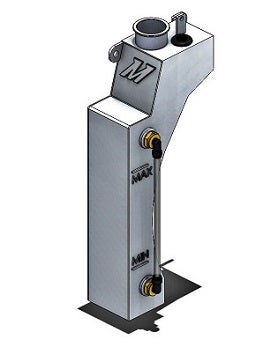 2008+ Subaru WRX/STI Aluminum Coolant Overflow Tank R&D!
Posted:
September 03, 2015
Interested in picking up our 2008-2014 WRX/STi overflow tank? Check out our discounted pre-sale linked below.
If you haven't noticed, the folks here at Mishimoto are not fans of plastic use for cooling system components. A large number of our products provide a more durable material, aluminum, to replace the failure-prone plastic parts, and now we are focusing on another line of products, our aluminum coolant expansion tanks. We offer two different options for the WRX/STI and one for the new Mustang EcoBoost. This article is focused around our newest addition, an aluminum overflow tank for the 2008+ WRX and STI.
Product Design
We won't be making any significant changes to the design of this tank compared to the stock unit, except for the construction material. Enlarging the tank's capacity will have no impact on fluid temperatures or cooling efficiency, so this will not be necessary.
We snagged a stock overflow tank and started gathering our dimensional data.
For accurate modeling, we are using our CMM (coordinate measuring machine) and Romer arm. These devices allow us to stabilize the tank in place to collect critical dimensions for the tank shape and mounting points.
From this model, we were able to design our prototype tank. We also happen to have a 2015 WRX of our own, making slight tweaks for fitment as simple as a walk into the garage. Our engineers came up with some 3D renderings of the prototype design. Check it out!!
The fill neck of our tank is designed to reuse the stock cap. This piece was easily removed from the stock tank and installed on our prototype. The front face of our tank features a sight tube for checking fluid level.
Here is a look at the top of the tank!
Here's a look at the lower mounting peg, which secures the base of the tank within the fan shroud.
You will also notice our "M" logo stamped into the aluminum tank.
Prototype Installation
After finishing the models, we ensured that our dimensional data was correct and then worked up a prototype for test fitting. Check out a few shots of our first prototype installed.
As you can see, the stock overflow cap fits perfectly on our aluminum tank.
We designed our tank to function with a rubber grommet to keep the overflow hose in place within the tank. Additionally, we are including a silicone overflow hose that runs from the radiator fill neck to the tank. Check out the complete installation!
With the successful test fit and all components mating up perfectly, we are ready to start manufacturing our first batch of tanks.
Discounted Pre-Sale
In addition to launching this product in the near future, we will also be offering a discounted pre-sale for those interested in picking up our aluminum WRX/STI coolant overflow tank. Details regarding pricing and shipment dates will be posted soon!
Thanks for reading!
-John
Interested in picking up our 2008-2014 WRX/STi overflow tank? Check out our discounted pre-sale linked below.