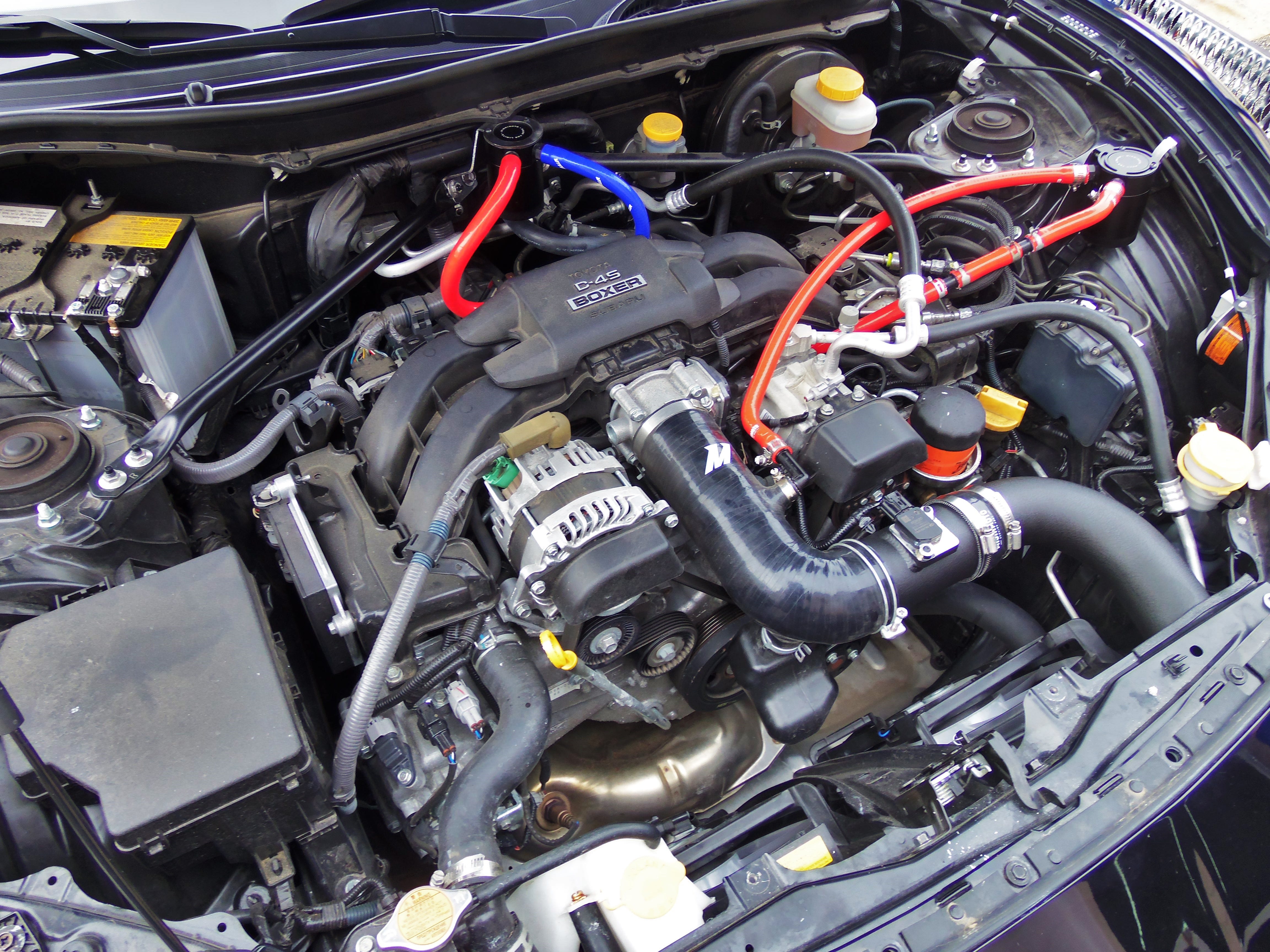 Mishimoto 2013+ Subaru BRZ / Scion FR-S Direct-Fit Baffled Oil Catch Can System, Part 3: Prototype 2 Development
Posted:
December 04, 2014
Interested in picking up this awesome catch can system? Check out more details on our product page!
Second Prototype Bracket Fabrication
Now that we had our catch can ready to go, it was time to select mounting locations, and fabricate the mounting brackets. First, we will start with the PCV line we initially targeted with the large catch can we had. Check out some initial mock-up shots!
Compared to the previous mounting point, we have moved this catch can to a more centralized position. We are no longer using the battery tie-down as a mounting point. This provides a cleaner install, and it also provides space for the brake booster/master on RHD vehicles. The lines shown in the image are purely for mockup and routing purposes.
We will likely offer these lines in our standard three colors; black, blue and red. We also use silicone lines for all of our direct fit kits. Silicone provides improved resistance to heat and pressure compared to a rubber counterpart. Additionally, silicone is more resilient in terms of degradation due to oil/fuel contamination. In short, these lines will last quite a while, and are much more durable than a standard rubber line you would see included in another kit.
Next, we tackled the crankcase breather lines. On the FA20 engine, only one line exists and runs from the driver's side valve cover to the intake. To keep line lengths as short as possible, we made our best effort to locate the can around the port located on the cover. Check out a few shots of what our team came up with!
And take a look at the line routing to the port and intake!
You will notice that the line on the bottom of the image seems to disappear into the engine. This goes to the port we referred to on the valve cover. Access to this is rather tight, unfortunately the compressor will have to be unbolted from its position in order to fit the line into position. Once in position, the compressor can be reinstalled. Evacuation of the system is not necessary. There is no way around this. We will be providing full instruction on how to do so in the install guide, it is far easier than you think.
Now that we had both mounts fabricated and our lines routed, the prototype kit was complete. Take a look at the engine bay with this kit fully installed.
Product Testing Details
Alright, so we are done with the project right? Wrong. We still need to test this kit before we can begin manufacturing the brackets and lines on a large scale. Luckily, like we mentioned earlier, we have two easily accessible test vehicles. We selected the BRZ owned by a member of our sales team (due to his longer commute) and we installed the kit. Our plan was to check back with the vehicle at 1,000 and 2,000 miles to evaluate oil collection in the cans. We gave special instruction for our test vehicle owner to beat on the car a bit so both lines get use.
Check back with us next time for details from our testing and completion of this project!
For those interested in purchasing this kit, we will likely be launching a discounted pre-sale for the first few units we complete!
Thanks for reading.
Interested in picking up this awesome catch can system? Check out more details on our product page!