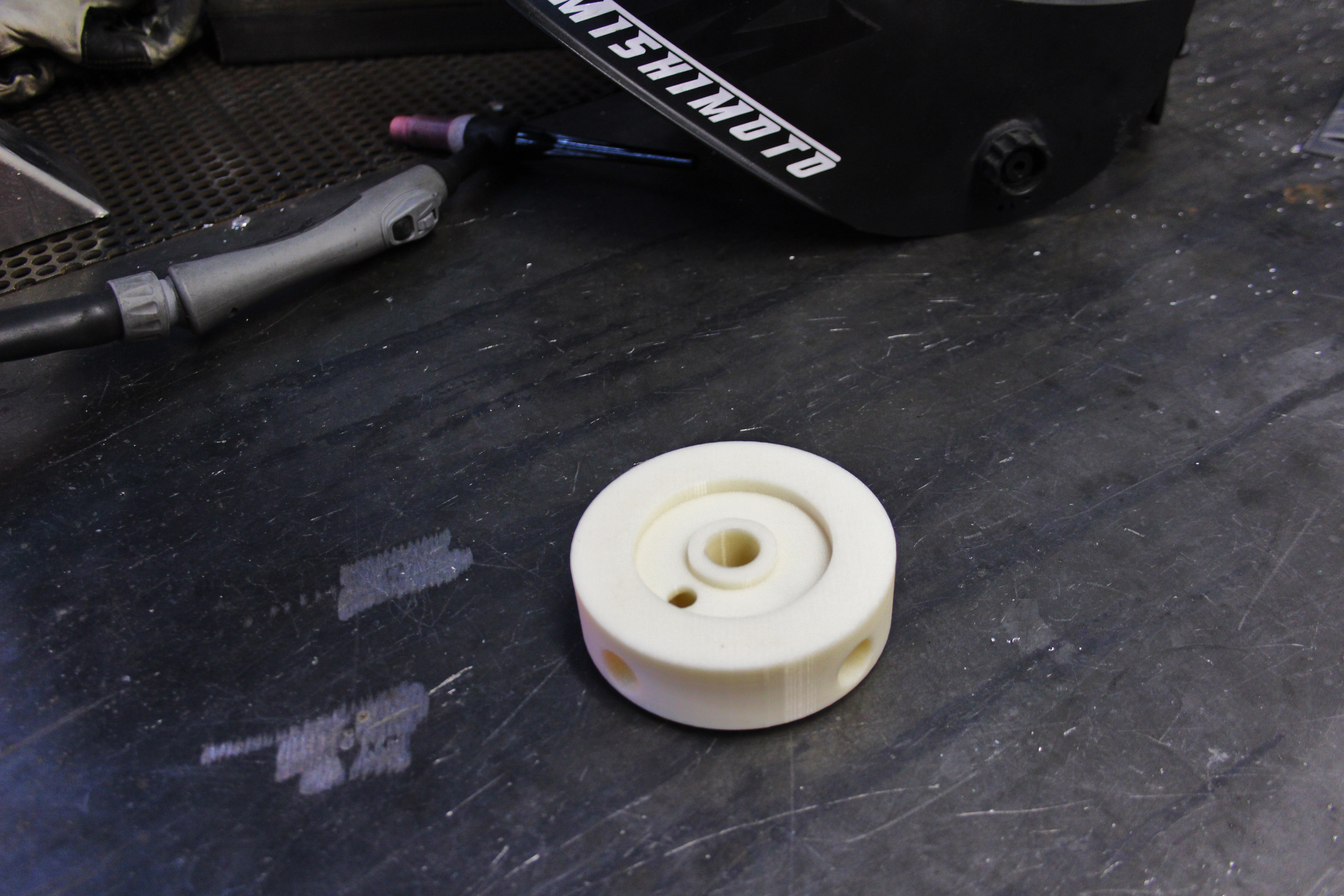 Mishimoto Ford 6.0L Powerstroke Coolant Filter Kit, Part 1: Product Introduction and Goals
Posted:
December 05, 2014
Interested in purchasing this Coolant Filter Kit? Check out our product page for more information!
Project Introduction
The Ford/International 6.0L was launched in 2003 in an effort to compete with the high power output from the GM 6.6L Duramax, while still meeting new emissions standards. In factory form, the 6.0L Powerstroke is generally reliable and will perform a majority of the tasks demanded by truck owners. Unfortunately, as many have discovered, increasing the power output on the 6.0L produces increased stress on the cooling system, resulting in serious head gasket and other cooling system failures. The head bolts tend to stress with increased power, resulting in damage to the gasket. This knowledge is quite widespread, and the basic fix includes a head resurface, head gasket replacement, and the install of ARP (Automotive Racing Products) head studs. Once replaced, you are free to load the truck with power adding modifications, assuming your tune is properly calibrated.
In addition to the head gasket issues, the 6.0L is also prone to exhaust gas recirculation (EGR) and oil cooler clogging. These clogs can result in decreased efficiency and eventual failure of these components. One of the primary causes for failure is sand from the casting process leaching out over time. As you can imagine, sand circulating through the system can have disastrous effects. Damage can include water pump failure, oil cooler clogging, and EGR damage as well. Truck owners have been dealing with this issue, seeking a solution for constant cooler replacement. Eventually, the aftermarket answered with filtration kits aimed at removing these sediments from the system.
How does Mishimoto fit into the mix? Well, as you may know, our company produces a variety of cooling products specifically for the 6.0L stroker. Our current lineup includes a performance aluminum radiator, silicone coolant hose kit, intercooler, intercooler pipes, a factory-fit boot kit, and both high- and low-temperature thermostats. Our support for the 6.0L community has resulted in a ton of outreach for new product development, one being a coolant filter system.
Now, the primary issue with this project was the existing products on the market. Several companies already developed these kits, so why even bother? After looking at the offerings on the market, we quickly saw several areas of the kit that could be improved. Thanks to our experience in CNC machining and our knowledge of silicone hose construction, we were confident that we could produce a product with great value for our customers.
First order of business, we needed to develop a few goals for our engineering team to create what we envisioned. Check out the list below.
Project Goals
Must be 100% direct fit; make all attempts to reduce the cutting/splicing of stock hoses.
Include all necessary components for installation.
Utilize valves to reduce coolant loss during filter changes.
Use a common off-the-shelf coolant filter for easy customer access.
Installation should be simple and utilize common hand tools.
Now, let's go into a bit more detail with these goals.
Direct Fit
As with most Mishimoto products, direct fit is the primary goal. We hope to provide products that install just like a factory-equipped component would. We utilize existing mounting points in an effort to avoid drilling into your truck (whether you mind doing so or not). With this kit in particular, we will be mounting our filter housing in a strategic engine bay location. Additionally, we found that one of the downsides of current kits on the market is the need to cut your factory hoses and splice into them to install the kit. We don't like the idea of cutting these hoses, so we will be attempting to include single-piece hoses with the T-joints and bends built in. This will help eliminate a few potential failure points with crimp or clamp connections.
All-Inclusive
We will be including all necessary components to fully install this kit. This includes the housing, hoses, hardware, and filter. We don't want our customers running all over town to pick up small bits to install our product. Our goal is that you will be able to open our package and install this kit without having to leave your garage or driveway.
Valves
Another important feature for our kit will be the inclusion of valves on the lines. This will allow flow to be cut off to the filter, which will reduce the amount of coolant lost during a filter replacement.
Filter
The actual filter is key to creating the perfect kit for our customers. Not only do we want ideal filtration properties, but we also want this filter to be easy to find. This filter will require replacement on a regular basis, so the goal is to ensure that our customers can head down to the local parts house and pick up a few with no problem.
Easy Installation
Let's face it, no one wants to spend more time under the hood than they have to. We want to get your truck back on the road in the quickest way possible. This kit will be designed to install with common hand tools, and will be simple enough for those who have a basic mechanical aptitude. Additionally, our talented video team will be putting together an in-depth installation guide to help you through the process.
Initial Prototyping
The first component we needed to tackle, the actual housing for the filter, would determine what we would do with the rest of the kit. The fittings and lines we develop would tie into this component. The bracket would then be built in conjunction with the housing. Check out a few of our initial 3D-printed prototypes!
Check back with us next time for some additional information about our first prototype, and a look at our CNC-machined housing!
Thanks for reading!
Interested in purchasing this Coolant Filter Kit? Check out our product page for more information!