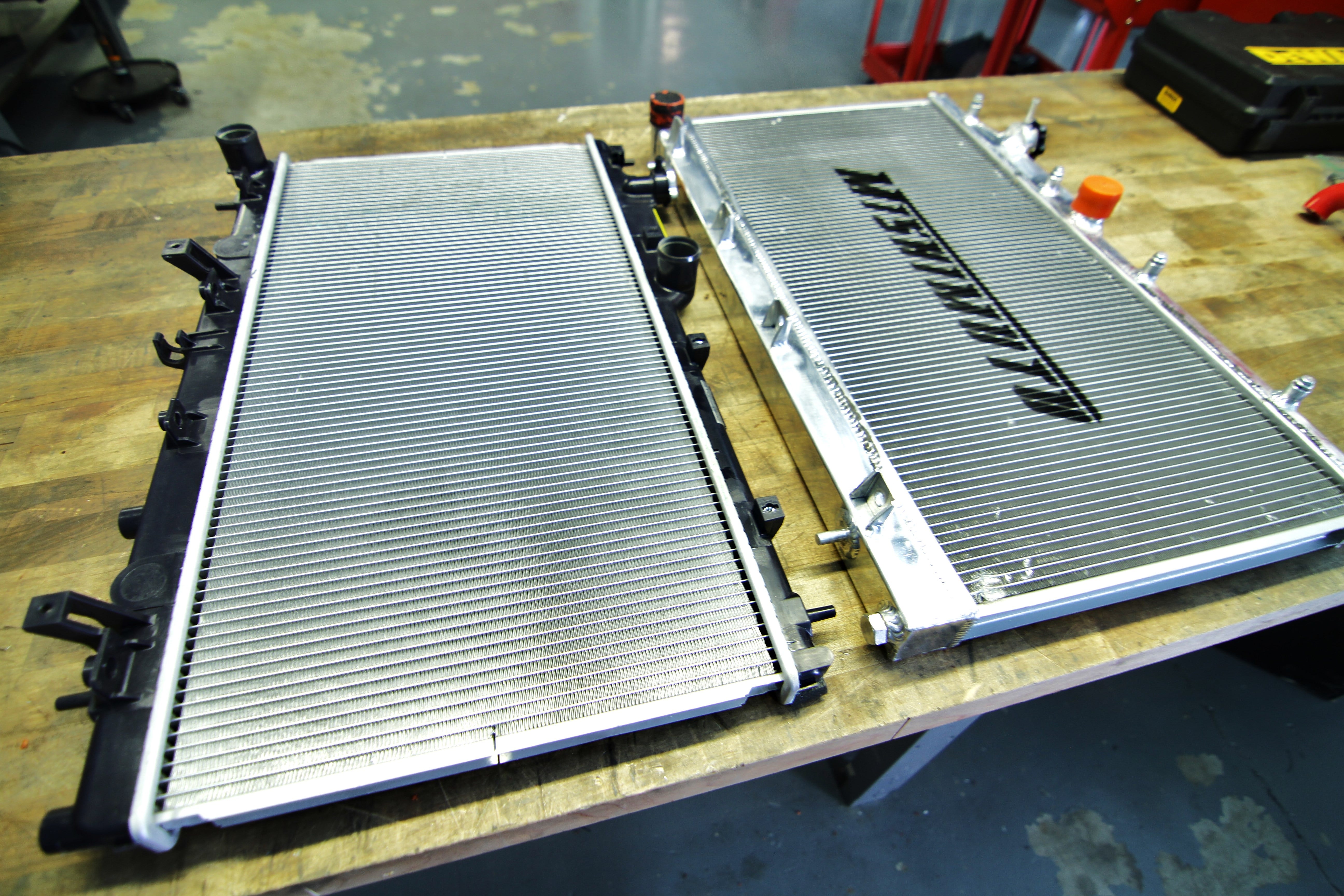 Mishimoto 2015 Subaru WRX Performance Aluminum Radiator, Part 4: Prototype Radiator Performance Testing and Project Completion
Interested in purchasing our 2015 WRX aluminum radiator? Check out our product page for more information!
Now that we had a finalized prototype, it was time to test this component to ensure that our improvements over the stock unit resulted in real-world advantages for our customers. An aluminum radiator provides the instantaneous benefit of increased reliability over the stock plastic unit. Despite this, cooling performance is always our primary goal with a heat exchanger.
Prior to actual road testing, our engineering team put together a few charts illustrating the improvements over the stock radiator.
Coolant surface area refers to the space occupied by the tubes in the radiator. The amount of coolant surface area affects both fluid capacity and overall heat transfer contact points. A larger coolant surface area results in greater heat transfer and lower temperature. The Mishimoto prototype features a 42% increase in coolant surface area compared to the stock radiator.
The next improvement is seen in air surface area, represented by external fin surface area in the chart above. Airflow passes through the fins to transfer heat from the coolant tubes. Once again, a larger surface area will result in greater heat transfer. The Mishimoto prototype unit increases air surface area by 34% compared to the stock radiator.
With the additional thickness of the Mishimoto radiator and its dual-row core, the fluid capacity is increased significantly. The stock radiator's fluid capacity is 0.39 gal, while the Mishimoto radiator's fluid capacity is 0.84 gal. This amounts to a 117% increase in capacity of the Mishimoto radiator over stock.
Now to the road testing! First we installed our temperature sensors on the radiator hoses and prepared our data collection tools.
Our test vehicle would be the Mishimoto 2015 WRX CVT-equipped shop vehicle. All data points were collected on the highway and compiled on the same day. The vehicle was driven at 60 mph cruising speeds for 5 minutes, for each particular setup. Special attention was given to the traffic in front of the WRX to ensure that a fresh stream of airflow was supplied to the radiator. We used 100% distilled water in the cooling system. Check out the temperature results below!
During our controlled test, the Mishimoto radiator showed an average reduction in coolant temperatures of 15°F-20°F compared to the stock radiator. You will notice that the temperatures seem to fluctuate and spike at similar times on each plot. This occurs because uphill portions of the highway require greater engine loads and invariably produce hotter temperatures.
Radiator efficiency is based on the same data collected in the previous plot, but efficiency is based on a comparison of the radiator inlet and outlet temperature differences. The efficiency number tells us how effective the radiator is at transferring heat (lowering temperatures).
The Mishimoto radiator provides a 15% increase in radiator efficiency. This number is a performance value given to represent how well the radiator rejects heat. This efficiency improvement will provide a huge benefit under track and aggressive driving situations.
I would call this project a complete success! Let's go through the benefits this radiator can provide to your 2015 WRX.
Aluminum Construction
As a standard, Mishimoto radiators are crafted from 100% aluminum. We braze the core to the end tanks so there are no effects from epoxy or glue. Each radiator is TIG-welded and leak tested to ensure a durable and reliable life of service. The use of aluminum provides increased durability compared to stock plastic end tanks. Stock tanks are normally crimped to the stock core and utilize a rubber gasket to seal. Common failures can stem from this seam failing between the core and tanks, or from a cracked end tank caused by repeated temperature variations that weaken the plastic. Additionally, the use of aluminum provides improved heat dissipation compared to the plastic units. This means quicker temperature recovery from high temperatures.
Greater Capacity
The Mishimoto radiator provides more than double the coolant capacity compared to the stock radiator. This increase in capacity has a direct impact on cooling performance, as we saw during our testing. Our engineers designed a specifically sized core to account for space around the turbocharger and the charge pipe for the intercooler.
Dense Core Composition
Following the lead of the stock radiator core design, our engineering team constructed an extremely dense core that features shorter fin height to allow for more coolant tubes. Our radiator features a dual-row design that provides great gains in coolant surface area.
Air Surface Area: 34% increase
Coolant Surface Area: 42% increase
These two increases in surface area result in improved heat transfer that translates into lower fluid temperatures.
Proven Temperature Reduction
Our road testing showed average temperature decreases of 15°F-20°F and radiator efficiency increases of 15%. These are huge gains from our radiator, and we anticipate even greater improvements during track and aggressive driving situations. These efficiency improvements are the primary benefits of upgrading your cooling system, especially if you intend to track your 2015 WRX.
With all of our testing complete, and a very solid product designed, we were ready to enter mass production and close the book on this particular project. We could now move on to additional 2015 WRX projects, including downpipe and cat-back exhaust development.
Swing by the blog for updates on our future projects. Thanks for reading!
Interested in purchasing our 2015 WRX aluminum radiator? Check out our product page for more information!