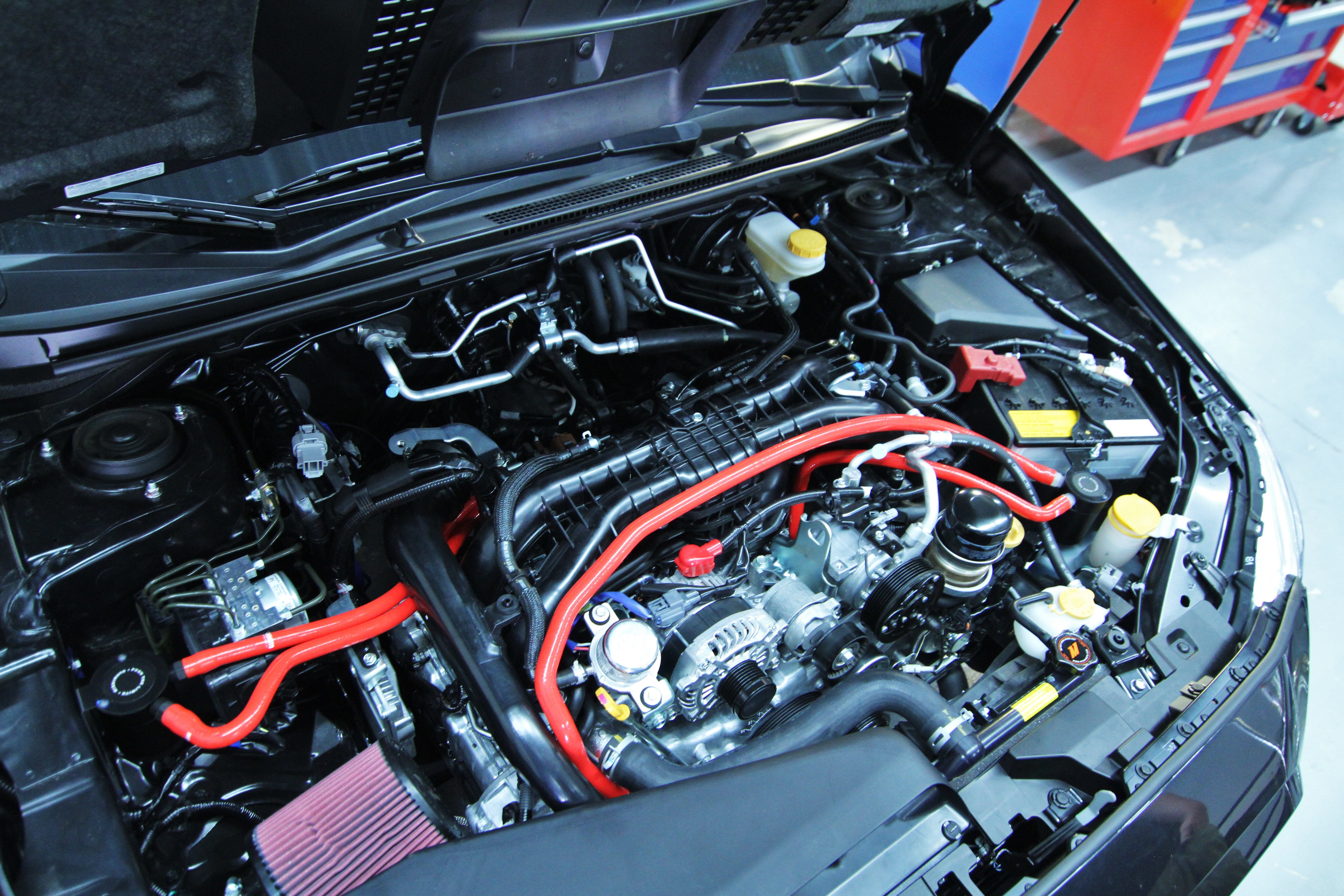 Mishimoto 2015 Subaru WRX Direct-Fit Baffled Oil Catch Can System, Part 3: Final Product Reveal
Interested in purchasing our WRX catch can kit? Check out more details on our product page linked below!
The final kit is ready for installation! After months of development and test fitting, we finally had our completed prototype components ready for fitment verification prior to mass production. Check out all of the components below!
First, the passenger side catch can bracket for the PCV system.
Next up is the finished version of our dual port catch can!
A cool shot of the internal components of the catch can.
And finally we have the catch cans and both brackets included in this kit. The black finish is subtle and works well with the WRX engine bay.
We then attached the brackets to the cans in preparation for the full kit installation.
Now that we had all of the components ready to go, we performed one final test fit before putting a close on the project. Installation is super quick and possible with common hand tools. Check out a few cool shots!
Note: Blue tape is being used to protect the finish of the bracket surfaces for later photography.
Driver's side catch can installed!
And the passenger side can!
The kit is now full installed and looks fantastic! Keep in mind, if you are not a fan of the red silicone hoses, we will also be offering this kit with both blue and black hoses.
A last check for can accessibility and this project was complete!
That concludes this project! A quick recap of our goals for this products development and we can launch this kit to the masses. The sooner we are able to release this direct fit kit, the sooner our customers can begin to benefit from a cleaner running engine.
Project Goals
Remove oil particles from PCV/CCV air before entry into the intake tract
This catch can is proven to provide optimal separation of fuel/oil particles from PCV/CCV air. Our engineers have identified the appropriate catch can locations and have designed a kit that will greatly improve the cleanliness of your intake tract, manifold, intercooler, and intake valves. This will ensure that the octane rating of your combustion mixture is not effected by oil particles.
Position catch cans in ideal engine bay locations with a strong bracketing system
We have designed direct fit catch can brackets that place the cans in optimal locations for servicing and packaging. Line lengths are kept as short as possible to reduce engine bay clutter. These brackets are constructed from steel to ensure durability and stability. Additionally, the brackets are powder coated for a scratch resistant finish.
Include direct fit pre-made lines for easy installation
We designed pre-made direct fit silicone lines for the installation of these catch cans. Lines are available in black, blue, or red. Silicone lines provide a higher degree of reliability compared to the stock rubber counterparts and are more resistant to fuel, oil, and high engine bay temperatures.
With our goals met, this project was now complete! Keep an eye out for this kit to hit shelves very soon!
Thanks for reading, feel free to follow up with any questions or comments.
Interested in purchasing our WRX catch can kit? Check out more details on our product page linked below!