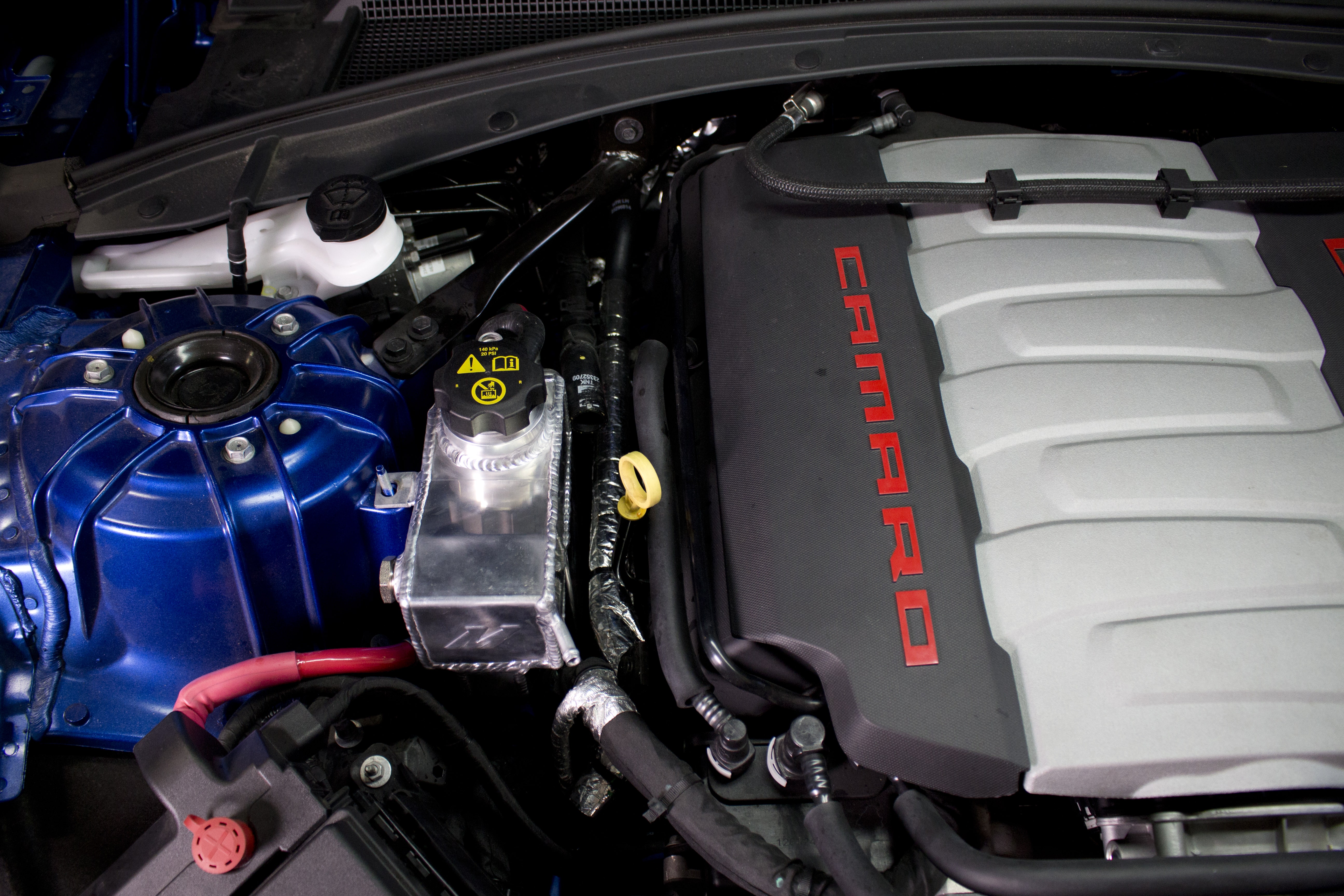 Eliminating the Eyesore - Expansion Tank R&D, Part 3: Test Fit
Welcome, Camaro enthusiasts, to the latest progress report on our 2016 Camaro coolant expansion tank. I know that it's been a little while since our last update, but as Santa Claus my mother always told 8-year-old me when I'd ask for a Power Wheels car: Good things come to those who wait. I'm still patiently waiting, but fortunately you don't have to.
We've been very hard at work on these 2016 Camaro parts and numerous other projects, some of which have presented exceptionally unique, unexpected challenges.  For example, take a look at our 2016+ Camaro 2.0T Catch Can R&D. See what I mean?
Expanding on the Stock Design
Now this project is not without its challenges, either. As we examined in our opening post, the 2016 Camaro coolant expansion tank, despite the term we use to refer to it, is much more than just an expansion tank. With the top part of the tank comprising a pressurized expansion enclosure that works as an integrated part of the cooling system, and the bottom part of the housing being a non-pressurized overflow chamber, there is more to this tank than meets the eye. Check out our stock review of the 2016 Camaro coolant expansion tank for more details on this clever design.
Per usual, we will be incorporating all OEM functionality into our version of this part. The baffling and channeling necessitated by the hybrid design of the tank are intricately implemented into our aluminum prototype, which features smooth bends and clean welds that contribute to the unit's suave, muscular profile. Having experimented with both a sight tube and a sight glass, we have decided to move forward with the sight glass for this prototype, as it looks much more refined and doesn't require as many holes to be drilled - this minimizes any possible leak points and simplifies the design. That said, this is not necessarily the final design revision, so the "ol tube vs. glass issue may still be subject to change.
Overflowing with Style
We've made a huge amount of progress on our 2016 Camaro coolant expansion tank, and I'm proud to say that we've assembled a solid-looking prototype and installed it in our SS. As this product is primarily an aesthetic upgrade, this post would be nothing without more photos!
Check "em out below.
Tanks for the Update, but What's Next?
We've got a couple small adjustments to make after test fitting our prototype, but we should have a final version ready to go in relatively short order. Stay tuned for some glamour shots of the tank by itself and any more updates on the design, and an announcement to kick off our discounted pre-sale!
Tanks again,
-Gardiner