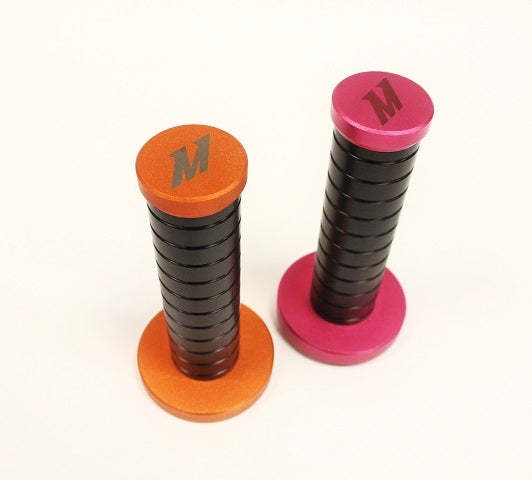 Shifting Nirvana. A Sneak Peek At Mishimoto's New Shift Knob Designs: Limited Edition Rockstar Weighted Shift Knob
Interested in purchasing one of our new shift knob designs? Check out more product details at the link below!
Not all our projects involve in-depth data, heat-transfer calculations, or metal fabrication. From time to time our engineering team collaborates with our talented creative team to develop awesome accessories for your ride. These upgrades might not add power or drop temperatures, but they can surely improve the driving experience and offer an improvement in styling.
In addition to the collaboration work, each design was created by a different member of our team. If you know any of these people, you might see where the designs reflect their personalities quite a bit.
Weighted Shift Knob
Our first unique design is likely to find its way into the vehicle of someone seeking a bolder look. This design started life in the 3D world as a SolidWorks model.
Keep in mind, the design above represents numerous revisions and adjustments following our team's evaluation. Once we compiled our thoughts and made some changes, we printed a prototype with our 3D printer.
If you're thinking to yourself, "Hmm. That looks similar to a bike or motorcycle grip," you are correct. The designer of this knob is an avid mountain biker, so his preference for this grip style is no surprise!
This piece is also the heaviest of our new set of shift knobs, weighing in at 476 grams. If a heavy, weighted shift knob is your thing, this might be the one for you.
Once we tested the "feel factor" for this piece and wrapped up the design work for the different components and features, a few final prototypes were created.
The base provides the connection point with the shift lever.
The knob on the right includes one of our universal thread adapters, which will enable fitment for a variety of vehicle makes and models.
This shift knob is made from three separate components, which can be taken apart for further customization. Below is a cutaway showing the internal features.
Check out one of our prototypes disassembled.
The components on the left and right are constructed from CNC-machined aluminum. The center sleeve that serves as the grip is made from an engineered thermoplastic. You may also notice an interesting logo on the top, from our friends at Rockstar Performance Garage. To kick off this grip design, we will be offering a unique, limited batch of knobs featuring a Rockstar-inspired color scheme. Below is a shot of the assembled piece!
As with all our products, we like to create a unique experience for our customers from start to finish. This means our packaging won't be a simple brown box filled to the brim with packaging peanuts. Instead, we came up with something a little more appealing.
This cylindrical package will adequately support the shift knob during shipment and also looks pretty slick!
Coming Up!
This isn't our only good idea! Check back next time for a look at something more subtle, yet still stylish.
Thanks for reading!
-John
Interested in purchasing one of our new shift knob designs? Check out more product details at the link below!