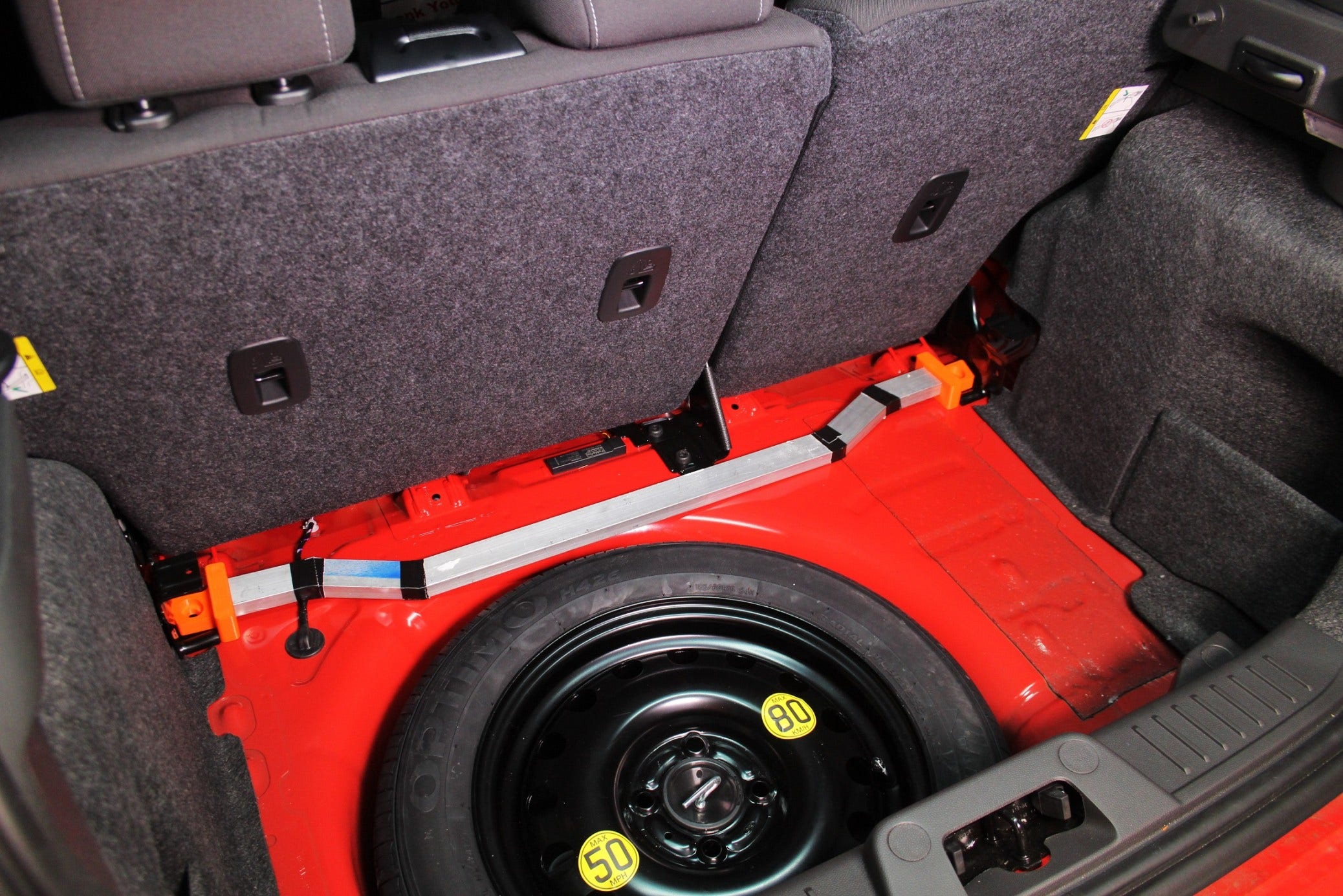 Flex-Free Cornering. Fiesta ST Trunk Brace R&D, Part 1: Initial Prototype Design
Chassis rigidity is extremely important for on-track handling, response, and feel. Ford provides a well-designed chassis with the Fiesta; however, as you can imagine, there is always room for improvement. Within the short time that this car has been available, the aftermarket has provided some great options, including better dampers, stiffer springs, and thicker sway bars, to enhance handling.
Our company will not likely dip into struts or springs, but we are certainly interested in helping stiffen the chassis. Our Mustang EcoBoost front strut tower brace is underway, and we recently launched development of a Fiesta ST rear strut brace. Time to get started!
What's The Plan?
Our goal here is to link one side of the rear trunk area to the other. You may wonder why this is needed. Doesn't the floor/body connect the two sides? Yes, but keep in mind, the floor is not made from a thick material. During aggressive cornering, the floor will see some pretty substantial flex. By connecting one side of the trunk to the other with a robust material, we can eliminate most, if not all, the flex seen by the body in this area.
We elected to use the outermost mounting points just under the seat brackets, in order to avoid modification to the interior components.
First Prototype Design
First, we took measurements from the trunk and bracket and began modeling our mounts in Solidworks. Check out a few of our initial renderings!
Once we completed our first design, we sent it to the printer and waited for our 3D prototype.
After both brackets were complete, we mocked them into position to check fitment.
You will notice one difference between this piece and our rendering above. Initially we planned to use a circular tube as the bracing material, but this was later changed to a square tube design. The square cutout you see in the center of the bracket is designed to accept our support bar, which will measure 1.5" x 0.75" and will be constructed from steel for optimal rigidity.
In addition, we will be reusing the factory hardware in this position.
Pleased with the fitment of these pieces, we needed to mock-up the actual brace.
You will notice that the bar is not a straight shot from one side to the other. We followed this path to retain the center seat bracket. After some quick research and discussion regarding material strength, 20-degree angles were selected to clear the center bracket. This angle is ideal, as it promotes 94% of force in a horizontal direction, meaning the strength will be similar to that of a straight bar.
Once this was laid out, a few tack welds were added to secure the piece in place.
Coming Up!
Next time we will be making adjustments to our design for improved functionality. Check back soon for another update! Keep an eye on our blog for development coverage of other awesome Fiesta ST parts.
Thanks for reading!
-John