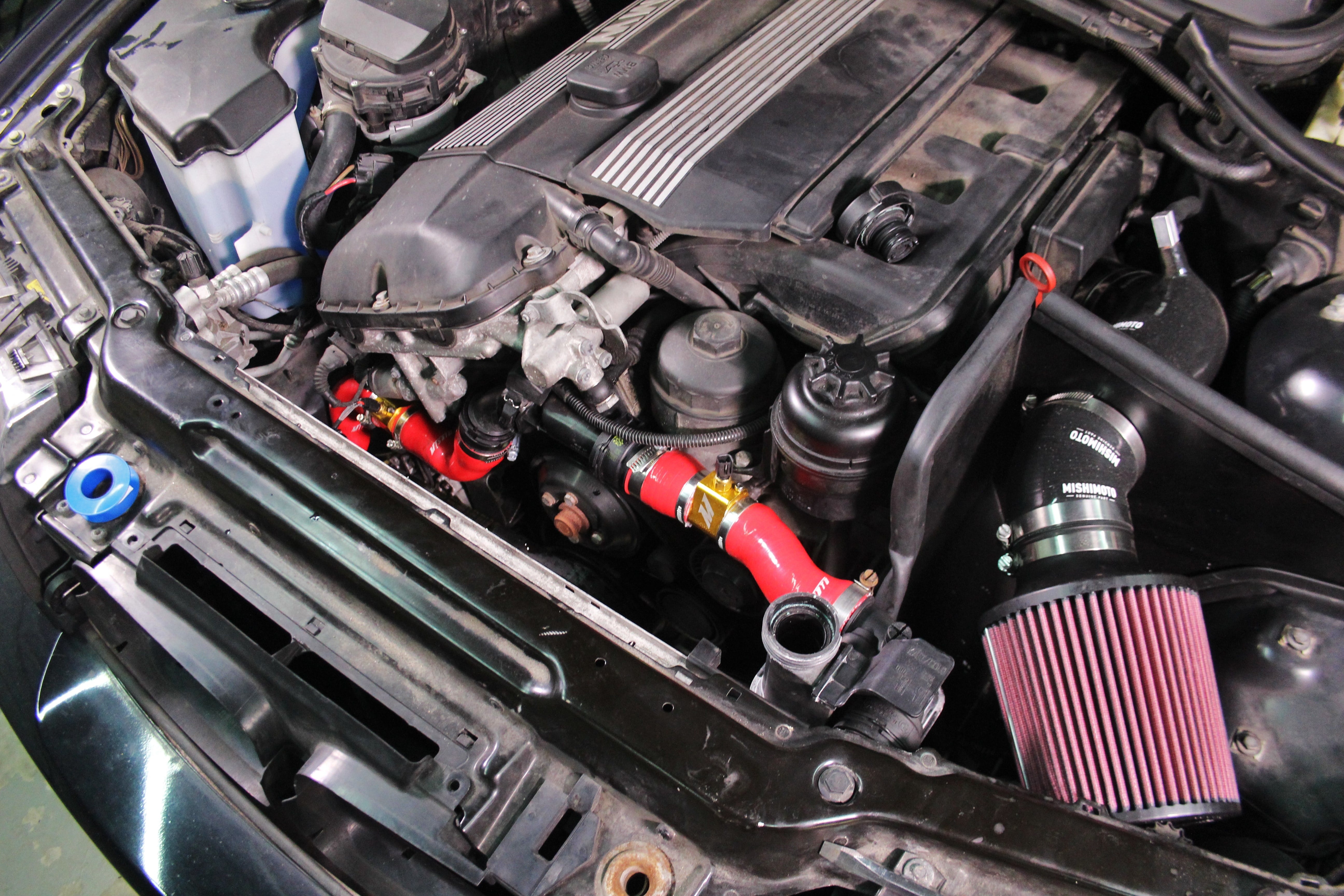 Mishimoto E46 3-Series Aluminum Radiator R&D, Part 4: Prototype Testing
Interested in purchasing our E46 aluminum radiator? Check out our product page linked below!
We are pretty pumped about our new BMW performance parts! Our prototype radiator looks and fits great, so now let's make sure it performs as well as we intended. As we noted previously, we've made a variety of improvements over the stock core to improve heat transfer and efficiency. Let's take a look at the specs!
Core Improvements
Our first comparison is coolant surface area, which is a measure of the area of the coolant tubes within the core. Greater tube area results in increased heat transfer as well as increased fluid capacity. We've increased coolant surface area by 18% over the stock radiator core.
The chart above depicts air surface area, which is a measure of the area of the external cooling fins on the radiator. Air surface area is a big contributor to cooling efficiency and performance. You see, the greater number of fins packed into the core, the more contact points we have for heat to transfer from the air to the coolant tubes. We've improved fin surface area by 41% over stock with our radiator design. Our core is far denser than the stock unit, which should result in lower coolant temperatures and improved cooling efficiency.
The changes depicted in the charts above indicate an increase in coolant capacity of around 0.10 gallons, a 20% increase. Not a huge gain, because our radiator is similar in size to the stock unit, with just a minor increase in thickness. This was done for perfect drop-in fitment with all stock components. Direct, hassle-free fitment is a primary goal for most of our BMW performance parts.
Product Testing
As shown in our last portion of this article series, we are installing temperature sensors on both the inlet and outlet E46 radiator hoses. This will allow us to record temperatures both pre-radiator and post-radiator to evaluate efficiency and temperature drop. Check out our sensors!
Before we show the results, check out the list of testing conditions below.
Testing Conditions
Vehicle: 2001 BMW 325CI
Modifications: Mishimoto Performance Air Intake
Ambient temperature: 80°-85°F
Operation: 65 mph highway cruise for 3 minutes
Apparatus: AEM AQ1 Data-Logger system
Once we had a plan of attack, the AQ1 system was loaded and we hit the interstate for some cruising. After testing the stock E46 radiator, we swapped it for our aluminum counterpart and continued with exactly the same testing.
First, let's see how the stock E46 radiator did during our steady-state test.
Inlet temperatures started at around 190°F and rose to around 195°F before stabilizing. Outlet temperatures at the start of the recording began just north of 140°F and dropped to 135°F before rising back up to 141°F by the end of the run. Now let's check out the Mishimoto BMW E46 radiator plot.
The inlet temperature line is flatter with the Mishimoto E46 radiator, sticking around 188°F for the entire run. Temperatures exiting the radiator were also lower. At the start of the run, we measured temperatures around 116°F, which peaked at 120°F and dropped back to 118°F at the end of our data collection.
On average, we saw a 19°F drop in radiator outlet temperatures with the Mishimoto radiator. This is pretty impressive for low-stress driving conditions. Below is a plot with our outlet temperature lines compared.
Fantastic results! Our primary goal with this radiator was to provide improved reliability with an all-aluminum design. We had a secondary goal of improving cooling efficiency, which we certainly succeeded in doing.
Coming Up!
We have a BMW E46 radiator that fits perfectly and provides impressive benefits in terms of cooling performance. Our first batch of radiators will be available during a discounted pre-sale. Check back soon for details on our pre-sale pricing and estimated shipping information. In addition, keep an eye on our blog for more awesome development of new BMW performance parts.
Thanks for following our progress!
-John
Interested in purchasing our E46 aluminum radiator? Check out our product page linked below!