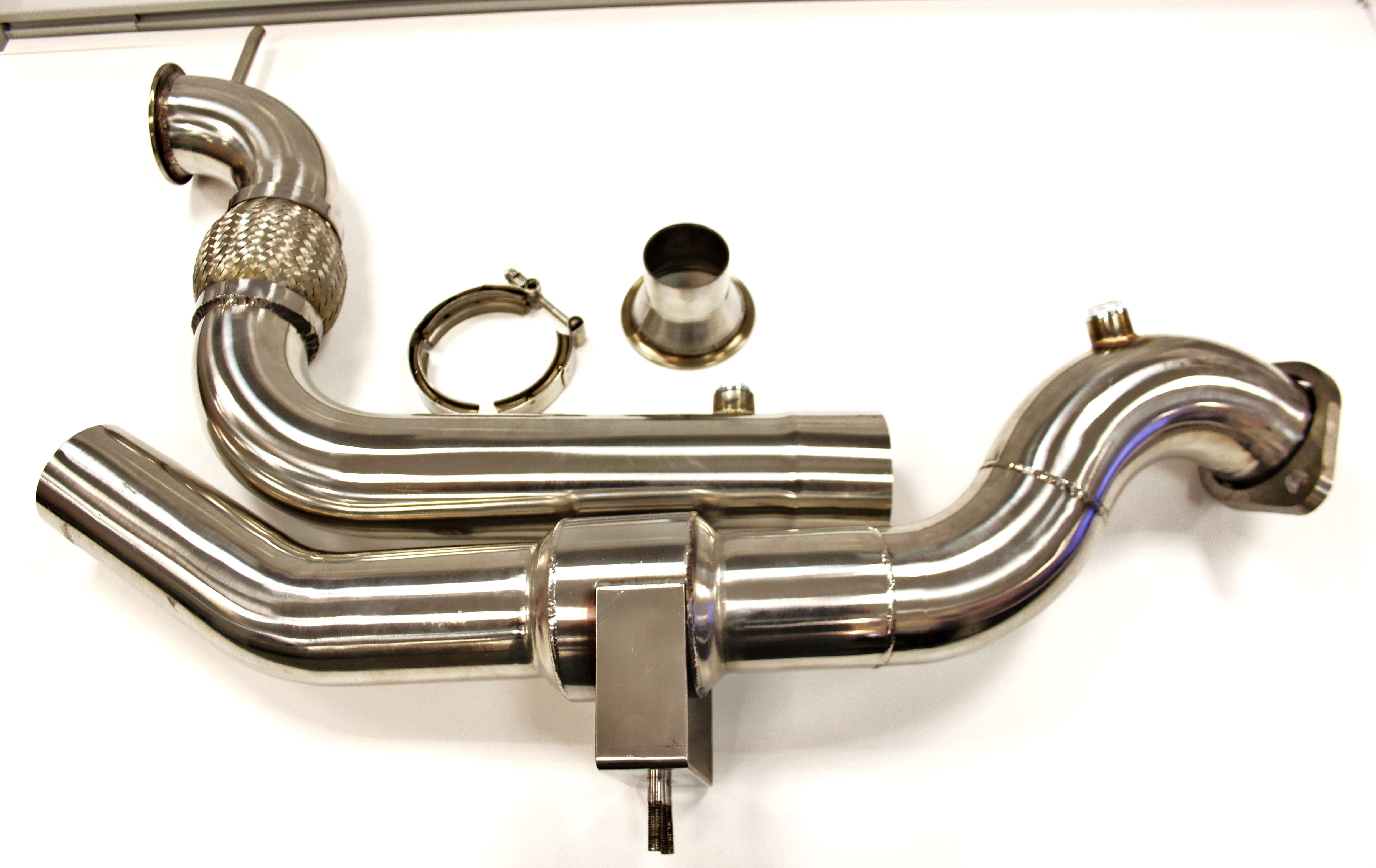 Unleashing The EcoBoost. Downpipe Development, Part 3: First Prototype Presentation and Test Fitting
It is quite an exciting week here at Mishimoto. Yes, that's right " our first prototypes of the Mustang EcoBoost downpipe assemblies have arrived and are ready for test fitting and some road testing! Our extensive 3D-modeling design work has paid off with some very nice downpipe prototype pieces. No more delay, on to the images!
First Prototype Images
Our first prototypes include both a catted downpipe and a catless downpipe. Each unit features a two-piece design for easy install, a slip-joint connection between the two pieces, and a V-band connection at the rear cat-back connection point.
We will start with a look at the upper portion of the downpipe that mates with the turbocharger. First, our catless pipe.
This piece features a couple interesting details. The ball-style flange is designed to emulate the stock downpipe and will mate perfectly with the stock turbocharger exhaust flange. Two oxygen sensors on this pipe will function with the stock sensors and their respective locations. We've also designed a stock-style mounting bracket that should fit perfectly with the stock mount. The slip fitting shown at the bottom of the image above attaches to the rear portion of our downpipe.
Our catted design is similar and includes the converter itself. Check out a few images of this prototype!
As noted above, this piece connects directly to the rear portion of our downpipe assembly. This portion is identical between catted and catless setups. Check out a few shots of the rear portion.
Some pretty nice welds on this prototype!
As you can see, we are including a flex section to allow movement of the exhaust and engine without causing any damage or cracks to the exhaust. We also provided an additional oxygen sensor bung on our EcoBoost downpipe for drivers who wish to add a wideband gauge to their vehicles. The V-band oriented at the rear portion of this exhaust is designed to provide flexibility for catback exhaust options. For drivers who wish to stick with the OEM system, we will include an adapter to reduce to the stock catback.
And a look at the full kit!
Prototype Installation
We installed our first prototype to determine if any fitment changes were necessary. As we discussed earlier in this article series, we want this kit to bolt into position just like the stock system.
First, the stock downpipe was removed.
Once the stock piece was out of the way, we bolted our prototype into position.
Good news! Everything fit perfectly, and all flanges and mounts mated exactly as designed. We can check fitment off our to-do list for this downpipe.
Notice the neck-down in pipe diameter as it reaches the catback portion of the exhaust. We include an adapter designed to reduce to the stock catback size. For our larger catback, we will also be providing a V-band pipe that will retain the large piping diameter throughout the exhaust system, thus reducing restriction and improving flow.
Coming Up!
The first Mishimoto Mustang EcoBoost downpipe prototype looks great and fits perfectly. Our next plan is to evaluate the sound produced with this downpipe installed as well as how it reacts in terms of power output and tuning.
Check back next time for another in-depth look at this prototype!
Thanks for reading!
-John