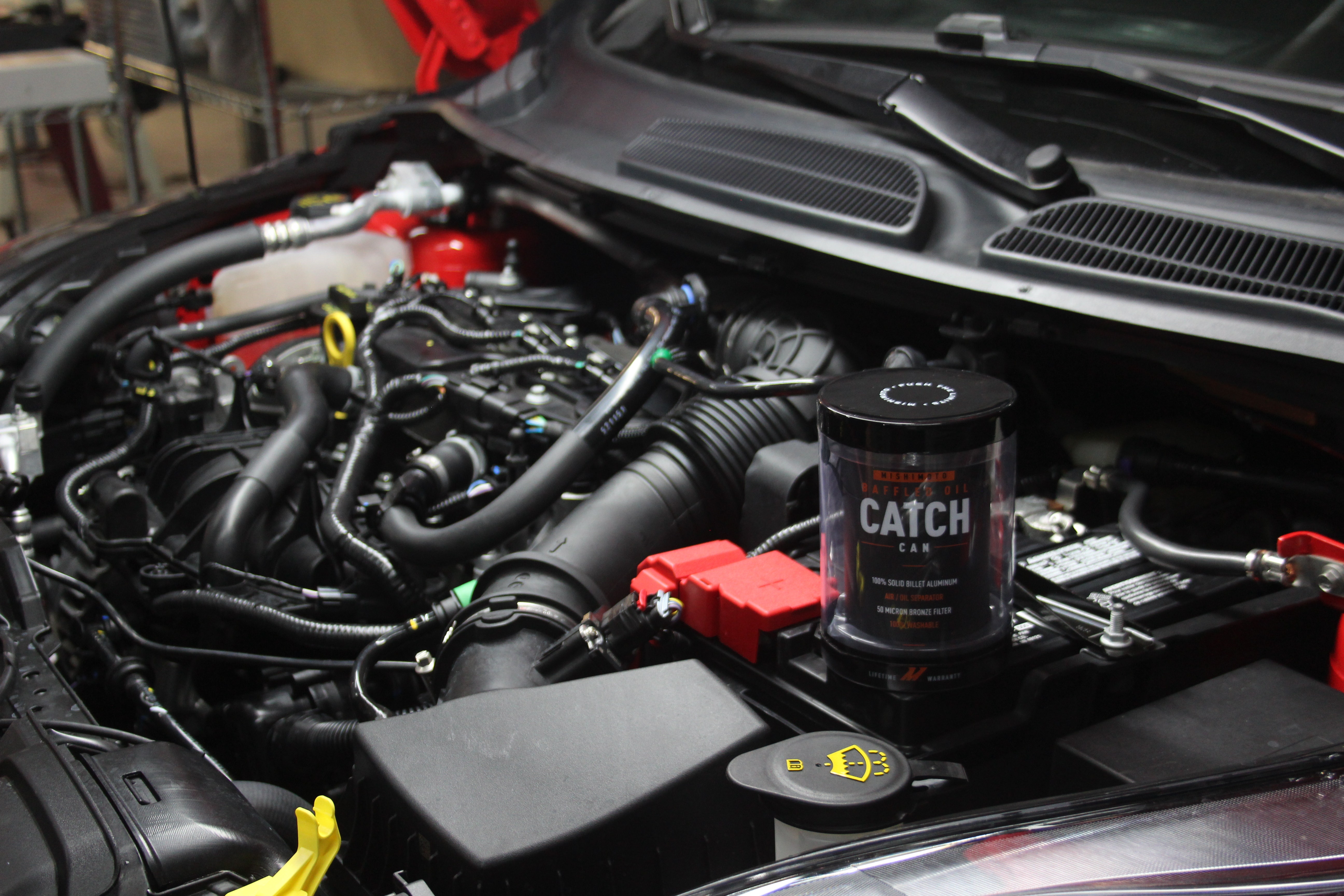 Keep your intake clean - Oil Catch Can R&D, Part 1: Introduction and Fabrication
So far this Fiesta ST has had an interesting life with Mishimoto. The very same day that we drove it off the lot, it was rolled into our development facility and fitted for its first modification: a prototype baffled catch can kit. Why did we chose to begin with this? From our experience with other EcoBoost equipped vehicles, we know how prone these engines are to blow-by and carbon buildup. If you want to read more in depth about the benefits of a catch can, check out our complete write up on Blow-By 101. Installing a catch can right away allows us to protect the engine of our new development vehicle and gives us more time for data collection as we work on developing additional Fiesta ST parts. Last, but certainly not least of all, we asked for your feedback and received an overwhelming response to create a Fiesta ST catch can (yes we do listen to you!).
Test Fitting
After pulling it into the shop and having a quick look, our engineers fabricated a bracket to hold two catch cans (one for the PCV and another for the CCV) so we could start gathering testing data.
Don't mind the explosion of color in the engine bay; this rainbow hose configuration allowed our engineers to mock-up the hoses we need for the prototype kit.
Preliminary Test Results
After a few hundred miles, preliminary testing revealed that, like the Focus ST, the catch can on the PCV side had visibly much more contaminants trapped in it than the can on the CCV side. The PCV side already had a noticeable amount of accumulation while the CCV side only had a thin coating along the inside of the can as well as the baffle. Based on this data, we decided to proceed with a catch can for the PCV side. We have not ruled out the development of the CCV side catch can if the need arises.
Our engineers were actually surprised by the amount of contaminants the PCV side catch can collected in just a short time. Based on this we are expecting the oil catch can to be one of the most essential Fiesta ST parts we develop for this platform. Check out some shots of the catch can removal and its contents below.
Coming Up!
Our engineers are working on a new bracket which will move the Fiesta ST catch can closer to the front of the engine bay, making it easier to both access and show off. Another benefit of the new location? It will work with right hand drive models of the Fiesta ST as well. We want to accommodate our friends across the pond! Stay tuned for more updates to come.
Thank you for reading!
-Sara