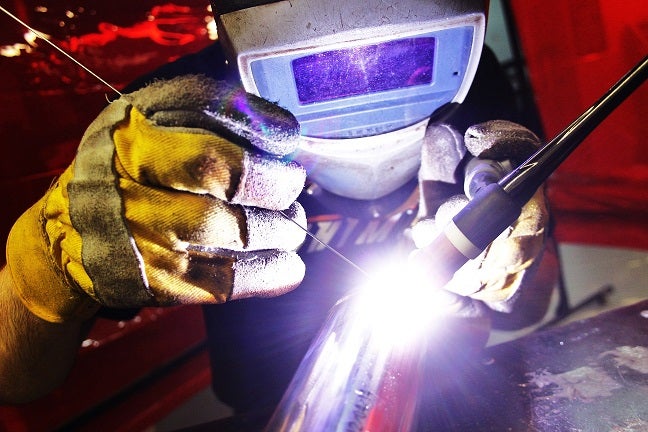 Enhance Your EcoBoost Exhaust! Cat-Back Development, Part 1: Stock Exhaust and Initial Fabrication
If you follow any of the product development going on here at Mishimoto, you should have noticed our recent concentration on the Ford Mustang EcoBoost. So far we've developed, tested, and perfected a variety of awesome new components, including the list below.
Performance Intake System
Direct-Fit Catch Can
Direct-Fit Oil Cooler
Baffled Coolant Expansion Tank (still in the works)
Downpipe (still in the works)
Radiator (still in the works)
Intercooler
Intercooler Pipes
Low Temp Thermostat (more on this soon)
The next target on our list will help your EcoBoost breathe a little easier, in the form of a larger-diameter and better-flowing cat-back exhaust. This is especially helpful for vehicles with aftermarket tuning packages. Combined with our 3" downpipe that is being developed, the exhaust system will provide the necessary flow for very high power goals, not to mention the sound you can expect with a larger system!
Stock Exhaust
The stock exhaust is what you would normally expect in a new vehicle. The smaller diameter piping, resonator, and mufflers all work to limit noise and in doing so numb the driving experience of your brand new sports car. An upgraded exhaust can add power but will also make a big impact on the overall experience of owning your Mustang. We wanted this exhaust to be refined, yet provide a more enthusiasts' based raw sound at wide open throttle. At cruising speeds, we would be shooting for a system with no drone. Quite a task we have ahead of us, so let's get going.
Above is a look at the stock system removed. The piping starts as a single entry, dual-exit resonator at the center of the vehicle just after the downpipe connection. After the resonator, a dual-exhaust pipe setup runs back to two single-entry, single-exit mufflers. Four exhaust hangers support this system on the vehicle and provide isolation via rubber mounts for movement. Exhaust piping diameter measures 2.25" for the stock system.
A close-up of the muffler and resonator are both shown below.
Check out a shot showing this system installed.
Here's a look at the space remaining once the stock system is out of our way!
First Prototype Fabrication
With the stock system removed, we began fabricating our exhaust. We selected 2.5" diameter piping and would be designing a system that emulates the stock configuration in terms of a center-mounted resonator and dual mufflers at the rear of the system.
We started with the front section that attaches to the downpipe. We began by designing a pipe that mated to the stock downpipe diameter and quickly enlarged to our planned 2.5" diameter.
After the front portion was complete and we had selected a location for our mid-muffler, we began working back to the second muffler. We would be creating mirrored piping to keep the system identical on both sides.
A few precise cuts were made for the required route of our piping.
Tacks were made to hold the shape of our prototype, and we fit these into position with our rear mufflers.
Now we needed to incorporate a few hangers to attach the exhaust system to the body. We are utilizing the stock mounting points for an easy, direct-fit install.
Our hangers were cut and bent from stock steel.
These were then tacked into position.
We then had a tacked prototype complete and fully installed! Take a look at the system in place.
We fired up the welder and began the process of fully welding each joint within the system.
Check out few of the in-progress pieces for our system.
Coming Up!
With our first prototype fully welded, it was time for some initial testing to see how this system sounds on the road. Check back next time for a few sound clips, our internal review of the sound produced, and our second round of prototyping.
Thanks for reading!
-John