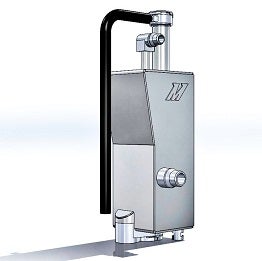 E46 3-Series Aluminum Expansion Tank, Part 2: 3D Tank Design
Quick project update! As noted in our last post, we had finished collecting data points and dimensional information for the stock tank and were setting our sights on creating a tank of our own.
After pulling our engineers out from under shop vehicles, we set them behind the computer to get this project moving. Check out some of our initial 3D models!
And here's a shot showing our fill-neck design and upper hose connection!
Below is a shot showing the quick-connect fittings located on the base of the expansion tank. As noted in our first post, these attach to the plastic plate on the radiator fan shroud. One of the ports will be capped on manual models.
Our tank is being designed to function with all stock connection points and will not require any vehicle modification for install.
Additionally, we are designing this tank to function exactly like the OEM unit in terms of internal chambers and pressure relief. Check out a couple cutaway shots showing our plans!
We still have to sort out some of the details regarding the sensor for the fluid level. The E46 utilizes quite a unique system, with a magnetic float and sensor contained within an isolated chamber in the tank. We touched on this a bit in the first post of this series and we will be covering this once we have a plan in place.
We will be working toward a solution for this in the coming weeks!
Coming Up!
Now that we have our initial design work complete, we can work up a functional prototype for fitment and functionality testing.
Thanks for reading!
-John