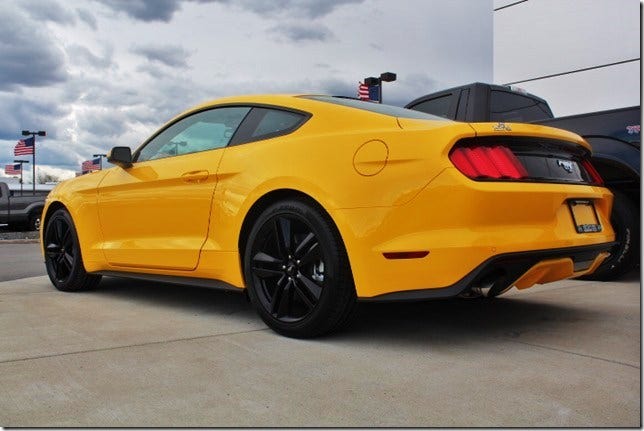 First Look: Mishimoto's 2015 Ford Mustang EcoBoost!
As we mentioned on the forums, we have been aggressively searching for a 2015 Ecoboost Mustang for product development! We are pleased to announce that our purchase has been made, and we are expecting our 2015 Mustang to arrive on Friday the 10th.
Our team is extremely excited to get this car into the shop and begin tearing it down to develop a performance radiator, intercooler, oil cooler kit, etc.
Before stripping our 2015 Mustang, we will be collecting a ton of images and video to provide our first impressions of the new model. This includes information regarding the 2015 Ford Mustang chassis, suspension, brakes, wheels, tires, interior, and of course the 2.3L EcoBoost. This is the first time the Mustang has been equipped with a turbo-four since the mid-eighties, and we have a team full of automotive geeks itching for a drive in the new model.
Additionally, within the first few days of ownership we will be throwing the 2015 Mustang up on our Dynojet to see how much power this car is able to put to the ground in stock form.
Keep an eye out for our review videos, we will be posting these throughout the next few weeks. Our goal is to present a new video featuring the 2015 Mustang at least twice a week, however our excitement may result in a slightly more accelerated schedule.
Now, we know everyone is rather excited about learning the ins and outs of the new 2015 Mustang. We want to open the floor to those reading our blog!

Do you have any questions about the new EcoBoost Mustang?
Is there a specific vehicle system you would like to know more about on the 2015 Mustang?
What would you like to see in our impressions videos?
What components would you like us to begin developing first?
Any additional questions/comments regarding the 2015 Mustang.
Check out a few shots of our new shop vehicle!
Factory Build Specs: 2015 Mustang

EcoBoost Performance Package
55 Ratio Limited Slip Axle
Triple Yellow Tricoat
Rear Spoiler Delete
Manual Transmission
Black Interior
Thanks guys!
Check our our video featuring a look at the 2015  Mustang EcoBoost Intercooler!
Thanks!