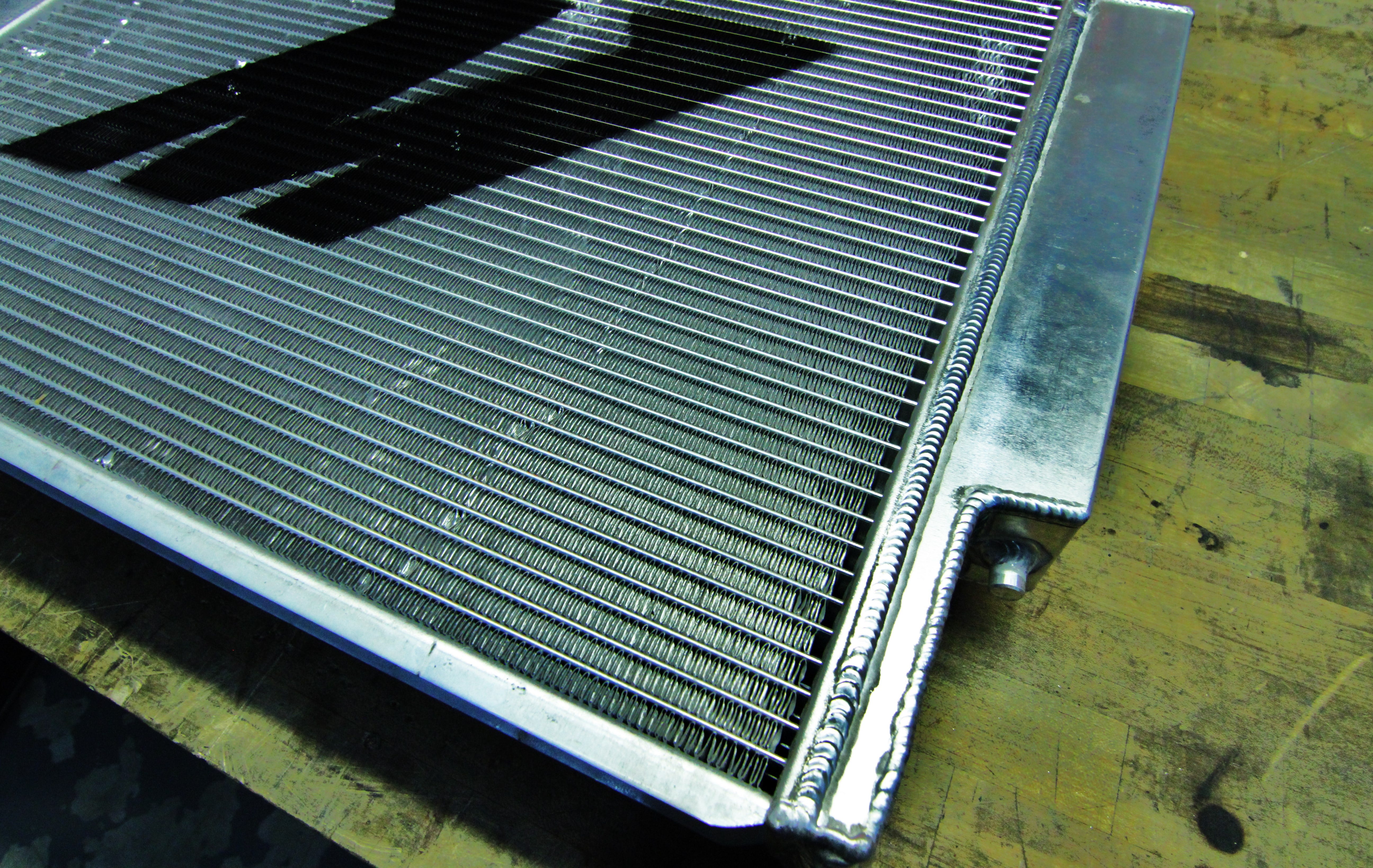 Mishimoto BMW E30/E36 X-Line Radiator, Part 2: Prototype Radiator Evaluation
Posted:
September 29, 2014
Interested in purchasing this BMW E30/E36 aluminum radiator? Check out the product page for more information!
Alright, the prototype is in and ready for comparison against the stock unit. To show how much different this radiator is compared to our current offering, we would also be bringing in one of these radiators to observe the differences. First, let's take a look at the stock radiator we have. This unit was used to pull critical fitment dimensions.
Now a couple shots of the end tank features including the temperature sensor port and one of the hose connection. These plastic tanks are the culprit for many coolant leaks and overheated engines.
And finally, a shot of the fin composition of the stock radiator is shown below. As you can see, the factory radiator is actually pretty well setup. The fin height is reasonably short, however the pitch leaves a bit to be desired.
Next we pulled our standard aluminum E36 radiator out of the box and snapped a few comparison shots. Keep in mind, the factory radiator measures at 33-34mm in thickness.
Next is a shot of the end tank, hose connection, and welds. This is one of the primary reasons we have had a ton of success with this radiator. Our durable aluminum end tanks provide a huge improvement in reliability compared to the stock plastic tanks.
Now we measured the core thickness of our standard radiator. This unit comes in at 50mm. This provides a full 16mm enlargement in core size compared to the stock radiator.
And lastly, this shot of the core shows how it compares to the factory core, very similar composition.
Finally, we can introduce you to the Mishimoto E30/E36 X-line radiator prototype!
A cool shot of the core our team designed!
Look at that weld!
Now let's see just how thick our engineers were able to make this core!
This prototype measures in at a massive 57mm in thickness. This is 23mm larger than the stock radiator and an additional 7mm thicker than our standard E36 radiator. We are expecting this size increase to play a role in efficiency increases. The other part of this is the core composition, check out a shot of the core below.
Total fin height is slightly improved compared to the stock core, however we have managed to pack a ton of fins into each row. These additional fins will help improve heat transfer contact points and should lower fluid temperatures at a much more acceptable rate.
Now that we had all 3 radiators together, it made sense to snap a few shots comparing them all together. Check it out below!
The last image really shows the huge difference in fin density of our prototype unit to the stock radiator. We are very interested to see how all of these changes are going to impact cooling. That wraps up the review of our prototype radiator, check back with us next time for the vehicle test fit and testing preparation!
Interested in purchasing this BMW E30/E36 aluminum radiator? Check out the product page for more information!