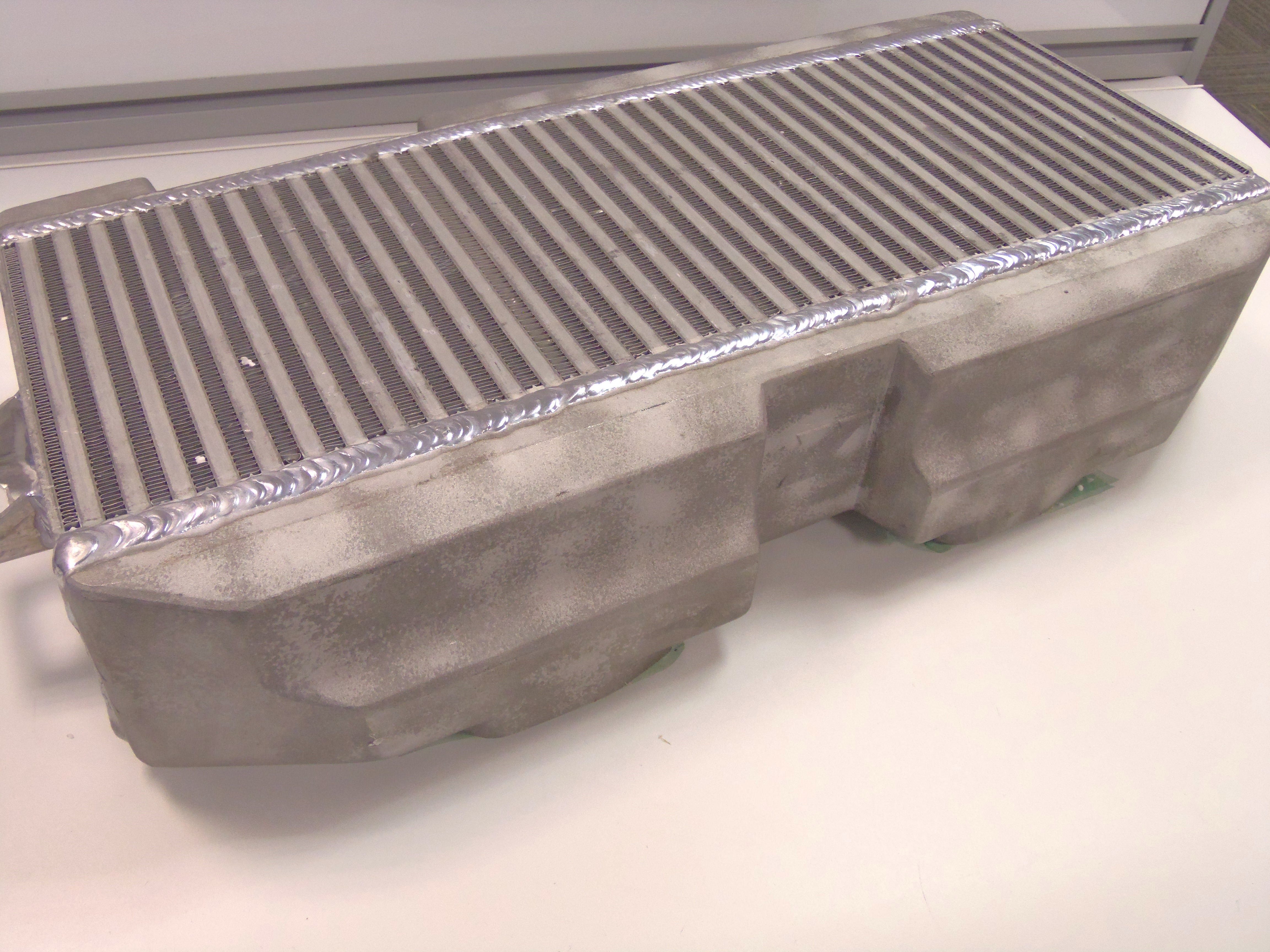 2008-2014 Subaru STI Performance Top-Mount Intercooler, Part 1: Product Goals and Initial Design Process
Interested in purchasing our STI intercooler? Check out our product page for more information!
Did you think we would just develop a top-mount intercooler (TMIC) for the GD WRX and leave out the STI? No way! At around the same time we began development on the WRX, we picked up a new shop vehicle, a 2010 STI. When a new vehicle makes its way into shop service, we need to be sure it accelerates and handles properly. The STI passed our checkup. We then set out to determine what products we wanted to develop first. We already had a few items on the market, including a performance aluminum radiator and a silicone radiator hose kit. Our first target had been a direct-fit oil cooler that proved to be extremely successful, providing a 20°F drop in oil temperatures during our testing. Next we created a plug-n-play fan shroud with dual 12" electric fans. The key component of this shroud was the use of stock-style fan connectors and a very slim profile. Finally, we tackled one of our favorite projects, a performance cold-air intake. This was actually the first performance intake we developed, and it was quite a learning experience. With a garage stocked with fabrication tools and testing equipment, we were able to prove a power increase of 25 whp and 25 wtq by simply bolting on this intake. Yes, you read correctly, no tune is required for these power gains, and AFRs remain well within spec. With all these projects complete, we now turned our attention toward improving air charge temperatures. So we began with a TMIC and would later move to development of a front-mount intercooler (FMIC). Keep an eye on our blog for information regarding both projects.
Check out our 2010 STI shop ride!
This vehicle has been great for hauling supplies, product testing, displaying our current products, and occasional lunch trips (don't tell the boss). In fact, I have been waiting for my S4 to break in the parking lot (shouldn't be long, it's a C4) so I have an excuse to take it home.
So, on to the project at hand. We started by evaluating products currently on the market, because our product will need to stand out from the others in some way. We developed a few goals and then set our engineers loose to see what they could do.
Project Goals
Must be direct fit and require very limited vehicle modification
Support vehicles having up to 400 whp
Provide reduced IATs
Increase core volume
Improve power output
Direct Fit
This is a simple goal for all the products we develop. There is nothing more frustrating than having to modify that brand new component you purchased. We want our customers to have a hassle-free installation, so we will be including any additional components needed for proper installation. We will be test fitting this intercooler on numerous occasions to be sure any bugs are worked out.
Power Support
The stock top-mount is reasonably efficient; however, with higher-than-stock boost levels, IAT's are prone to rise. Heat-soak is also fairly common with the tube-and-fin core used with the stock cooler. I am in no way implying that the stock intercooler is insufficient. Our goal is to provide improved IATs for stock vehicles up to our 400 whp power range. At any point above this, we highly recommend an efficient FMIC, which would eliminate any residual heat-soak and provide the temperatures needed for rotated or high-boost setups. As we have seen on many of our other intercooler projects, reaching 400 whp will not be an issue because of the space we have to expand this intercooler.
All about Coolness
Everyone wants to be cool; this is the primary target of this project. The reason for upgrading your intercooler is to achieve lower induction temperatures. If we fail on this front, the product will not reach shelves. We are hoping to provide concrete data of temperature improvements on both a stock and lightly modified vehicle.
Large and In-Charge
This goal ties into the others we have for power support and temperature reduction. The consensus is that a larger TMIC would help with both these components. That being said, there is certainly a sweet spot of size, heat transfer, and flow that would be the true challenge for this project. A core that is too dense is going to impact air flow, which may even reduce power. This component will require precision on the part of our expert engineering team.
Power
An intercooler upgrade is a supporting modification, not technically targeted toward power increases. Obtaining additional power by bolting on a new cooler can be quite a challenge. We're hoping that we can pull a few ponies out of our design via flow increases or increased timing from lower temperatures. Although this will be a pending or secondary goal, we are hoping to achieve it even if the numbers are not substantial.
Jumping right into the project! We needed to evaluate the stock intercooler, determine our design constraints, and begin creating a prototype. Let's take a quick look at the stock intercooler.
The intercooler removed!
And the engine bay we are left with upon cooler removal!
The stock intercooler is constructed completely from aluminum, unlike the plastic end-tank cooler used on the WRX. The end tanks on this unit are cast and crimped to the tube-and-fin core with a rubber gasket to seal this connection point. Overall the cooler is rather well designed, fits well, and the flow is reasonably efficient. At one point during development we evaluated the Y-pipe system for the inlet and found that it is well designed. Airflow through this section is more than sufficient for our planned power level support, so we would not need to modify the Y-pipe in any way.
Additionally, as you see above, the intercooler features a dense tube-and-fin core. It will be interesting to see how the heat transfer capabilities compare to our planned bar-and-plate core design. The core dimensions are as follows:
Length: 20.75"
Height: 6.75"
Depth: 2.5"
Volume: 350 cu in
Total intercooler weight for the stock unit comes in at 10 lb, good information to keep in mind for those trying to keep weight down.
With all the stock dimensions noted and a vehicle at our disposal, our engineering team began designing a prototype using Solidworks software. Once complete and reviewed several times, we manufactured a prototype for testing purposes. Check out this raw prototype!
Check back next time for full details on our prototype unit!
Thanks
Interested in purchasing our STI intercooler? Check out our product page for more information!