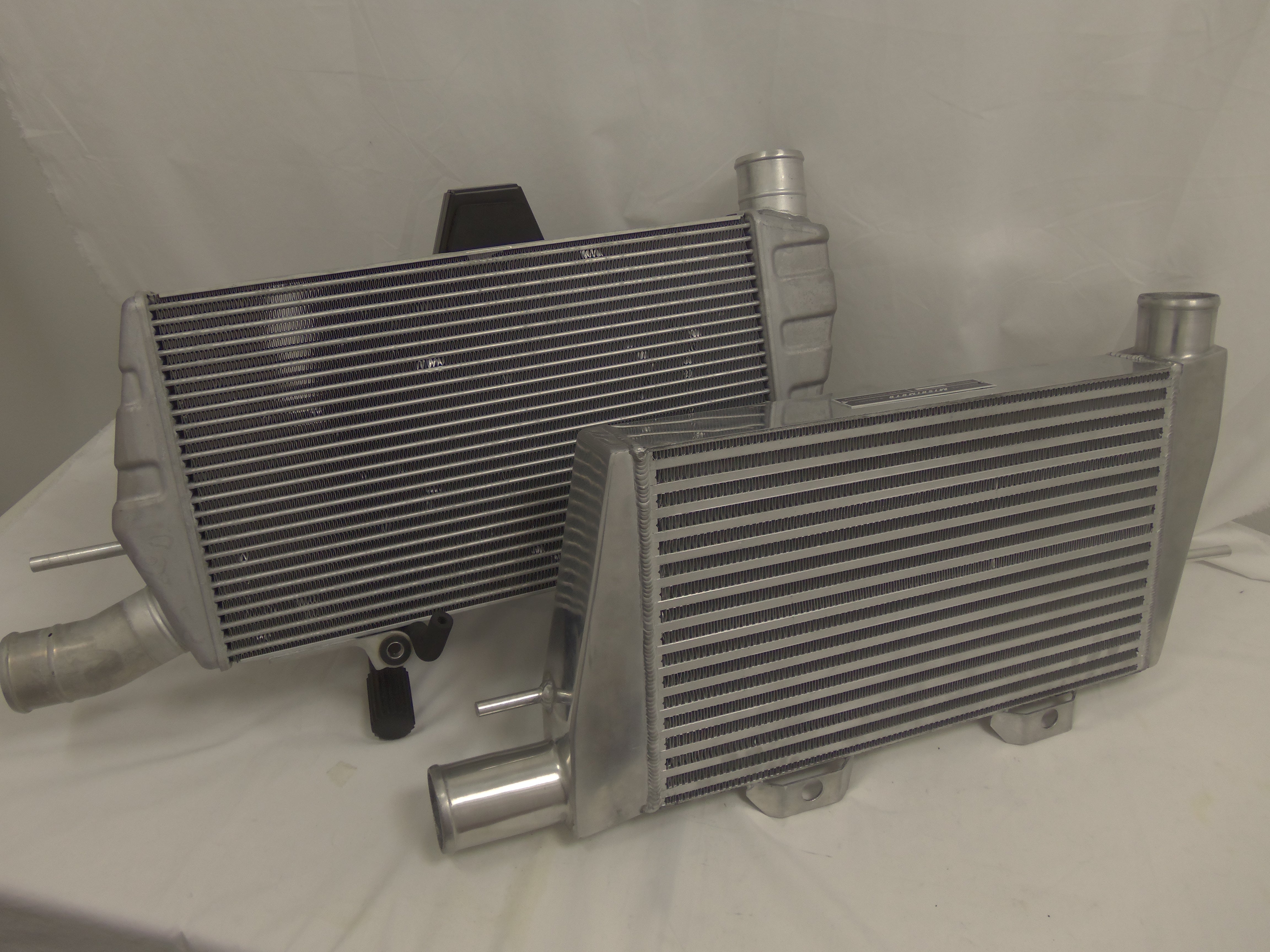 2008-2014 Mitsubishi Lancer Evolution Performance Intercooler Part 1: Product Introduction, Goals and Initial Testing
Posted:
February 25, 2014
Interested in purchasing our Evolution intercooler? Check out our product page for more information!
The Mitsubishi Lancer Evolution continues to live up to its reputation as an ideal vehicle for the street, track, and rally course. Years of rally pedigree, a turbocharged inline 4-cylinder, and an AWD system that provides grip on any surface have all solidified its place as an illustrious and desired vehicle. Mishimoto is a fan of the Evolution as can be seen by our large line of Evo products, from the 4-chassis to the 10-chassis, including intercoolers, radiators, silicone coolant hoses, fan shrouds, and much more. Currently, we offer an intercooler for the Evolution X. Why would Mishimoto be developing another intercooler? The answer to this is simple. Our current product is suitable for stock and moderate bolt-on vehicles. Evo X owners are taking these vehicles to higher and higher power levels, and we needed a cooler that can support this need. A new cooler would provide optimal efficiency for vehicles that are beyond minor bolt-on modifications and tuning: vehicles with turbo upgrades, built motors, and aggressive boost pressures.
An intercooler upgrade is important for any vehicle running higher than OEM boost pressures. The stock intercooler for the Evo X has a fairly efficient tube-and-fin core. Once boost increases or larger turbochargers are installed , however,  the CAC system begins dealing with substantial heat. The stock cooler just can't keep up. Tube-and-fin coolers are great for their light weight and airflow, but they tend to heat-soak rather quickly. For greater efficiency we would need a larger bar-and-plate core with a dense fin composition for optimal heat transfer. Our team began brainstorming a few ideas regarding our performance goals, material choices, and construction. From this discussion we developed a few basic goals for the project.
Goals:
Develop an intercooler that can support up to 550+ whp.
Use cast end tanks for durability and airflow enhancements.
Intercooler should perform adequately with stock vehicles and allow for future upgrades without having to upgrade this component again.
Have a core size of at least 3.5" in thickness.
Support increased temperatures from upgraded turbochargers or high boost pressures.
A few of these are open-ended, because we want our goals to support a range of vehicles, from stock to those achieving 550 whp. Our engineers would need to nail down a core composition that would provide great heat transfer without negatively affecting airflow. Balancing heat transfer and airflow would result in an intercooler that supports a majority of the modified vehicles on the road. Yes, I am aware that some Evo X vehicles achieve greater than 550 whp; however, we have found an optimal target range to be 550 whp or less. We spent some time on the forums and found bolt-on and tuned vehicles making well over 300 whp, which is rather impressive for such little investment. Indeed, Evo X modifications really do provide some nice bang for your buck, and it seems that the 4B11T inherited this trait from the brilliant 4G63T of the previous generation. I recall the late GVR4 and DSM that both made absurd power for pennies. They were great cars to tinker with when they weren't shredding through timing belts or blowing through transmissions! I still have the Galant on my vehicle bucket list, and I'm just waiting for that mint Belize Green to show up for sale locally!
Back to the intercooler discussion! Below is an image of our existing intercooler. This core is 3" thick and utilizes a very nice bar-and-plate construction. It would be simple for our team to just expand the core and adjust the end tanks accordingly. Instead, we will be developing a fully new product. Our engineers will experiment with the end-tank design to achieve ideal airflow air and perfect dispersion through the core.
The images below show a quick comparison between the stock intercooler and the current Mishimoto intercooler. The third and fourth images show inside the end tank for a look at the core. Here you can see the differences between a tube-and-fin core and a bar-and-plate design.
Because we already have an existing product as well as a factory intercooler, creating an initial prototype would be simple. Using dimensions from these two coolers as well as our experience with the Evo X, we were able to design a prototype quickly and get it in the shop for evaluation. Check out our prototype below!
Check back next time for a closer inspection of our prototype cooler!
Thanks!
Interested in purchasing our Evolution intercooler? Check out our product page for more information!