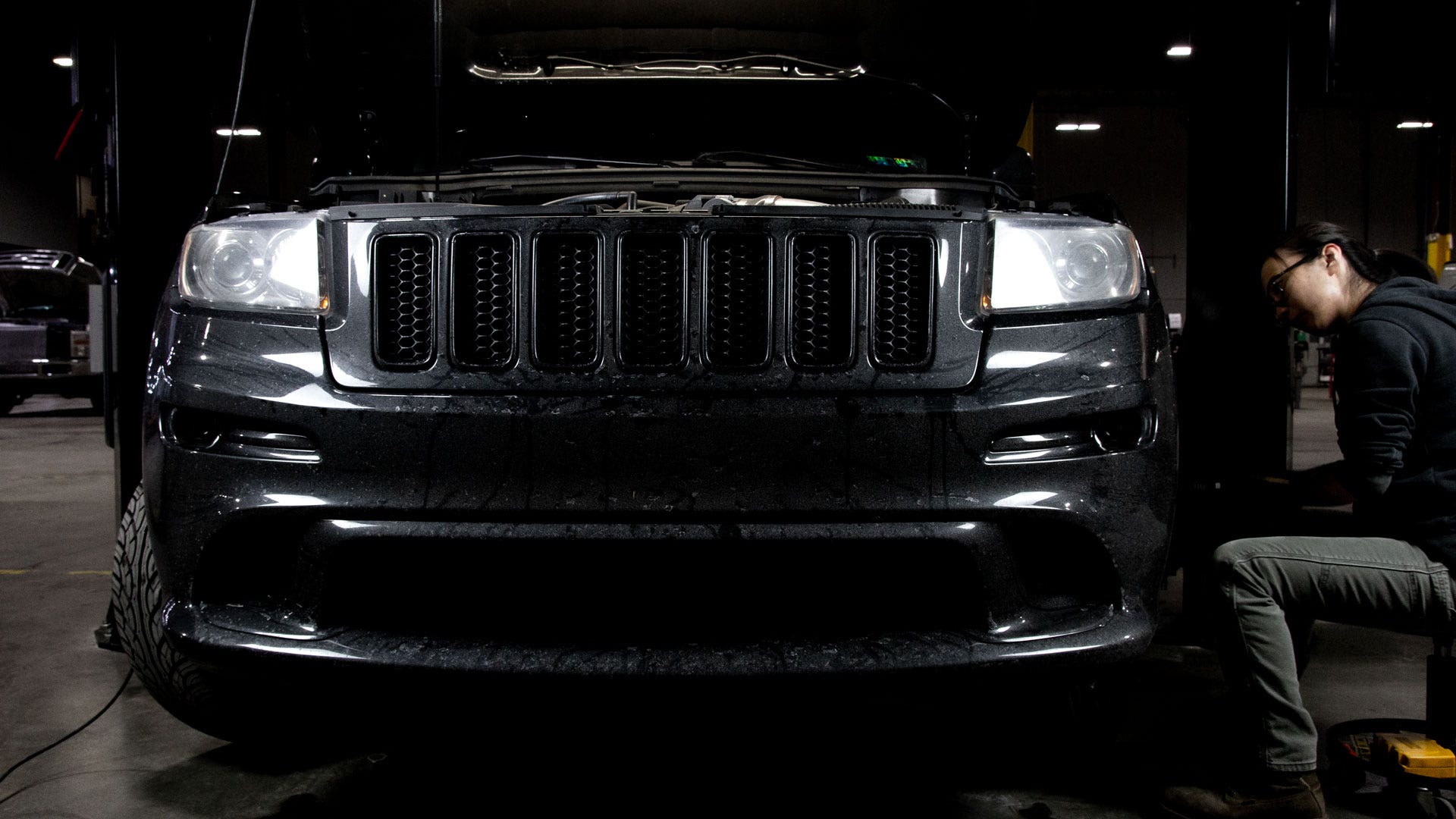 Nearly Perfect - Jeep Grand Cherokee SRT8 Radiator R&D, Part 1: Prototype to Production
The 2012+ Jeep Grand Cherokee SRT8 is a nearly perfect sleeper. With four doors, enough room for the kids and the dog, and a 475 hp 6.4L Hemi V8 under the hood pushing it to a sub-five second 0-60, there's not much the Grand Cherokee can't do quickly. But all that capability and power comes at a cost. 475 hp moving 5,200 lbs. around generates a massive amount of heat. It's not uncommon for engine coolant temps to hit 220°F or more, especially in modified Cherokees.
The Grand Cherokee SRT8 is certainly capable, but if it overheats, it's useless. That's why we decided to develop a performance aluminum radiator to put the finishing touch on your 2012+ Jeep Grand Cherokee SRT8.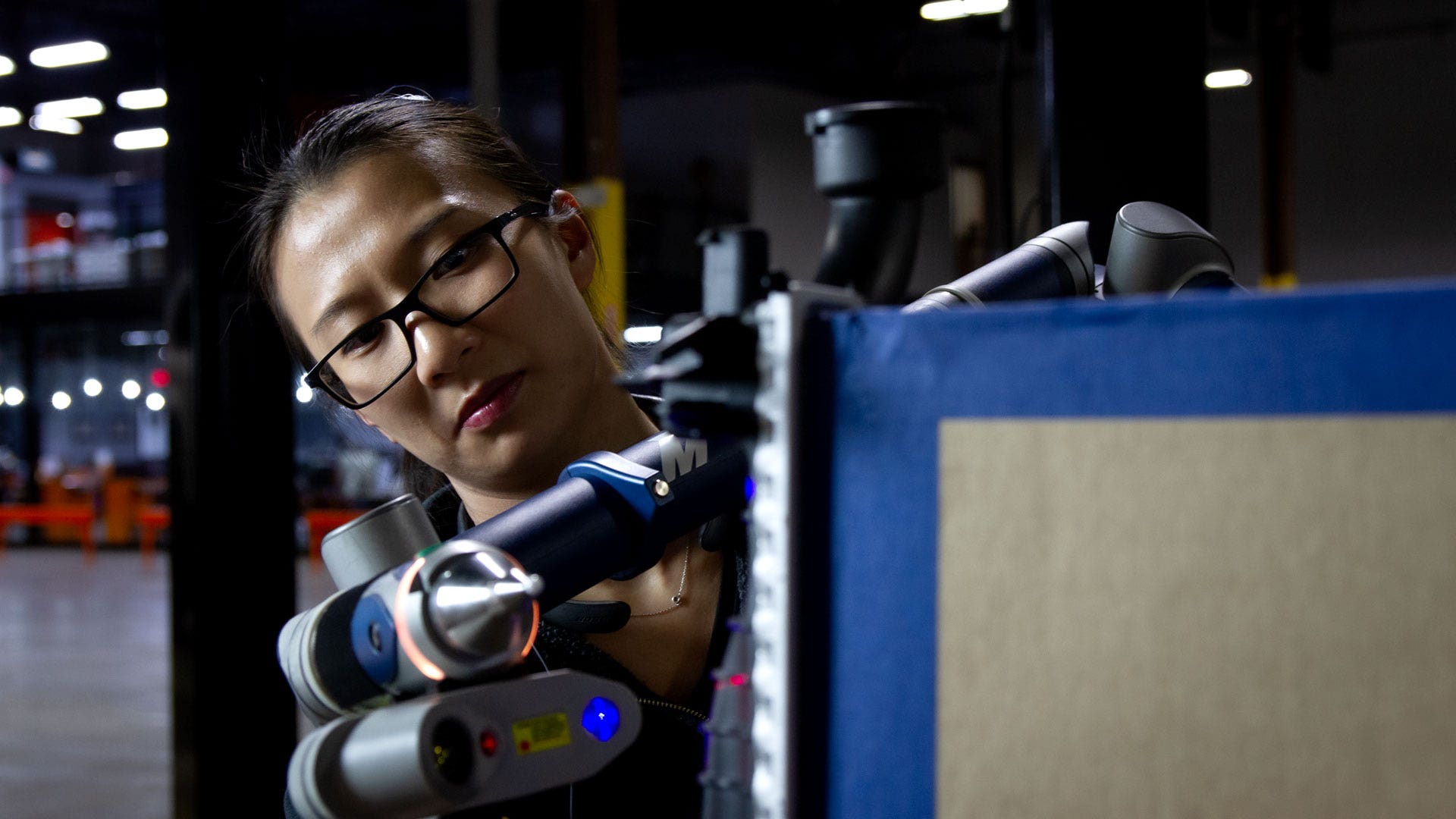 We started development on this radiator as we do with most of our projects by measuring the stock components. Our engineer, Ye pulled our volunteer Grand Cherokee into the shop and removed the stock radiator. To get the most accurate measurements, Ye used our 3D scanner to model the stock radiator along with its mount points and any surrounding components in the engine bay. From those scans, we were able to create a 3D model of our replacement aluminum radiator to fit the Cherokee perfectly.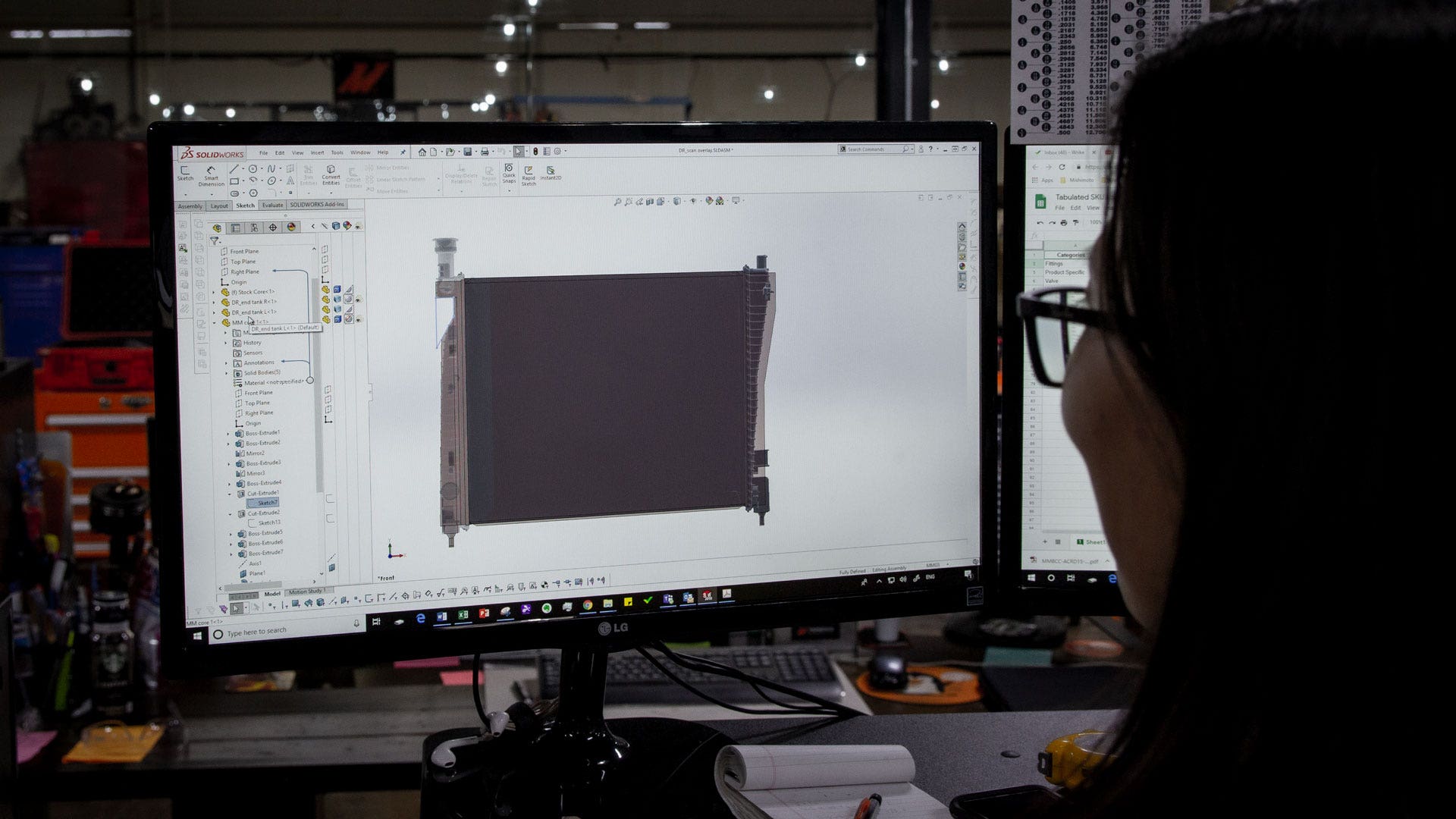 Digital models get us 90% of the way to a final design, but nothing beats a real-life product. To make that product, we turned to our 3D printers and our fabricator. Our 3D printers cranked out the end tanks while our fabricator welded a core together out of aluminum square tube. Ye joined the three parts with some epoxy and let it set. Five minutes later, we had a prototype to test fit.
We bolted in the prototype and checked that it didn't interfere with any other components. Our core is 66% thicker than the stock radiator, so we were diligent to check the clearance between the back of the core and the belt drive. We dropped in the prototype and carefully bolted it into place. Once all the surrounding panels and hose s were in place, we could be sure that our larger radiator would fit without any issues.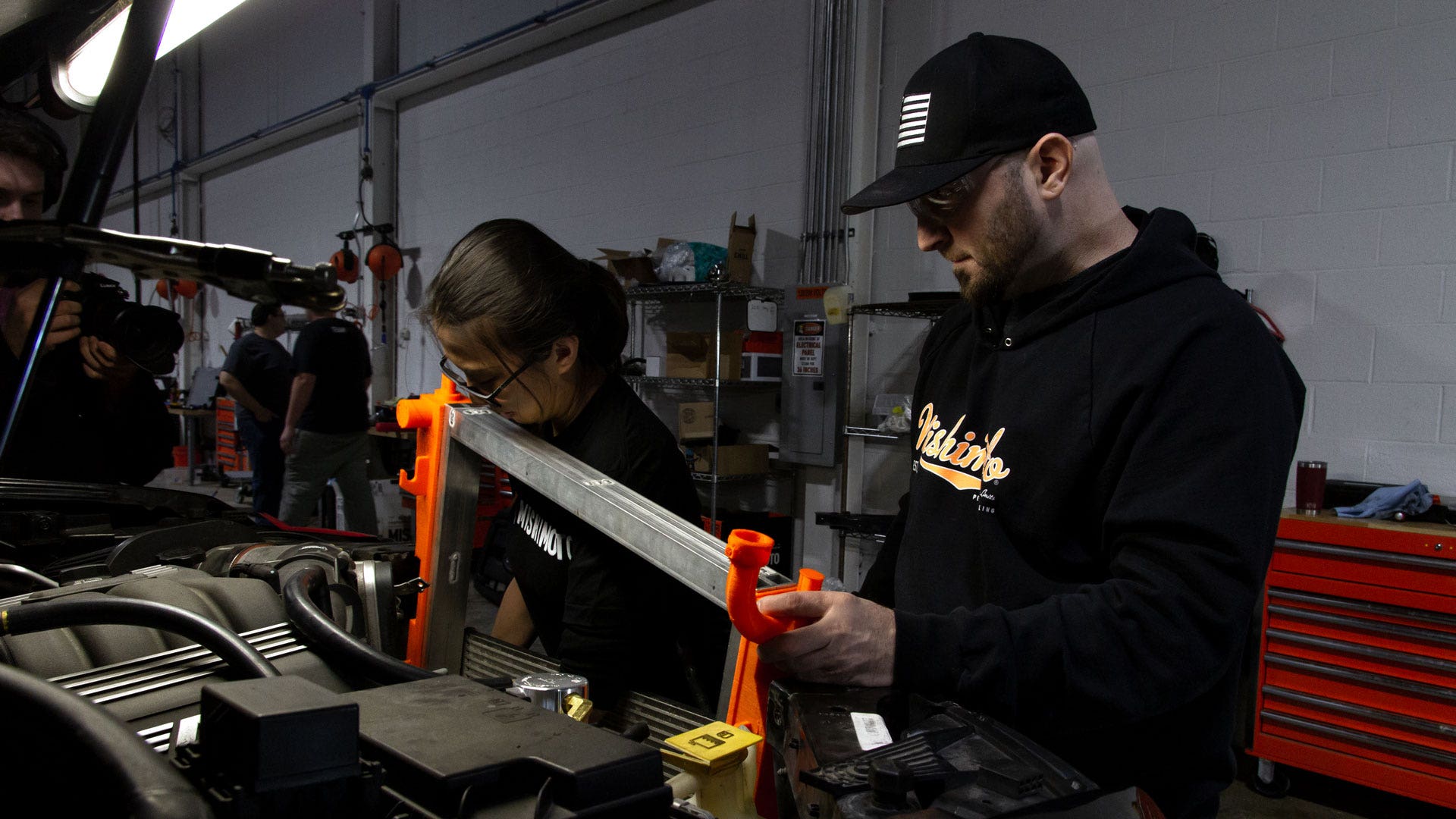 The prototype test fit confirmed that our design would fit in the Grand Cherokee, but to test the performance, we needed more than just 3D printed end tanks and a hollow core. So, we sent our drawings to production and ordered a sample to be made. A few weeks later, we had a working radiator to test fit and put through its paces. We called our volunteer Grand Cherokee back in and got to work on the install.
Ye pulled apart the front of the Grand Cherokee, removing the bumper, grille, splash guard, and everything else in her way. The stock radiator came out and she hoisted the Mishimoto aluminum replacement into its new home. Just like our prototype test fit, we reinstalled all of the shrouding, hoses and wires, paying close attention to our clearance behind the radiator. Ye replaced the bumper, grille, and the other front-end components and we sent the volunteer vehicle out on the road to see how our radiator fared in traffic.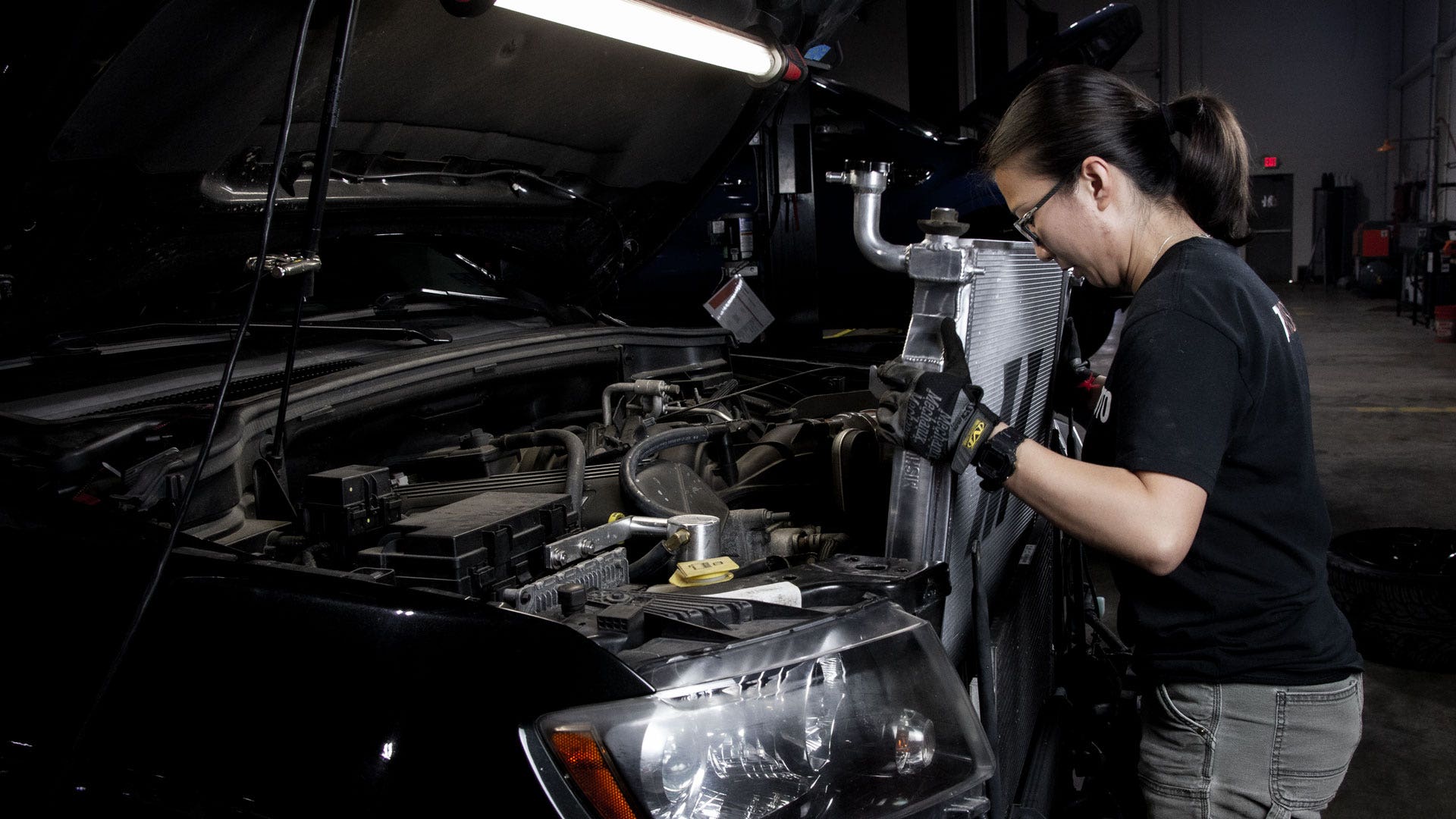 After a few weeks of running with our radiator installed, we checked in with our testing volunteer to see how the radiator was performing. We were optimistic that the 66% thicker core and 95% increase in coolant capacity would be able to combat the extreme temperatures the Grand Cherokee's 6.4L Hemi produces. A quick phone call solidified our hopes; the Grand Cherokee was running significantly cooler in all conditions.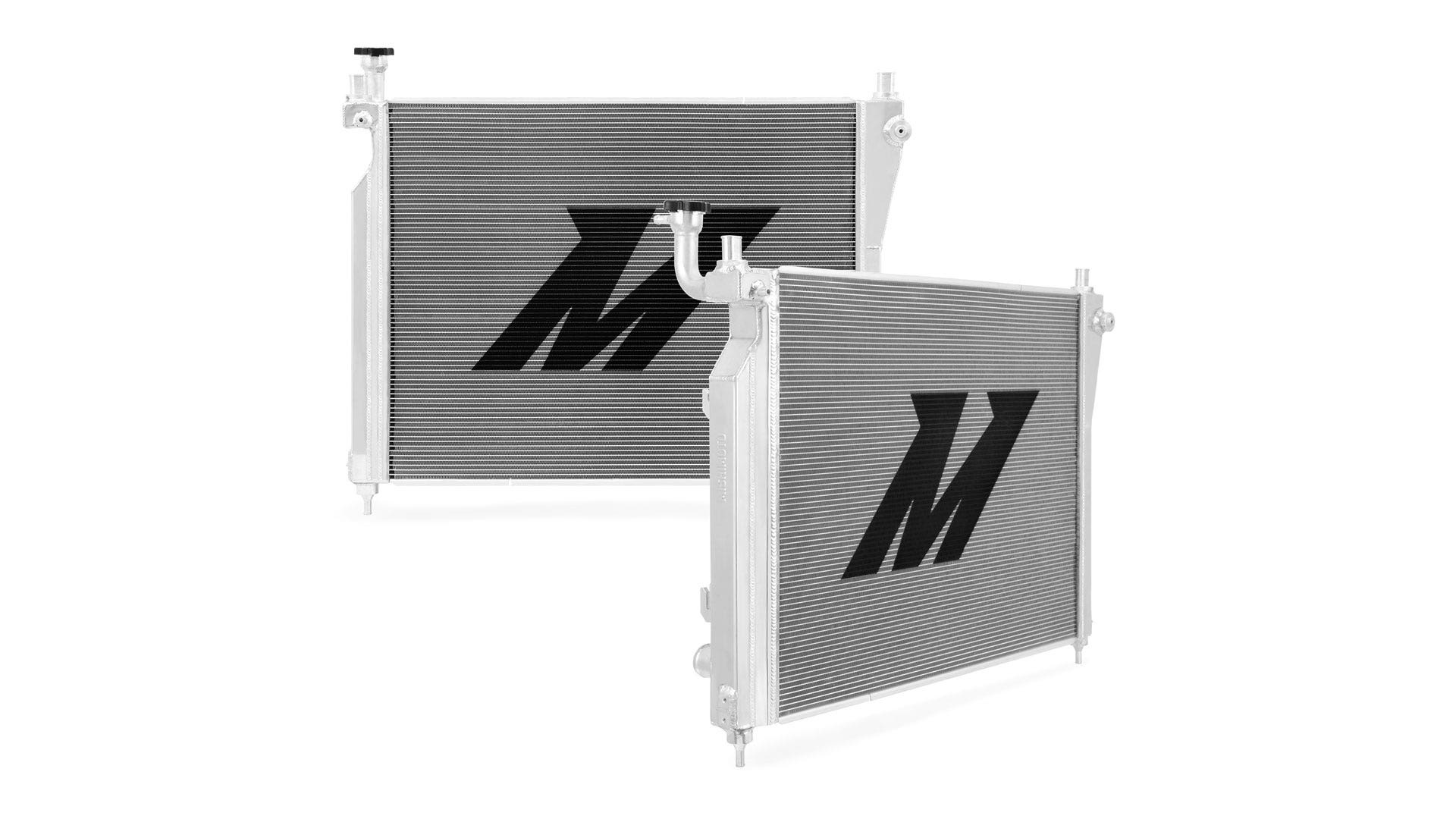 As we wrap up production on our first batch of these 2012+ Jeep Grand Cherokee SRT8 performance aluminum radiators, we're opening sales to owners who want to be the first to lower their coolant temps and perfect their nearly perfect sleeper. If you're interested in buying one of these radiators, head over to our website for more detailsand, as always, let us know what you think.