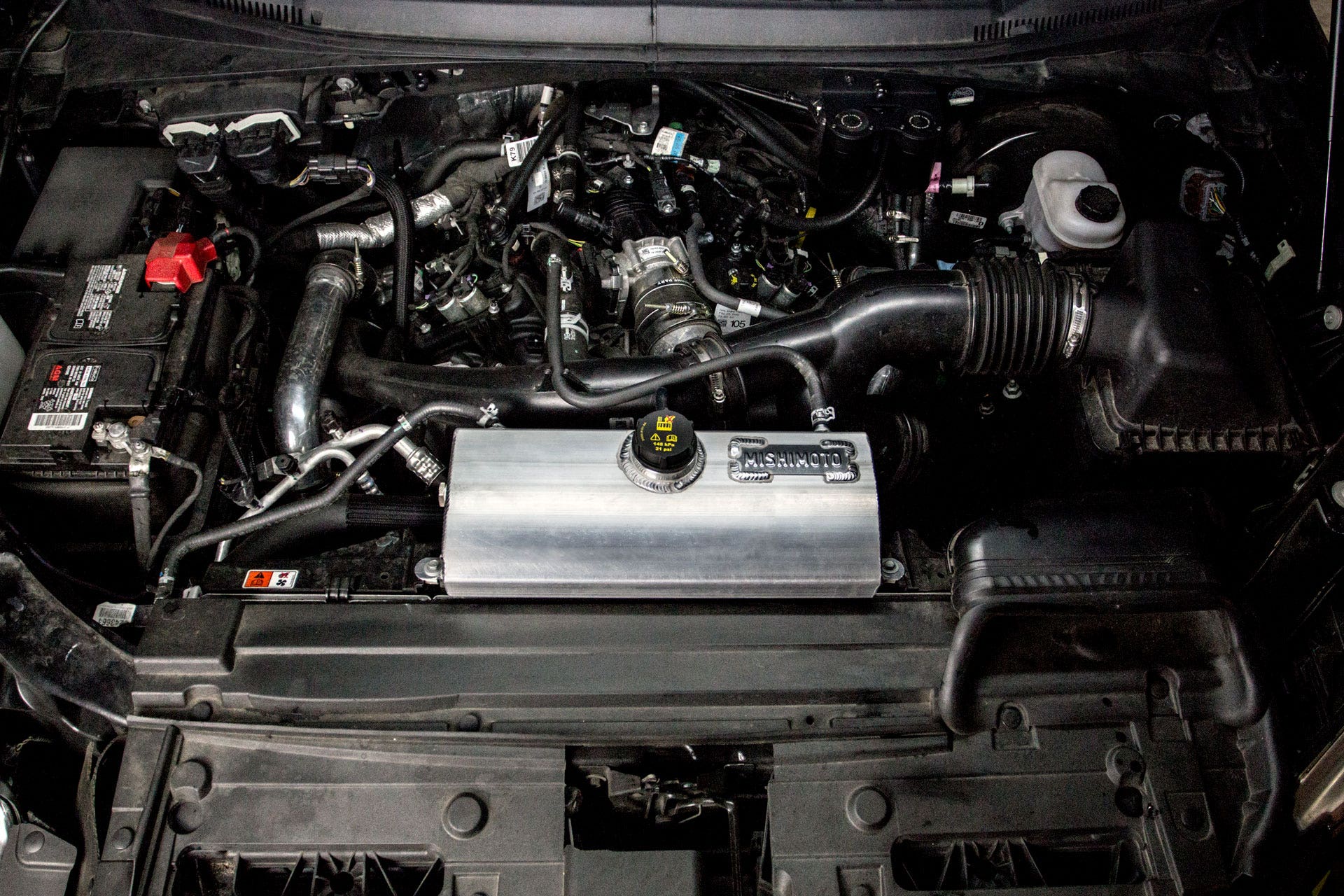 Functional Form - Expansion Tank R&D, Part 2: Design & Pre-Sale
Posted:
February 14, 2018
The last time we saw our 2015+ F-150, it was still equipped with the plastic bag of dinner rolls that is the stock expansion tank. Since then, we've been busy designing, prototyping, and sampling a stronger and better-looking expansion tank for all 2015+ F-150s. Before we dive into our tank and the progress we've made, let's look back at the stock tank and some of its shortcomings.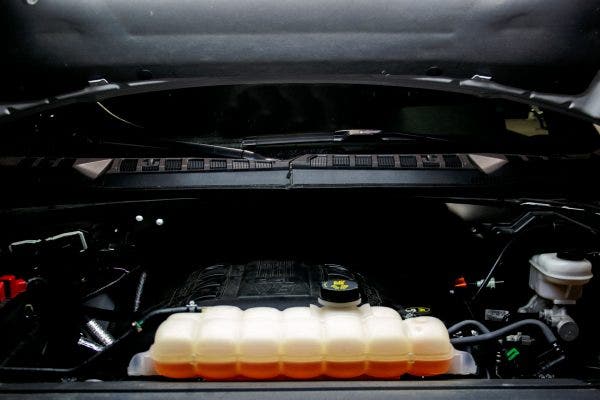 The expansion tank equipped to the 2015+ F-150 is fine enough for the average driver who spends most of their time looking at the outside of the truck or sitting in the cabin. For the enthusiast who spends hours under the hood, however, it presents a few problems. The clear plastic construction makes it easy to see how much coolant is in the tank, but it's not particularly attractive. If you've spent hours of your time washing the outside of your truck and detailing the interior, you probably want the engine bay to look just as good.
From a functional standpoint, the plastic tank poses a durability issue. If you've worked on older vehicles or even had some patio furniture sit out in the sun and rain, you know how much damage the elements can inflict on plastic. While the 2015+ F-150 expansion tank isn't sitting in the sun and rain all day, it is exposed to the heat of the engine bay and hot coolant. Over time, that plastic will become stained and hard to see through, as well as brittle.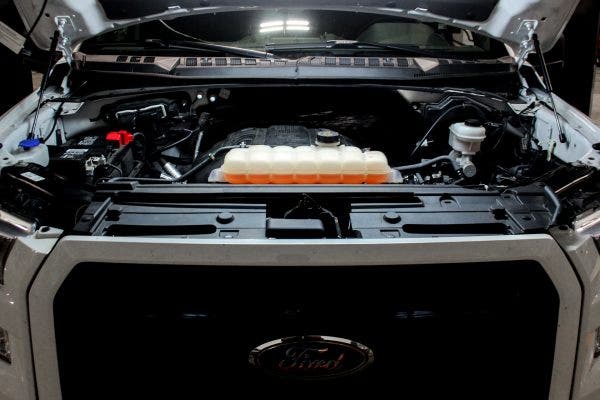 So, we knew there were some improvements that needed to be made from the stock tank and some aspects that needed to stay. Of course, the tank needed to look good, but it also needed to be durable. Those two requirements would be easily met by creating a sleek design from aluminum. The translucent plastic of the stock tank makes it easy to see how much coolant is in the tank. That convenience factor was something that we needed to replicate with our tank.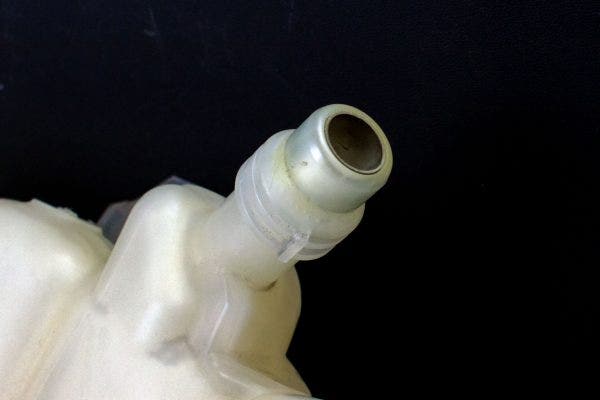 The first step we needed to take was to measure the stock tank and come up with a design that would be functional and look good. Luckily, this tank is simple, so there were few measurements to be taken. The most critical dimensions are on the bottom of the tank. There, coolant is fed into the engine from the tank and vice-versa via a quick-disconnect port. To accomplish our mission of creating a direct-fit upgrade, this post needed to be replicated precisely. Otherwise, Jason had space to make a design of his choosing. The front of the F-150 is aggressively styled, with sharp lines and boxy shapes. We had the choice of mimicking that style or contrasting it. After a few iterations, we settled a tank that complemented the overall curve of the front-end and flowed nicely into the rest of the engine bay. Simple and sleek.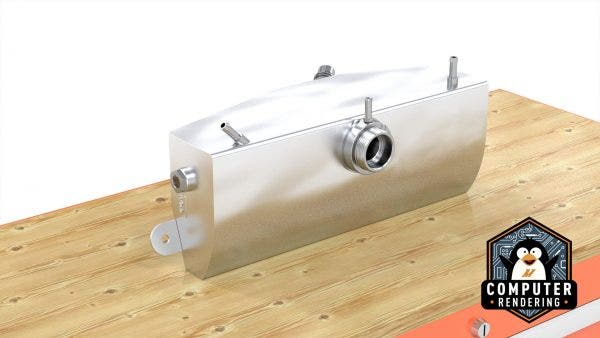 With the aesthetics sorted out, we needed to make sure the tank functioned like stock. Of course, our tank would be made from aluminum, so it would already be more durable than the stock tank, but we couldn't just stop there. The translucent plastic of the stock tank allows owners to quickly assess the coolant level. To replicate this ease of use, we decided to incorporate a sight glass on the passenger side of the tank.
The inside of the tank houses some functional features as well. Obviously, the tank needed to be leak free, but Ford has recently started building baffles into their expansion tanks. The Focus RS expansion tank looks a lot like the F-150's little brother, dinner rolls and all. In between each of those humps is a wall that keeps coolant from sliding all the way to one side when turning or driving on uneven ground. Our tank would also need to be internally baffled.
We had a design plan and we knew how the tank needed to work. With those parameters, we could begin prototyping. Our 3D printers are some of our most valuable tools, allowing us to create accurate models of our products for test fitting without all the time-consuming fabrication. Jason, the engineer for this project, loaded his design onto a thumb drive and took it to one of our 3D printers. Several hours later, we had a plastic model of our 2015+ expansion tank that we could use to verify our dimensions. You'll notice that our 3D-printed model doesn't have a fill neck or bottom quick-disconnect. These parts will be CNC'd to the exact manufacturer's dimensions, so there's no need to 3D print them.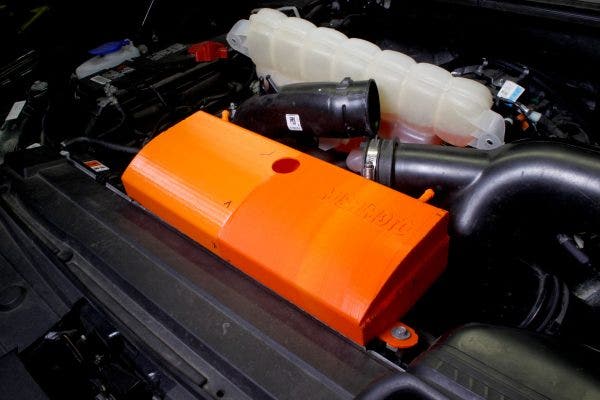 With our mounting points and clearances confirmed we moved on to manufacturing the first sample in full aluminum. The unique shape of this tank allowed us to try a different manufacturing process than we often use. Instead of bending and welding plates of aluminum together, we decided to extrude the main body of the tank. There would still be some welding involved, but the extrusion process lets us create the major shape of the tank in one strong piece with fewer potential failure points. We know these trucks see a lot of rough roads and job sites, so we wanted to be sure our tank was strong enough to handle it.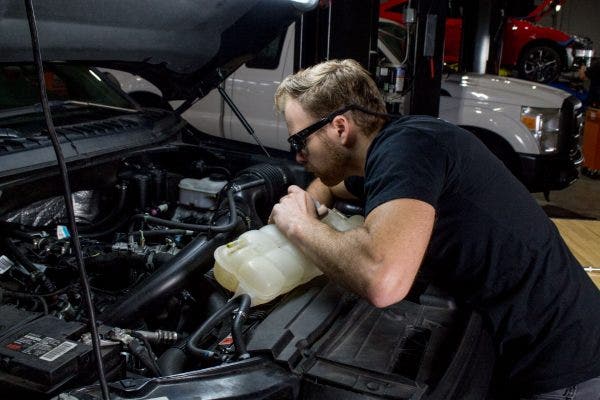 After a short time filled with anticipation, the production sample of our tank arrived at our facility. Jason wasted no time removing the sickly, plastic OEM tank and test fitting ours. To say installation was simple would be an understatement. The most difficult part of the process was waiting for the coolant to drain from the tank. With the tank empty, installing our production sample was a matter of pushing on three hoses and spinning down two bolts. A splash of coolant and our F-150's engine bay was looking better than ever.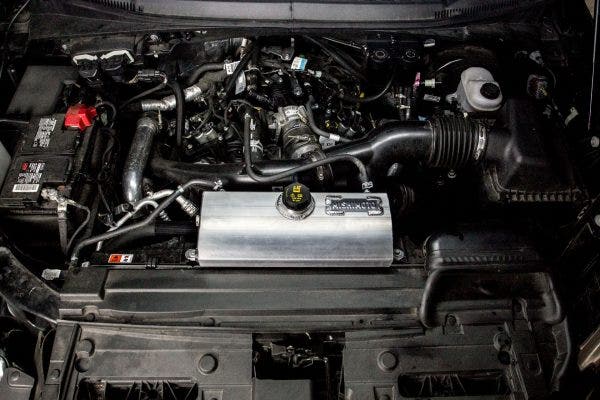 While we liked the overall shape of the tank and it fit perfectly, Jason did have one small design change. We originally thought welding a logo plate onto the top of the tank would give it a rugged look, but in the end, it just kind of looked slapped on. So, with a quick update to the model, Jason designed a stamped logo into the side of the tank for a sleeker look. Of course, we also had to listen to our customers' requests for a wrinkle black finish.
With R&D and test-fitting complete, our tank was ready for the world. This expansion tank is now live on our website, so check it out; and as always, let us know what you think.
Thanks for reading,
-Steve