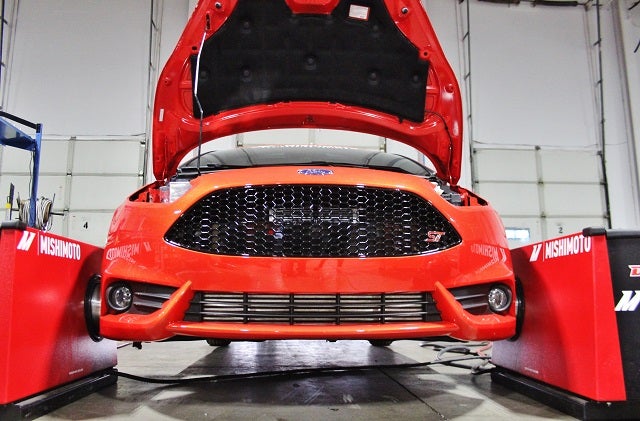 Beat The Heat! Mishimoto Fiesta ST Intercooler R&D, Part 6: Prototype Testing Round 2
We are narrowing down our selection of core designs through both extensive research and some pretty neat testing processes. After seeing some impressive heat transfer numbers on our first round of Ford Fiesta ST intercooler testing, we decided to focus on producing a better balance between pressure drop and reduction of intake temperatures.
New prototypes were constructed, and we were ready to make some dyno runs.
These dyno runs included two prototype cores, which were compared to the stock intercooler. Although both cores are of the bar-and-plate style, we intend to use this data to finalize our tube-and-fin intercooler. We saw higher pressure drops with our previous round of testing, so with this testing, we hope to determine the optimal core density that will provide an ideal compromise between pressure drop and heat transfer.
Pressure Drop Data
First, let's take a look at the pressure drop numbers from each of the cores we tested during the development of this cooler.
This plot is a bit much to take in at once. Below is a quick chart showing the average pressure drop for each cooler we tested.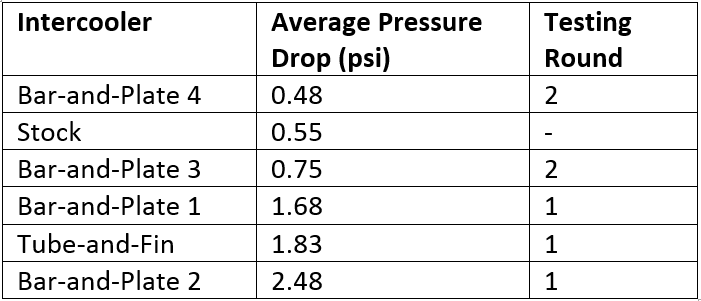 As you can see, prototypes from our first round of testing showed far too much pressure drop. Although this translated into massive temperature drops, we wanted to see if we could provide a better blend. Our second set of prototype cores showed much more promising pressure drop data that hovered right around the average of the stock cooler.
Temperature Data
The data collected above show very promising pressure drop numbers from our third and fourth prototype cores. As long as these coolers provide improved cooling benefits, we can consider them for our final core selections. Let's jump right to the temperature data.
The chart above clearly depicts a serious difference in cooling ability between the tested cores. The stock unit performed worst among the three cores. The fourth prototype core improved slightly over stock, while the third prototype design showed very impressive heat rejection.
The data above are summarized in the chart below.

One of the key columns of this chart shows the rise in outlet temperatures. Our fourth prototype is a slight improvement over stock; however, the third prototype is essentially unaffected by the pull. We see barely any temperature change during the test.
Can you guess which core we selected?
Our third prototype provides a 20-degree drop in outlet temperatures while resulting in only a 0.2 psi difference in average pressure drop during a pull. This prototype will be a tube-and-fin cooler in its final design. It will be a lightweight cooler that still allows ample airflow to the radiator for engine cooling.
Coming Up - Ford Fiesta ST Intercooler Discounted Pre-sale
It is time to get these intercoolers into the hands of customers for independent testing. Our team has started producing the first batch of units, and we will be launching a discounted pre-sale for forum members. Check back soon for details regarding pricing information and shipment dates.
Thanks for reading. Feel free to follow-up with any questions!
Keep an eye on our blog for more updates on upcoming Fiesta ST performance parts.
-John