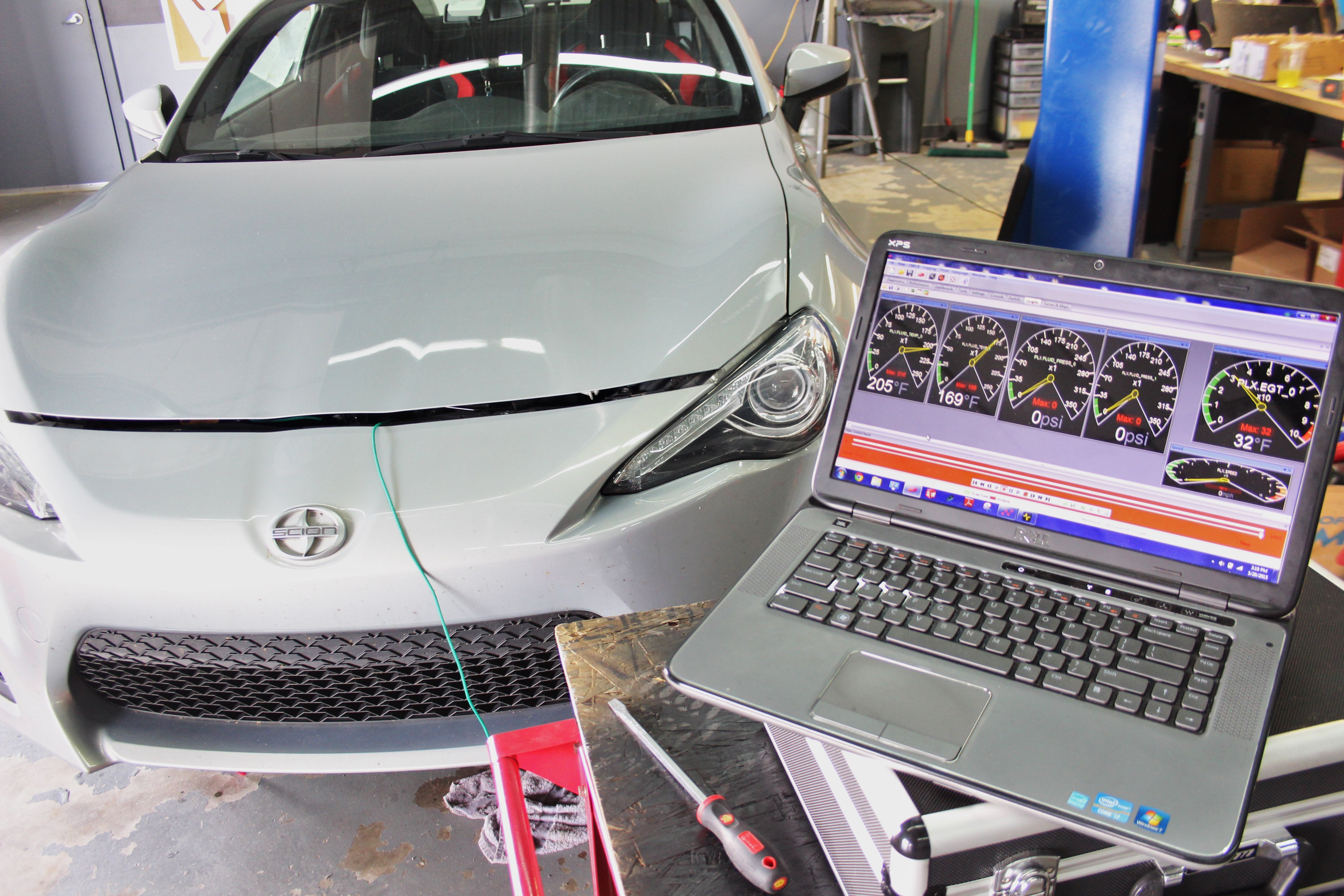 Keeping The Twins Cool! Mishimoto's BRZ/FR-S Plug-N-Play Fan Shroud R&D, Part 2: Prototype Completion
Interested in purchasing our BRZ/FR-S Fan Shroud Kit? Check out more details at the link below!
We're back for some more fan shroud fabrication! The last portion of this series highlighted the beginning stages of initial shroud design. The BRZ/FR-S uses a fairly unique overflow tank that mounts directly to the factory fan shroud. This is our first target for part two of product design.
Overflow Tank Mount Fabrication
This tank has two upper mounting points which use a bolt which passes through the tank material and into threads on the shroud. We utilized round stock aluminum which was cut to the proper length, drilled, and tapped for the appropriate factory bolt. These were then welded to the shroud in a position that would place the tank in the exact location as when on the stock shroud.
The lower mounting point for the tank accepts a peg which is located on the base of the overflow container. This peg slides into a hole to secure the tank, providing three locations for support.. We fabricated our bracket and welded it to the shroud. We now had our mounts complete!
We then bolted the stock overflow tank in place.
We then mocked up our electric fan on the shroud. As noted previously, we are using two of our 12" electric slim fans to cool the FA20.
Prototype Installed
Now that fabrication was complete, we bolted our fans to the shroud and dropped it into place within the engine bay of our test vehicle.
The overflow tank is positioned quite nicely with our shroud.
The hose also mates up properly with the factory coolant fill neck.
Fan Shroud Testing!
Next on our to-do list was to determine the cooling ability of our fan setup. We needed to ensure this system produced similar airflow to the stock fan setup and therefore equivalent cooling during idle conditions.
To check both the stock shroud and our prototype, we installed our in-line sensor adapters in both the upper and lower radiator hoses.
These were then installed on the vehicle to capture pre-radiator and post-radiator coolant temperatures.
We then ran each setup at idle for an extensive time period in order to verify our design. Temperatures were monitored and observed with each shroud system.
After evaluating the data, our prototype unit performed admirably. With the dual 12" slim fans, we were able to hit our performance targets in terms of fluid temperature regulation. We have no doubts that this setup will efficiently control idle temperatures in any environment. This is the last verification needed for this project, and we are now prepared to launch the manufacturing process for our BRZ fan shroud kit.
Discounted Pre-Sale
As with many of our new products, we are preparing to offer a discounted pre-sale for those interested in picking up one of our kits. Keep an eye on this thread for more details!
Thanks for reading!
-John
Interested in purchasing our BRZ/FR-S Fan Shroud Kit? Check out more details at the link below!