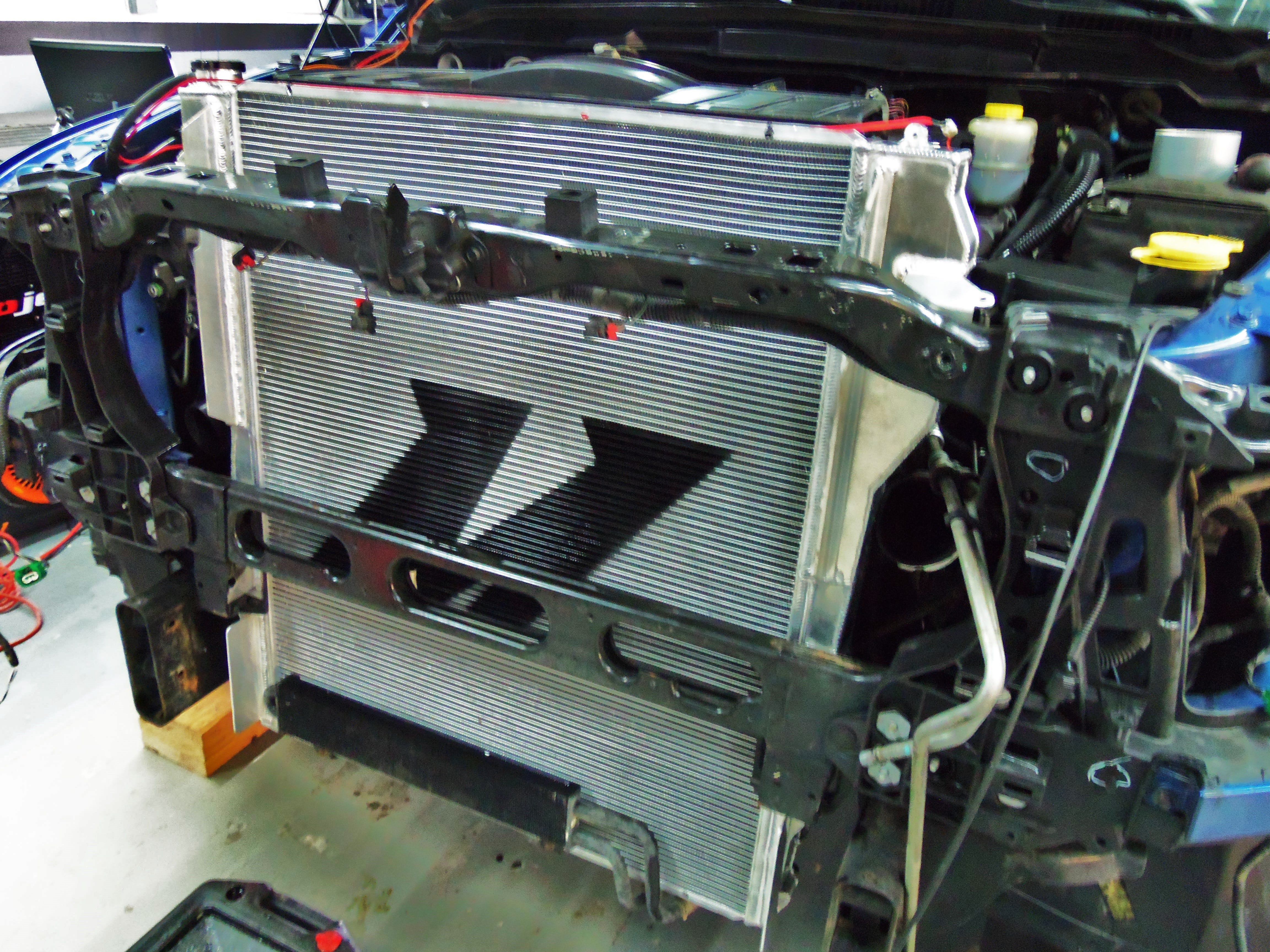 Mishimoto 2010-2012 Dodge 6.7L Cummins Performance Aluminum Radiator, Part 4: Physical Comparison, Testing Explanation, and Project Close
Interested in purchasing this Cummins radiator? Check out our product page for more information!
Alright, it is finally time to see how our engineering team did with the development of this product! First, we measured the physical properties of the Mishimoto radiator compared to the factory radiator. Our first chart highlights the most common selling feature of a performance radiator: core thickness.
We squeezed out as much additional core thickness as possible without causing any fitment concerns with factory equipment. The factory core came in at just under 1.7" thick, while the Mishimoto radiator measures 1.95" thick, making the Mishimoto radiator 13% thicker than the factory radiator. This additional core thickness allows our product to provide a greater fluid capacity and promote improved efficiency, which is reflected in the following charts. Our second chart shows the improvements made in core volume.
Once again, we are seeing big gains with the increase in size. As with core thickness, the core volume of the Mishimoto radiator is 13% greater than the factory radiator. So how do these size improvements benefit overall fluid capacity? Thanks to larger coolant tubes and a larger core, we've seen big gains in fluid capacity, as shown in the chart below.
The Mishimoto radiator provides nearly 1 full gallon of additional fluid capacity, resulting in an increase of 39% compared to the factory radiator. This capacity gain provides a significant impact on fluid temperatures and temperature recovery. The next two charts are related not as much to size, as they are related to the density of our core. As discussed earlier in this series, the core composition plays a huge role in the amount of heat transfer the radiator can provide. The greater the heat transfer, the more efficient our heat exchanger will be. Check out the two charts below showing fin area and cooling tube area for both radiators analyzed.
The Mishimoto radiator provides improvements in both areas of core components. Cooling fin area is increased by 13% and coolant tube area is increased by 9% compared to the factory radiator core. These two improvements are key for providing reduced temperatures from improved heat transfer.
So how does this work? Airflow moves through the external fins of the radiator. These fins are attached directly to the coolant tubes. The heat from the coolant tubes is then transferred to the fins, which are cooled from air passing through the core. A greater number of fins allows for more contact points and greater heat transfer. These reduced temperatures are important for those who work their trucks hard and drive under extreme conditions, including towing, hauling, or just general driving in hot climates.
Now that we've identified the basic physical benefits, it was time to do some road testing for this radiator. Our team installed all our data collection equipment, including temperature sensors on the inlet and outlet of the radiator. After driving the truck under normal conditions, we saw minor decreases in fluid temperatures. Unfortunately, we were unable to fully test the potential of our radiator, for several reasons.
Ambient temperatures were quite low during our tests, so stress on the cooling system was reduced.
Our testing vehicle was borrowed, so we were unable to really push the truck.
We were not able to put any appreciable load on the engine (such as during towing or hauling conditions), which would truly reveal the efficiency benefit of our radiator.
Does our lack of testing data mean the performance of this radiator is not validated? Absolutely not. Our physical evaluation of the Mishimoto radiator reveals that our product is designed to promote greater heat transfer and improved heat dissipation compared to the factory radiator. Our data alone is proof that this radiator will outperform the factory radiator in any condition. Additionally, we intend to test the Mishimoto radiator under full-load conditions during the next hot season in our area. We will then be able to fully support our product. We are still planning to release this radiator with the support we currently have, because we are fully confident that this radiator will provide the cooling your Cummins needs for daily use, hauling, towing, and any other driving conditions you anticipate.
Now that we're finished with product development and testing for now, we could recap our goal sheet and evaluate what we accomplished and what tasks we still needed to address in the future.
Project Objectives
Must be a direct fit and require no vehicle modification.
We have confirmed through product test fitting that this radiator fits into place like the factory unit and does not require any additional vehicle modification. All factory engine bay components bolt to this unit just as they did with the factory radiator.
Increase fluid capacity and core size.
As noted in the charts posted above, we have significantly increased the fluid capacity with the Mishimoto radiator as well as provided improvements to the core size. The basic specs of this radiator's physical benefits over the factory unit are summarized below.
13% Increase in core thickness
13% Increase in core volume
39% Increase in core fluid capacity
Improve cooling efficiency.
Thanks to a highly efficient core design, our engineers anticipate this radiator will provide significant improvements in cooling efficiency under high engine load conditions. Unfortunately, several factors limited us from fully testing this during our road testing.
That wraps up this project for now! As mentioned above, we will be revisiting this project in the spring or summer to collect test data on high temperatures and heavy loads. In the meantime, this radiator should be released in a few weeks, and we will update our thread at that time with more details on this radiator!
Feel free to follow up with any questions or comments!
Thanks for reading!
Interested in purchasing this Cummins radiator? Check out our product page for more information!